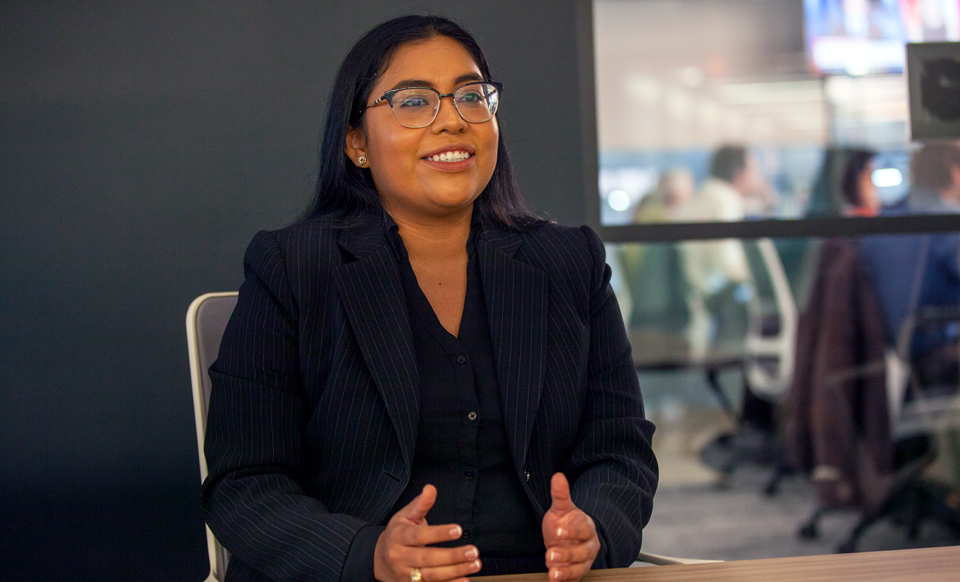 LAREDO, Texas—Jessica Cisneros, an attorney who defends exploited people—especially as an immigration lawyer—has pulled off an unusual coup as she seeks to oust the nation's most pro-Donald Trump Democratic congressman in a "blue" district in South Texas.
Cisneros has united two wings of the party who are sometimes wary of each other, but both are pulling in her favor: The progressives and organized labor.
Cisneros favors the Green New Deal, Medicare For All, an assault weapons ban, and the $15 minimum wage, among other stands. She also strongly backs workers' rights.
Her eight-term incumbent foe in the March 3 Texas primary, Henry Cuellar, opposes all those ideas, and the Protect the Right to Organize (PRO) Act, too. He was one of only seven Democrats to oppose it when the House passed it in mid-February.
Cuellar has also voted with GOP President Trump 70% of the time, congressional scorecards show, has an "A" rating from the gun lobby, and just picked up an endorsement—and $200,000 in outside ad spending—from the Chamber of Commerce. His operatives include an outside network funded by a front group that the right-wing anti-worker Koch brothers created to appeal to Latinos.
All this doesn't sit well with progressives or the Texas AFL-CIO. Cisneros is the only challenger to an incumbent Democrat the state fed endorsed in the run-up to the March 3 primary—and that was before Cuellar's anti-PRO Act vote.
"This district needs somebody who's going to stand up for working people, stand up for poor people, and stand up for justice," said Texas AFL-CIO President Rick Levy in a short video with Cisneros announcing the state fed's endorsement for her. Cisneros is challenging Cuellar in the Laredo-based 28th District, a "blue" district in what till now has been a deep "red" state that is turning purple.
And Cisneros has drawn the state Service Employees and other unions into her corner, too. But not just them.
The Justice Democrats, Sens. Bernie Sanders, Ind-Vt., and Elizabeth Warren, D-Mass., Reps. Alexandria Ocasio-Cortez, D-N.Y., and Pramila Jayapal, D-Wash. (co-chair of the 94-member House Progressive Caucus), and the Progressive Change Campaign Committee back her. So does former Obama Housing Secretary Julián Castro, the ex-San Antonio Mayor who was previously a candidate for the 2020 Democratic presidential nomination.
Other Texas progressives are concentrating on the presidential primary in the state, plus down-ballot local races, says Bernard Sampson, who is chair of the Communist Party USA's Texas district.
One is in House District 148 in the Houston area, where Penny Morales Shaw is trying to unseat a conservative state representative in a GOP-leaning district. Shaw came close two years ago in a similar race for a county commissioner's post, in Houston's most-pro-GOP area. The five-person county commission controls a multibillion-dollar budget, and its priorities, she argued then, were very skewed. Ditto for the GOP-run state legislature.
Meanwhile, Bernie Sanders barnstormed through Texas on Feb. 22-23, drawing huge crowds, including as many as 6,000 who packed the University of Houston's basketball arena. After the speech, there was a march of hundreds to the area's polling place the next day to cast early ballots—and it looked to Sampson like the group was overwhelmingly Sanders supporters.
Sanders "gave his typical speech and everyone is very excited," Sampson said.
That's not the only evidence of Sanders' support. Multimillionaire Tom Steyer, who's also on the Texas primary ballot on Super Tuesday, opened a campaign office in Houston the same weekend, and 30 people showed up. Twenty wore "Bernie" buttons, Sampson said.
Biden is thought to be the favorite of Texas Democrats since the state still leans red and since the Texas Democratic Party—dating back to even before Lyndon Johnson, John Connally, and Sam Rayburn—was conservative and pro-corporate, especially pro-oil. Most of those Democrats, however, long since crossed over to the GOP, giving the Lone Star State its massive right-wing Republican tilt.
Among the remaining progressives, and Democrats, in Texas, Biden's poll lead is shrinking, down to 27% over Sanders' 25%, Sampson reports.
Cuellar contends the 28th congressional district is conservative and smears Cisneros' supporters as
outside interests who don't know South Texas. Cisneros says he's wrong and cites the changing demographics of Laredo, its surrounding area, and the rest of the Lone Star State, to support her stand.
"As someone who was born and raised in this district, my gut instinct has always told me that's not the case because that's not what I was raised around, and that's not what I heard my community standing for. And as we've been knocking on doors, that feeling has been validated," she says on her campaign website.
Cuellar has one more group in his corner: Party leaders in Washington, led by House Speaker Nancy Pelosi, D-Calif., Majority Whip Steny Hoyer, D-Md., and the Democratic Congressional Campaign Committee. They all back Cuellar. Pelosi and Hoyer came to Laredo to campaign for him on Feb. 22.
The DCCC believes in backing incumbents, and only incumbents—and even schemes to cut the legs off not just progressive challengers, but firms and experts who work with them.
That party backing includes incumbents who vote against the PRO Act. And that's where organized labor takes a hike.
AFL-CIO President Richard Trumka already made it clear that those Democrats, including Cuellar, won't get workers' backing this fall. And Communications Workers President Chris Shelton formally asked the DCCC to yank its support from the seven. He's gotten no answer. The Texas state fed has gone one step further.
Cuellar has one more big advantage over Cisneros, though it's not as big as it once was: Money. He had $3 million in the bank going into this year, and that was before the Chamber of Commerce and its allies jumped in. Cisneros had far less, though she had outraised Cuellar by almost $100,000 in the last three months of 2019.
And the Justice Democrats and other progressive groups put $350,000 or more into last-minute ads for Cisneros. Meanwhile, Cuellar refused to debate her, and Cisneros shrugged off Pelosi's support for him.
"We know what she sees her role as, which is protecting incumbents and expanding the majority," Cisneros told the Texas Tribune, "and we know that at end of the day, once March 3 comes around, we're the ones that are gonna win because we're the ones that have a true ear to the ground. So we know what the challenges are, we know that we're not counting on her support right now, but I'm looking forward to working with her once we make it past this."