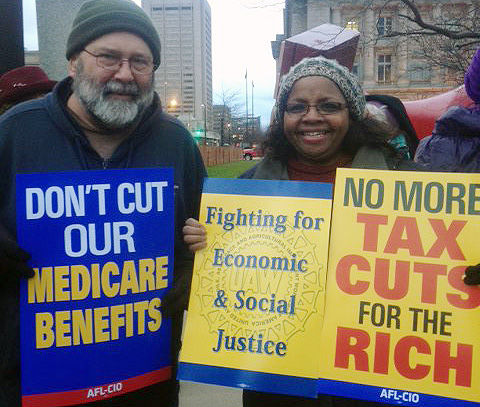 WASHINGTON – Declaring, "We are a union of immigrants," Auto Workers President Bob King elevated immigration reform to a top spot on the UAW's lobbying agenda.
It already was high up, joining protection of Social Security and Medicare and concerns about a proposed "free trade" pact with Pacific Rim nations.
But the union president, in impromptu remarks, told hundreds of delegates to the UAW's legislative conference on Feb. 4 not to make it a lower priority. The conference continues here until Feb. 6.
The UAW is one of two big unions sending hundreds of members to Washington to lobby this month. The other, the American Federation of State, County and Municipal Employees, convenes Feb.11-13.
The economy is a key issue for both unions, especially with Congress about to wrestle with $85 billion in planned federal budget cuts. The cuts would come as part of a "sequester," starting March 1. The budget slashing could drastically affect programs people depend upon, Sen. Tammy Baldwin, D-Wis., told the UAW at the same Feb. 4 session.
And the prospect that lawmakers could try to avoid the sequester by reducing future cost of living increases for Social Security recipients and slashing Medicare and Medicaid prompted Josh Nasser, the UAW's legislative affairs director, to put preservation of those programs atop the union's lobbying list, along with immigration and the trade pact.
King then said immigration reform, including eventual citizenship for all 11 million undocumented workers in the U.S., would benefit all workers.
"The UAW should be in the forefront of the fight for immigration reform," said King, calling it a civil rights issue. He reminded delegates of the union's historic role in the civil rights movement, when the legendary UAW President Walter Reuther teamed up with the Rev. Dr. Martin Luther King Jr.
"There are 11 million people who are being abused and exploited," and it "hurts everyone's middle class standard of living," King declared.
Millions of the undocumented workers "pay property taxes, they pay income taxes, they pay sales taxes, they contribute to Social Security, yet they're not eligible for the benefits the rest of us have" from those programs, he explained.
And their exploitation also drives down other workers' incomes, while fostering racial division in the U.S., he stated. "This is a 100-year-old tactic of the bosses to pit one ethnic group against another." But the campaign for immigration reform, including a path to citizenship for the 11 million "is a struggle for human dignity," he added.
The UAW's increased emphasis on immigration reform comes as Democratic President Barack Obama has just stepped up his own drive for that goal.
After a Jan. 31 speech on immigration reform in Las Vegas, he met union leaders, including AFL-CIO President Richard Trumka on Feb. 5 to discuss the issue.
The UAW's Nasser warned delegates they would hit responses from lawmakers that the deficit and debt are the top items on the agenda – and thus cuts in Social Security and Medicare are necessary.
"Our response to that is the first way to close the deficit is jobs," Nasser said. But there are other ways as well, he noted. The delegates should push closing personal and corporate tax loopholes, as Obama advocated in a Feb. 3 television interview.
Delegates should also campaign for revising the tax code to penalize firms that ship jobs overseas while rewarding companies that create jobs here. And while there could be some "judicious" trims in federal spending, "There's already been $1.7 trillion cut from domestic programs," Nasser said, compared to $600 billion in future tax hikes on the rich, enacted in January.
And the UAW particularly wants to keep Japan out of the 11-nation talks on the proposed Trans-Pacific Pact, the free trade treaty. Given Japan's restrictions on U.S. car imports, eliminating U.S. tariffs on Japanese vehicles, as the pact plans, "would be devastating" to the three U.S.-based automakers: Ford, Chrysler and GM, said Nasser.
The delegates agreed with the UAW's agenda, but Brian Schneck of Local 359 warned it could all drown on Capitol Hill, thanks to the Senate's refusal to substantially change its filibuster rules. The 391 filibusters in the last Congress let the GOP minority halt everything from the Dream Act to National Labor Relations Board nominees.
"We had an opportunity to change this arcane rule, and they (senators) failed us again," Schneck told Nasser. "So all of this work – all we need to do – are being held hostage" by Senate Republicans. "How can we outflank it?"
Nasser replied unionists must agitate to hold senators accountable for their opposition, forcing them to defend their stands publically on the Senate floor. But Senate leaders killed a move to require real talking filibusters rather than just the mere threat of a filibuster to block legislation.
Photo: UAW Facebook page.