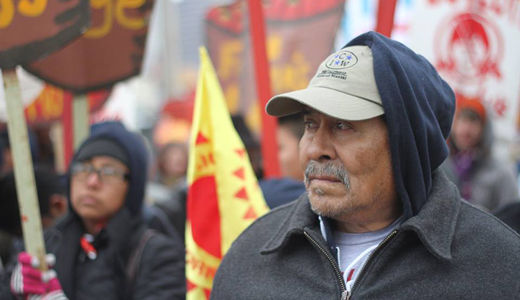 NEW YORK (PAI) – The labor-backed Coalition of Immokalee Farmworkers is calling for a national consumer boycott of Wendy's to force the hamburger chain to end human rights abuses of farmworkers who provide the produce that tops its burgers.
The boycott led off with a protest march on March 3 in Manhattan from Columbus Circle to the Manhattan corporate offices of Wendy's board chair Nelson Peltz, whose hedge fund, Trian Partners, is the chain's largest shareholder, the Institute for Southern Studies reported.
A five-city workers' voice tour will start soon, the coalition said.
"Though the South added millions of jobs in recent years, the region's low-road approach to economic development meant many of them are low-paying jobs that leave families fighting to get by," the Institute says. But the farmworkers' jobs are even worse than that.
The farmworkers, who pick the produce – particularly tomatoes – that top all fast-food chains' burgers, are paid pennies per bushel for the vegetables they garner. The other big fast food chains, led by Taco Bell a decade ago, started raising those payments after pressure from the coalition, unions, workers, consumers and their allies.
The other chains pay a penny per pound premium for the tomatoes, bell peppers and other produce they buy from farms in Florida, the Carolinas, New Jersey and Virginia. The added money goes to the farm workers.
The coalition also wrote to Wendy's heads a decade ago, saying that chain too should pay decent wages and stop human rights abuses in the fields, following the guidelines of the coalition's Fair Food Program. It never heard back. So it instituted the boycott, the second it's ever called.
"Wendy's is profiting from farmworker poverty," the coalition explained. "Wendy's stands alone as the last of the five major U.S. fast food corporations to refuse to join the FFP: McDonald's, Yum! Brands," – Kentucky Fried Chicken – "Subway, and Burger King are all part of the program," which has been lauded by consumer advocates and the Obama White House.
"By refusing to participate, Wendy's is deriving a very real cost advantage over its competitors, while continuing to provide a market for less reputable growers."
"Ten years ago, we sent a letter to Wendy's asking them to follow Taco Bell's example and work with us to protect farmworkers' fundamental human rights in their supply chain," coalition leader Cruz Salucio said. "They refused then, and they continue to turn their backs on farmworkers to this day.
"Instead, Wendy's stands alone in deciding to pull its purchases from the Florida tomato industry and abandon its longtime suppliers for participating" in the Fair Food Program.
"In light of the Fair Food Program's unparalleled success in eliminating longstanding human rights violations in the fields, it is preferable for companies looking for solutions to abuses in their supply chains to come to the program of their own volition. By now, protests and boycotts should be no longer necessary," said another coalition leader, Lupe Gonzalo.
"But when companies like Wendy's remain so stubbornly stuck in the past, committed to empty public relations promises over real human rights protections, we are left with no choice. The Campaign for Fair Food is prepared to mobilize consumer action in support of real worker-driven social responsibility. We will prevail, because more and more, transparency and food justice are becoming the hallmarks of the 21st century food market," Gonzalo added.
Photo: Coalition of Immokalee Workers Facebook.