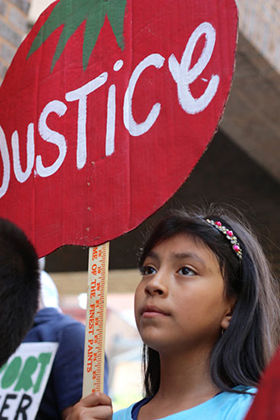 Before there was Food Chains – the new documentary on the Coalition of Immokalee Workers' Campaign for Fair Food, which is playing to rave reviews and sold out theaters around the country – there was A Tale of Two Thanksgivings, first broadcast back in 2012.
And today, like It's a Wonderful Life, A Christmas Carol, and Miracle on 34th Street, this video short is becoming an annual holiday classic in its own right, a sort of "How the Grinch Stole Thanksgiving" that will play for years to come (or until Publix pulls its head out of the ground and stops pretending that it has no responsibility for generations of farmworker poverty and exploitation in its supply chain).
A Tale of Two Thanksgivings is the CIW's take on Publix's famous holiday commercials – the especially well-crafted series of ads that, as Floridians know, tell a short story about the deep love that we all feel for family at holiday time and subtly, but ever so effectively, bond that love to the Publix brand. Specifically, this commercial was the basis for the CIW's A Tale of Two Thanksgivings.
Strong stuff, right? But now take a moment and watch the CIW's video below. Go ahead, we'll wait…
In the CIW's version of the commercial, after the grandfather gives thanks for the "historic strides toward dignity in the fields" achieved through the Fair Food Program, the young boy asks his grandmother: "Grandma, why won't Publix help to make farmworkers' lives better?" And she responds, "We have asked them to come to the table, for a long time. We know that some day they will."
The Publix version of the ad also pivots around a central question. After talking about all the hard work she has done in the kitchen preparing the Thanksgiving feast for her family over the years, the grandmother asks, "So, after all this time and all these years, is it still worth it?"
Today we would ask Publix that same question. Nearly 15 years after the launch of the Campaign for Fair Food in its own backyard, nearly ten years since the CIW asked Publix – in private letters to company executives – to join Taco Bell in supporting Fair Food, and nearly five years since the public campaign to call on Florida's largest grocer to join the wildly successful Fair Food Program, Publix still refuses to help make farmworkers' lives better.
So, Publix, after all these years of fighting progress, is it still worth it? Is being the hero to the growers who continue to fight long-overdue labor reforms on their farms still worth it? Is standing against the tide of history – like those who stood in the doorways against the integration of public schools leading the lost cause of "Massive Resistance" – still worth it? Is being the standard bearer for a bygone era – of a time before social responsibility, a value almost universally shared among the millennial generation, young consumers who will be buying groceries for their families' Thanksgiving tables for years to come – still worth it?
Love is a powerful emotion. Love for family is undoubtedly the deepest love of all, and Publix is wise to target that emotion in its holiday commercials. There is profit to be made in the commercialization of love. But love is not limited to family alone. Our love for one another, our love for justice, for the dignity of all human beings, are also powerful emotions. Every child knows what's fair and what's not, and it is that fundamental understanding – rooted in our profound love for one another – that has been the force that has bent Dr. King's "arc of the moral universe" toward justice since time immemorial.
It is also that love that drives the Campaign for Fair Food. And so we will not tire – we will never tire – of asking Publix to come to the table. And that's why we know that some day they will. Happy Thanksgiving, everyone.
This article has been reposed from CIW Online.
Photo: CIW Online