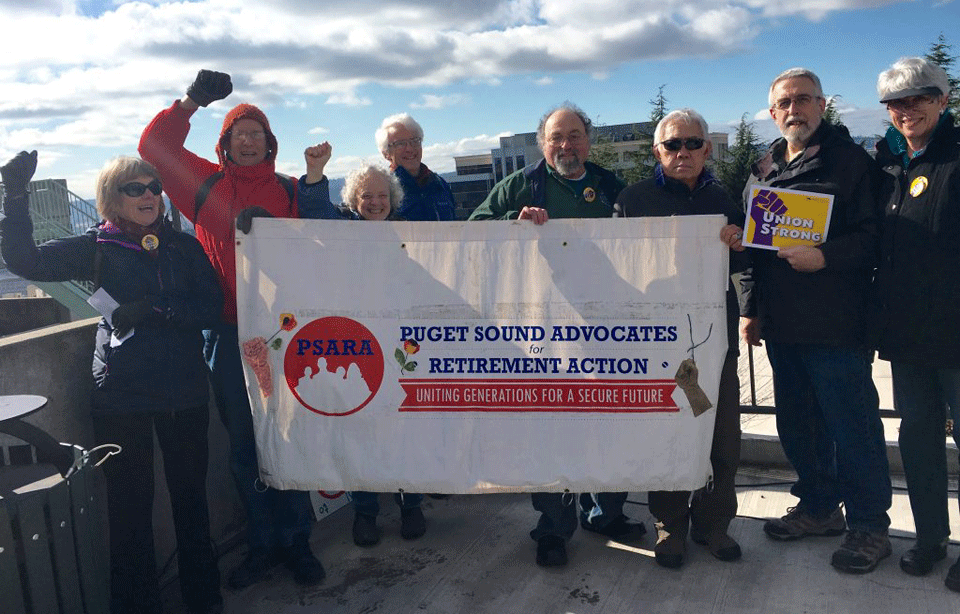 SEATTLE—Imogene Williams, a gentle soul with an iron will to win progressive change died peacefully at her home May 24, surrounded by her children, grandchildren and great-grandchildren.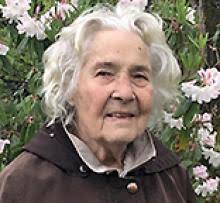 In her years as a political activist, she was arrested for worthy causes dozens of times. She door-belled for progressive candidates in Seattle including for Rep. Pramila Jayapal, the incumbent U.S. Congresswoman from Seattle and for Kshama Sawant the Seattle Councilwoman, an avowed socialist. She was the champion signature-gatherer to place a measure on the ballot to give Washington a progressive state income tax, relief from the regressive 8.5% sales tax.
She was an active member of Puget Sound Advocates for Retirement Action (PSARA) serving on PSARA's Executive Committee. When PSARA's founder, Will Parry, was grieving the death of his wife Louise, Imogene consoled him, took him into her home. They lived together, inseparable companions, until Parry died at age 93 in 2013.
She was born Imogene Bryant in Manila, the Philippines,  Oct. 20, 1931, daughter of  William Cheney Bryant and Alice Franklin Bryant. As war clouds gathered, Imogene was sent back to the U.S. to live with relatives. But the Japanese imprisoned her parents for the duration of the war. In 1945, Imogene, 13, was reunited with her parents. They moved to Seattle, living with her grandfather, John Eddy Franklin in the family ancestral home on Capital Hill. .Her mother became a legendary anti-war spokeswoman, advocate of equality and social justice. Alice Franklin Bryant, as a Democrat, ran for U.S. Congress and once against Sen. Henry "Scoop" Jackson always speaking out for world peace equality and justice.
Imogene followed in her mother's footsteps while  earning a degree in biochemistry, Magna Cum Laude, at the University of Washington. Doing research in a UW lab she met biologist, Harvey Dean Williams. They married and she gave birth to four children, all surviving, Ruth Alice, Rachel Eileen, Loren Dean, and Rebecca Grace Williams.
The family moved to Corvallis, OR, where Imogene earned an elementary teaching certificate. In 1971, the family moved to Winnipeg, Manitoba, where Imogene taught third grade in a pubic school. She joined the New Democratic Party and worked in support of refugees.
After retirement, the family moved back to the family home in Seattle where she plunged into grassroots political work. She did not drive so she rode public transit everywhere and became an advocate of transit workers, joining them on their picket lines and speaking at their rallies.
She was a member of the Seattle First Baptist Church and sang in the choir. The Seattle Unity Club of the Communist Party could not find a place to meet. Imogene arranged for them to meet monthly in the Peacemaker Room at First Baptist Church, with a portrait of her mother, Alice Franklin Bryant, on the wall.
She was arrested repeatedly at Chase Bank branches protesting their investments in coal, oil and gas corporations. Once, Seattle police officers refused to arrest Imogene explaining that at age 87 she was too old. When they weren't looking, Imogene crept into the police van to join her younger brothers and sisters. She explained, "What would my mother say if I never got arrested." Her last arrest was on the railroad tracks in Vancouver, Washington, in Sept. 2019 to block a coal train, her struggle to save the planet from global warming.