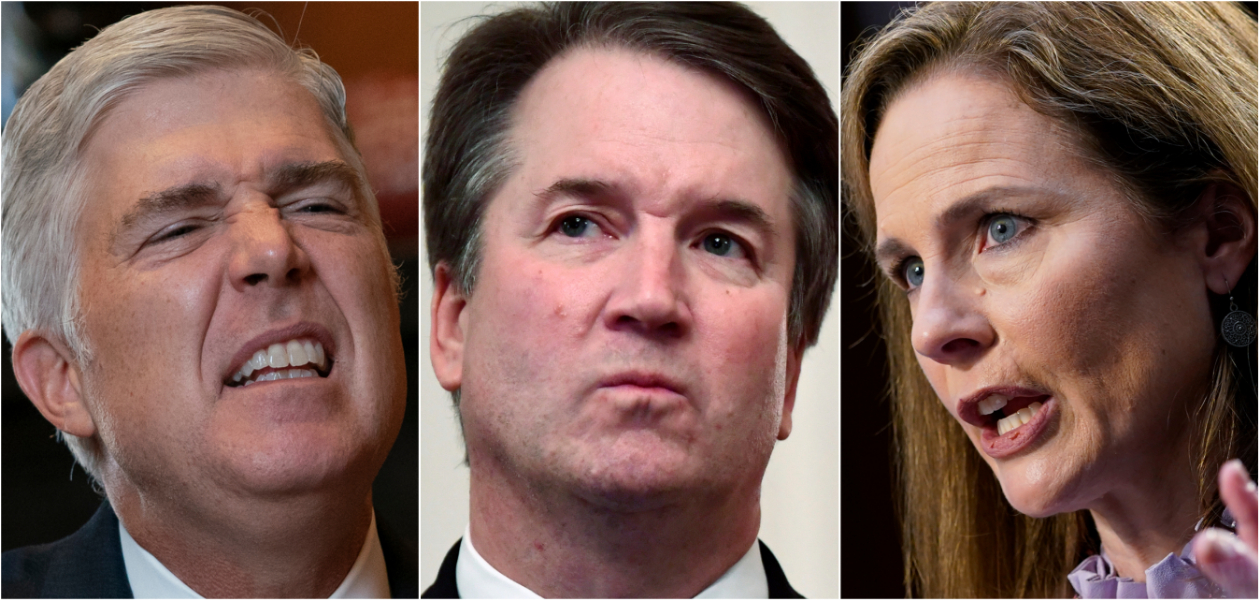 BERKELEY, Calif.—Never let it be said the nation's teachers pull their punches in politics—not when the Teachers (AFT) local in Berkeley, Calif., proposes solving the Supreme Court's right-wing takeover by impeaching the three Trumpite justices whose key votes ended the constitutional right to abortion.
The proposal is one of two ways the Berkeley Federation of Teachers, AFT Local 1078, recommends solving the problem created when former Republican Oval Office occupant Donald Trump dumped Justices Amy Coney Barrett, Neil Gorsuch, and Brett Kavanaugh onto the High Court within the space of four years.
And as the three apparently pledged to Trump, but not to the U.S. Senate, they became the key votes to end that constitutional right. The vote to do so was 5-4. That means the Trumpite justices lied under oath, and deserve impeachment, the local says.
"The AFT demands" Democratic President Joe Biden "increase the number of Supreme Court justices, and/or impeach the justices who went against their sworn testimony to not overturn Roe v. Wade," the 1973 ruling that established the constitutional right to abortion the court majority removed, the union's proposed resolution for the AFT Convention says.
In open sworn testimony at confirmation hearings, all three said they respected precedent as a key principle of law. The pro-abortion ruling they tossed was a 49-year-old precedent.
The local also "calls for an end of the Senate filibuster being used now, as it has in the past, to maintain white privilege and Jim Crow laws and to block progressive legislation."
And the court and the Senate's filibuster backers—all but two of them Republicans—are doing so at the behest of "the Trump movement" and the corporate class, Local 1078 declares.
The right-wing aims "to create government completely subservient to the interests of a section of America's giant corporations and wealthiest individuals, without any meaningful constitutional or democratic restraints on the use of governmental power to serve their purposes."
Local 1078's proposed resolution to the AFT Convention, which runs from July 14-18 in Boston, is one of four resolutions reaffirming and reinforcing the union's stand to campaign for abortion and other reproductive rights, court or no court.
In its own and much longer resolution, the Teachers' Executive Council excoriates the Trumpite threat to democracy and puts its preservation as a top goal of who it will back and work to elect both in this fall's election and 2024. It calls Trump the direct cause of the threat. But it doesn't advocate throwing Coney Barrett, Gorsuch, and Kavanagh out.
"We are now at a critical point in our nation's history, as some people in one of the two major political parties in the U.S. are so craven for power they are willing to attack the very foundations of democracy in order to obtain it," the council said.
"Too many elected officials and candidates for office—led by Trump—repeat the 'big lie' about the 2020 election, excuse the Jan. 6 insurrection (including actual participants) and promote legislation that would strike at free and fair elections and the peaceful transfer of power.
"Unfortunately, in the service of power, these same people promoted fear and hate, disinformation and conspiracy theories, stoking of polarization and division, including the banning of books and attacks on public education, healthcare and unions."
Critical for survival
That means the two elections "are critical for the survival of democracy. The extremists' goal is to win control over all levers of government, from school boards to state houses to the White House and Capitol Hill. If they are successful electorally, they will replace democratic government with a self-perpetuating autocracy of permanent minority rule.
"Pro-democracy candidates, pro-public education and pro-healthcare candidates, and pro-working family candidates must win in these elections."
"Now is the time for an election that defends democracy in America and, in so doing, brings liberty and justice for all Americans," the council's resolution declares. Other notable resolutions that may come up include:
The California Federation of Teachers wants AFT to reiterate "strong support" for, and campaign for, the Protect The Right To Organize (PRO) Act. The Senate's Republicans have stalled the House-passed legislation, the most pro-worker labor law reform since 1935 and labor's #1 cause.
Local 2334, the City University of New York's Professional Staff Congress, wants to end U.S. sanctions against Cuba, which hamper education there and progress against the coronavirus, where the island nation's advanced medical system has developed vaccines—as well as training doctors to serve underserved communities in Cuba, the U.S. and abroad.
A basket of measures to improve security in schools. According to the Buffalo Teachers Federation—whose city was the site of a recent mass murder in a Black community supermarket —and New York State United Teachers, they would include money to hire more counselors, psychologists, social workers, and others to work with troubled students, add earmarked funds for enough "trained security personnel" who can gain student confidence and another earmark for community organizations working to prevent violence and disruption.
One anti-violence measure the resolution pointedly does not include is the gun lobby's favorite: Mandatory arming of all teachers. Both AFT and the National Education Association oppose that.
Dumping excessive reliance on standardized tests for evaluating students, and eliminating them completely in grades 3-8. The resolution demanding that, and more, calls the tests biased, used unfairly to downgrade students and weaken teachers, and based originally on testing for military service. AFT state federations in Colorado, Massachusetts, Illinois, Ohio, and Rhode Island, plus Lynn, Mass., want to water down, if not completely eliminate, dependence on the tests.
The Chicago Teachers Union, AFT's Local 1, wants the parent union to advocate for and launch a massive "Green Schools" campaign, retrofitting schools with solar panels, installing both better ventilation systems to prevent the further spread of the coronavirus and new electric energy efficient heating and cooling systems and "remediate schools for lead, asbestos, and mold."
Consistent with CTU's own citywide stands, the union also wants to have renewable sources provide 100% of public schools' energy and "work with unions to train and hire unemployed parents and public school alumni from their local neighborhoods with the highest unemployment rates to do this remediating, retrofitting and solarization work."
Tackle systemic racism by "promoting policies that protect educators who teach anti-racism and practice gender inclusivity, and fight against districts that make rules or policies to advance discrimination and marginalization in any form.
"The AFT and its affiliates will elevate student-focused policies and programs to disrupt inequitable practices that disproportionately impact schools serving low-income students, and schools that have predominantly Black, Hispanic, and Indigenous student populations" that resolution, by the United Teachers of Los Angeles (UTLA), says.
The Nashua, N.H., local wants AFT to reaffirm its opposition to taxpayer funding of school voucher programs, in the wake of a recent Supreme Court decision that approved such cash.
The Pittsburgh Federation of Teachers wants to end "surveillance capitalism," especially of teenagers, by social media, notably Facebook, through legislation to let consumers opt out.
The Chicagoans also want AFT to campaign to cancel student loan debt. UTLA, Chicago, Boston's local, and New York's United Federation of Teachers/Local 2 want the parent union to campaign against hate crimes and violence perpetrated on Asians.