WASHINGTON—On Feb. 18, among nationwide protests against GOP President Donald Trump's ersatz "national emergency" declaration to get money for his racist Mexican Wall, hundreds of signs and chants went up demanding impeachment of Trump.
Now, the New York Times has given the nation evidence to work with, and specifically evidence of the president's obstruction of justice.
Even before Special Counsel Robert Mueller delivers his report to the Justice Department, expected later this year, the Times probe, based on internal administration documents, interviews and whistleblowers, reveals a pattern where Trump has specifically schemed to derail the federal investigation into collusion between his 2016 presidential campaign and the Russian government.
Ironically, the Times story, quoting Trump's own lawyers, also summarizes his actions to obstruct justice.
Trump's lawyers argue he hasn't conspired to obstruct justice because he's been open and public about trashing both Mueller's probe and the FBI investigators.
"He fired one FBI director and considered firing his replacement," Trump's lawyers argue.  "He humiliated Attorney General Jeff Sessions 'for being unable to 'control' the Russia investigation and installed a replacement who has told people he believed his job was to protect the president."
The lawyers' explanation? It's "Donald Trump being Donald Trump." Trump later fired Sessions. The Times reports he also repeatedly said he wanted to fire Mueller.
And Trump told former Gov. Chris Christie, R-N.J., over lunch that by firing one key go-between from his campaign to the Russians, former National Security Adviser Michael Flynn, the Russia probe would be over and quashed. Christie, a former U.S. attorney, was incredulous and told Trump he was wrong.
And in one other attempt to obstruct justice, Trump said he fired Flynn. He didn't. Flynn quit.
Trump also tried to obstruct justice by denigrating – and trying to stop – FBI investigations into his hotel chain's shady dealings with both Moscow and Saudi Arabia, both before (Moscow) and after he took over the Oval Office. Trump still owns the chain, though his kids now supposedly run it.
Such Trump deals, especially after his Jan. 20, 2017 inauguration, violate the U.S. Constitution's emoluments clause, according to a legal challenge pending in federal court in D.C.
The clause says "no person holding any office of profit or trust" in the federal government or in states "shall, without the consent of Congress, accept any present, emolument" – money – "office or title of any kind whatsoever" from foreign governments.
Trump's both obstructed justice and violated the emoluments clause, the newspaper's investigation shows. Its findings include:
Trump repeatedly tried to obstruct and/or denigrate the FBI investigation into collusion between his campaign and the Russians.
His latest action was a recent demand acting Attorney General Matthew Whitaker name a known Trump supporter, Geoffrey Berman, to take charge of the Russia probe. Unknown to Trump, Berman, now U.S. Attorney for Manhattan, has already recused himself from anything dealing with Trump investigations.
Under oath, Whitaker, a Trump loyalist, told Congress Trump never talked with him about the Russia probe. The Times reported the House is now investigating Whittaker for potential perjury.
Virtually non-stop since he entered office, Trump, through tweets, speeches and press conference statements, trashed law enforcement agencies, notably the FBI, whose agents are pursuing the ties between his campaign and Russia.
In a separate development, though not part of the Times story, the federal judge overseeing the guilty plea of former Trump campaign manager Paul Manafort on unrelated tax evasion charges, revealed on Feb. 15 that Manafort lied to Mueller about his ties to Russian intelligence asset Konstantin Kilimnik.
In yet another attempt to squelch the Russia probe, Trump pressured his Justice Department release confidential materials about it to his GOP allies in Congress, notably then-House Intelligence Committee Chairman Devin Nunes, R-Calif. Trump knew Nunes would leak them, prejudicing the case.
He also discussed pardoning both Manafort and Flynn, but backed off when his own White House counsel threatened to quit and go public about the scheme.
Trump ordered his advisers, particularly then-spokesman Sean Spicer, to say Trump fired Flynn for lying to Vice President Michael Pence about Flynn's contacts with the Russians. Flynn had quit.
And, even though the Times did not report it, the House Oversight Committee staff discovered, and reported on Feb. 18, that Flynn stayed in contact with the White House. Flynn advised a firm dealing with Saudi Arabia on how to get Trump to OK export of nuclear technology and nuclear plant components to the Saudis – components and technology that could be turned into nuclear bombs.
The firm, IP3, even drafted a detailed memo for Trump to sign, OKing the nuclear sales to the Saudis.
Obstructing investigations may not be the only violation of the Constitution by Trump and his staff.
Supporting documents for a report, released Feb. 18 by the House Oversight Committee Democratic staff, bluntly show Trump lawyer and fixer Michael Cohen lied about payoffs to Stormy Daniels, one of two women Trump had bedded who was threatening to go public – and that Trump knew it.
The handwritten notes from attorneys advising Cohen read: "We don't view payments" to Daniels "as reportable liabilities, but are willing to disclose" them. One Cohen attorney listed at the top of the notes: Fred Fielding, former White House Counsel to GOP President Richard Nixon.
"Thinking about the role of the liabilities (1) Mr. Cohen did own expenses (2) Mr. Trump did reimburse Mr. Cohen, but we view them as payments for services pursuant to the Oct. agreement" with Daniels to keep her quiet, the handwritten notes add.
"President Trump's former attorney, Michael Cohen, is now going to prison in part for his role in these hush-money payments," said Oversight Committee Chairman Elijah Cummings, D-Md. "During his guilty plea, Mr. Cohen said he did this 'in coordination with, and at the direction of' the president 'for the principal purpose of influencing the election.'"
"It now appears President Trump's other attorneys — at the White House and in private practice — may have provided false information about these payments to federal officials. This raises significant questions about why some of the president's closest advisers made these false claims and the extent to which they too were acting at the direction of, or in coordination with, the president." Cummings has asked the White House to reply to the findings.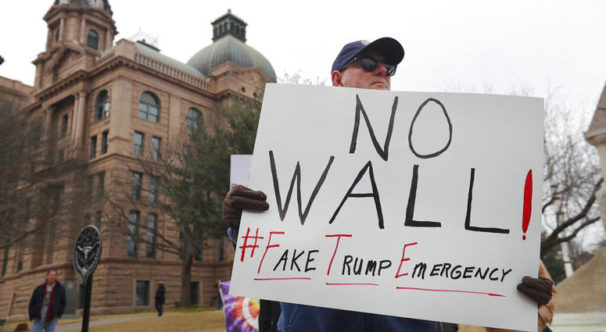 Another preliminary report, released Feb. 19 by the committee staff, exposes extreme Trump administration efforts – including by Flynn – to create "A Marshall Plan for the Middle East," built around arming the Saudis with nuclear reactors and associated technology.
Flynn, who was also tangled in the Trump-Russia mess, and his private-sector allies, the IP3 nuclear consulting firm, pushed the plan. They emphasized the nuclear transfers, stressing that if the U.S. didn't sell the technology to the Saudis, China and Russia would.
National Security Council staffers and Flynn's successor, H.R. McMaster, strongly objected to the deal.
They feared the technology transfer would let the Saudis "go nuclear," i.e., make atomic bombs.
The transfers, the NSC staff said, would violate U.S. law. They also, though the Oversight panel report did not say so, violate the Nuclear Non-Proliferation Treaty, an international agreement to curb the spread of nuclear material and weaponry. The U.S. drafted and signed the treaty.
Even after he left the White House, Flynn stayed in close touch with Trump insiders. He also pushed the Middle East Marshall Plan and advised IP3 when it prepared for Oval Office meetings.
"The whistleblowers who came forward have expressed significant concerns about the potential procedural and legal violations connected with rushing through a plan to transfer nuclear technology to Saudi Arabia," Cummings said in releasing the staff report over GOP objections.
"They have warned of conflicts of interest among top White House advisers that could implicate federal criminal statutes.  They have also warned about a working environment inside the White House marked by chaos, dysfunction, and backbiting. And they have warned about political appointees ignoring directives from top ethics advisors at the White House who repeatedly and unsuccessfully ordered senior Trump Administration officials to halt their efforts."