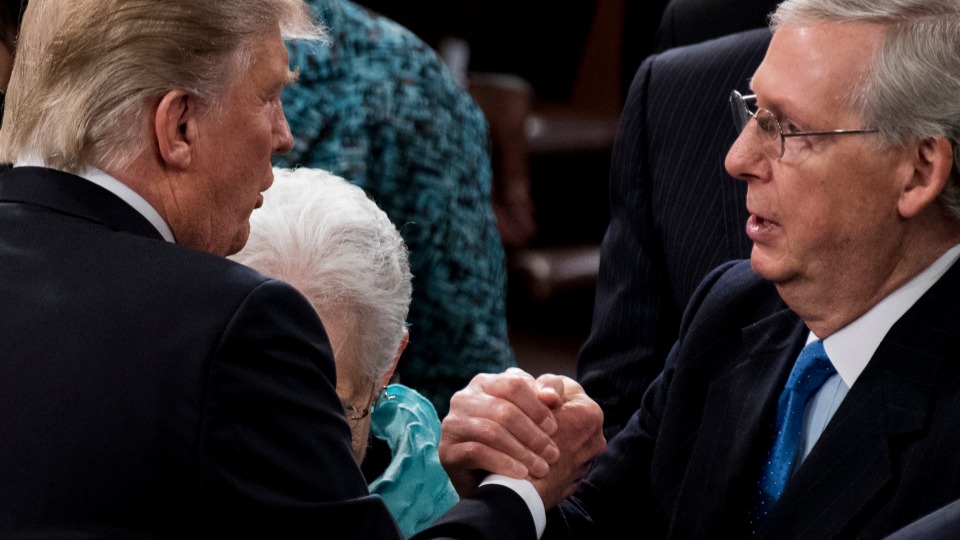 WASHINGTON—A bipartisan 57-43 margin, the biggest bipartisan majority ever, voted to convict the impeached former president, Donald Trump, of inciting insurrection. But conviction needed 67 votes, so the former president escaped conviction on that sole impeachment count.
The vote came after the House members, acting as prosecutors—impeachment managers—warned that non-conviction could open the way to future violent insurrections against the U.S. government.
Those invasions would be like the fatal one where thousands of extremist Trumpites stormed and vandalized the U.S. Capitol on Jan. 6, killed a police officer, injured 146 others, endangered lawmakers, formed an unsuccessful lynch mob against leaders, and attempted a coup against the Constitution. Two other officers, distraught over their failure to defend the Capitol, later committed suicide.
The invasion led to Trump's Jan. 13 impeachment by the House. On Feb. 13, seven Senate Republicans joined all 48 Democrats and both independents in voting at 3:50 pm to convict Trump.
The House vote was bipartisan, too: Ten Republicans joined all 222 Democrats voting to impeach Trump. But 197 Republicans voted "no," making themselves complicit in his coup try, after the fact.
At the start of the five-day Senate trial, 44 Republicans voted against even hearing the case, also making themselves complicit in Trump's scheme to keep himself in office. Thirteen ringleaders, led by Sens. Ted Cruz, R- Texas, and Josh Hawley, R-Mo.,  had supported the invaders on or before Jan. 6.
"We proved he betrayed his country. We proved he betrayed his oath of office. We proved he betrayed the Constitution," lead House manager, Rep. Jamie Raskin, D-Md., said of Trump. "He named the date. He named the time. He brought them here. Now he must pay the price," Raskin concluded just before the final Senate vote.
"Donald Trump tried to sideline every other branch of government, to overturn the people's choice" for the presidency, Democrat Joe Biden. "Will we be a democratic nation other nations look to? Will the Senate condone the president of the United States inciting a violent attack?" Raskin asked earlier.
But the point of the trial was more than convicting one man, said Raskin, a former constitutional law professor. It was about both holding Trump accountable and preserving the U.S. government. "When they [the invaders] shut down the counting of Electoral College votes, is it appropriate?" he asked. The count. Finished later formally elected Democrat Joe Biden as president, replacing Trump.
"This trial is not about Donald Trump. This nation and the world know who Donald Trump is. This is about who we are. Is this America? This is going to be up to you," Raskin challenged the senators. By that standard, all but seven Republican senators flunked.
While unions and workers did not comment on impeachment during the five-day trial, the AFL-CIO came out forcefully for impeaching, convicting, and removing Trump the day, Jan. 13, the House impeached him, a week after the invasion. "Bipartisan impeachment of Donald Trump is a sharp rejection of white supremacist politics and seditious actions," federation President Richard Trumka said then.
"Working people of all political stripes believe Trump is a threat to our lives and livelihoods and our democracy. It is clear with each passing hour this president is unable to fulfill his constitutional oath. And it should be clear to all that encouraging a mob to overthrow the U.S. Constitution by force is an impeachable offense. The Senate should remove him from office."
Other unions chimed in. "The responsibility for these attacks lies squarely with Trump and a shameful number of other Republican politicians who have repeated, for two months now and with no evidence, the 'big lie' that the presidential election was stolen," leaders of the independent United Electrical Workers said then.
UE also tied Trump insurrectionists' anger to capitalist exploitation. "Trump's ability to persuade so many people to engage in political violence is rooted in the fact that the working class has been repeatedly lied to about the source of our economic problems," it said.
In the trial's final two days, especially in answering senatorial questions, the managers emphasized not just Trump's history of incitement—leading up to his infamous Jan. 6 pre-invasion speech—but the Jan 13 statement of Rep. Liz Cheney, R-Wyo., the #3 House Republican, directly blaming Trump for the insurrection. Previously, they played videos of four Republican governors doing so, too.
"The president of the United States summoned this mob, assembled this mob and incited this mob," Cheney said then. "There never has been a greater violation of his oath of office by a president of the United States." Cheney was one of the ten pro-impeachment House Republicans. This month, she survived a Trumpite attempt to oust her from that job for that reason. One-third of GOPers voted to do so. But Trump's actions and inactions played a bigger part in the Democrats' case.
"The president didn't call the National Guard," House manager Rep. Julian Castro, D-Texas, told Sen. Patty Murray, D-Wash., in the q-and-a on Feb. 12. "His own administration didn't list him as somebody who they had spoken with to activate the Guard. And he said: 'Remember this day forever.'
"So if he was not guilty of inciting insurrection, if this is not what he wanted, if it wasn't what he desired, by that time the carnage had been on television for hours. He saw what was going on. Everybody saw what was going on.
"If it wasn't what he wanted, why would he have said, 'Remember this day forever'? Why commemorate a day like that, an attack on the U.S. Capitol, for God's sake? Why would you do that, unless you agreed that it was something to praise, not condemn, something to hold up and commemorate?"
In his closing on Feb. 13, Trump's lead counsel, David Van der Veen, claimed "all of us, including my client, are deeply disturbed" by the insurrection. Van der Veen presented no proof for that statement. Neither has Trump.
"The act of incitement never happened…on Jan. 6 or any other day," Van der Veen alleged in his closing. "It's not true." The day before, as part of Trump's defense, his lawyers also said that because the invaders planned their insurrection beforehand, Trump did not incite it—conveniently omitting that Trump instructed the invaders, 18 days before, when and why to meet: Jan. 6, to "stop the steal."
Van der Veen also claimed Trump's address pointing the insurrectionists down Pennsylvania Avenue to the Capitol was within Trump's constitutional right of free speech. "You should not be forcibly removed from office for saying those things," said Van der Veen. He then accused the House managers of "fraud, flat-out" and making up evidence, again without proof.
Even as the managers and Trump's lawyers summing up, progressive groups urged members to call and e-mail their senators to convict Trump. "The Senate MUST hold him [Trump] accountable for inciting the January 6 attack on the Capitol and our democracy," the National Abortion Rights Action League's political wing said in an e-mail on the morning of Feb. 13 (their emphasis).
"If Trump doesn't face serious consequences for his crimes, the violent white supremacists who carried out the attack at his urging will be further emboldened and continue to be a grave threat to our democracy. It's time to take decisive action to protect our democracy and prevent Trump from holding federal office ever again."
"If we can seize this opportunity and act decisively to protect our democracy from Trump and his aspiring authoritarians, we can take some of the most important action in our history to ensure we leave a strong democracy for the next generation," Common Cause President Karen Hobart Flynn e-mailed.
"Donald Trump isn't president anymore—as voters decided in an election with record turnout. But the dangerous forces he stoked through his entire presidency, culminating in a violent, anti-democracy attack on the U.S. Capitol, will remain with us. Common Cause is ready to stop them, and that's something we must prioritize in the coming months and years."
"We're disappointed but not surprised" by the 43 GOP votes not to convict Trump, the Women's March texted. "How can we expect anything different when seditionists like Ted Cruz who helped Trump incite the insurrection are the jurors?"
"Women's March is leading the charge to expel the entire Sedition Caucus," especially Cruz and Hawley, "organize to elect progressive leaders, and fight back against Trumpism whenever it rears its ugly head," Executive Director Rachel Carmona also e-mailed. The Women's March used that e-mail to seek financial support for those future campaigns.
But the Progressive Change Campaign Committee said Democrats didn't go far enough. The Senate voted to Feb. 13 to let the lawyers call witnesses, so Raskin admitted one statement, from a GOP lawmaker, quoting House GOP Leader Kevin McCarthy, R-Calif., trying to get Trump to call off the insurrection, and rescue Pence. Trump refused, saying the invaders had more backbone.
When Sen. Tommy Tuberville, R-Ala., reported Feb. 12 that he told Trump that Pence was endangered, Van der Veen replied Trump was "very much is concerned and was concerned for the safety and well-being of Mr. Pence and everybody else who was over here," without offering evidence for that claim. A Trump tweet at 6 pm on Jan. 6, more than five hours after the insurrection began, contradicted Van der Veen's statement.
PCCC noted the final Senate vote still leaves Trump, as a private citizen, open to prosecution for crimes connected with the insurrection, and other crimes, too. It wants Biden administration Attorney General Merrick Garland "to investigate and prosecute Trump and his criminal network for law-breaking.
"Inciting the deadly insurrection against America's government may be the most violent criminal act Trump committed, but it is just the tip of the iceberg of what must be investigated and prosecuted.
"Financial crimes. Public corruption. Conspiracy to defraud the United States. Election law and campaign finance violations. The list goes on…They all must be brought to justice. No accountability means normalization of law-breaking."
Trump's lawyers could have taken 16 hours to defend him. They took three on Feb. 12 and two the next day. But after they spoke Feb. 12, senators often revealed their leanings in the following q-and-a that day. Sen. Marco Rubio, R-Fla., contended, for example, that if the Senate convicted Trump, they could convict any other former official, including a former Secretary of State, for anything. He implied, without saying so, that Hillary Clinton would be the target.
Republicans challenged Raskin for not calling witnesses. "The counsel for the president," Van der Veen, "keeps blaming the House for not having the evidence that is within the sole possession of their client, who we invited to come and testify last week" in writing, he replied. "If you don't testify in a criminal case, it can't be used against you. Everybody knows that. That is the Fifth Amendment privilege against self-incrimination.
"But if it is a civil case" like impeachment, which carries no jail time or fines, "and you plead the Fifth or you don't show up, then, according to Justice (Antonin) Scalia and the rest of the Supreme Court, you can interpret every disputed fact against the defendant."
Six senators, including both leaders, explained their votes afterwards. "The failure of the Senate to vote to convict Donald Trump will become known as a vote of infamy" for the GOP, an irate Majority Leader Charles Schumer, D-N.Y., said. Instead of choosing their country, "43 members chose Trump."
"Six hours" after the attack started, "Donald Trump told his supporters, 'Remember this day forever.' I hope Americans remember this day forever, but not for his reasons."
The final note of irony came from Minority Leader Mitch McConnell, R-Ky., who voted against convicting Trump. McConnell and Schumer lead the evenly split Senate. McConnell summarized—and agreed with—the entire prosecution case but then said Trump couldn't be convicted because he was now out of office.
McConnell conveniently omitted the fact that while running the Senate, he delayed the trial until after Trump left office. McConnell refused to accept the House's impeachment article before Jan. 19, the day before Inauguration Day. The Dems took over on inauguration, at noon on Jan. 20.
Like free stuff? So do we. Here at People's World, we believe strongly in the mission of keeping the labor and democratic movements informed so they are prepared for the struggle. But we need your help. While our content is free for readers (something we are proud of) it takes money — a lot of it — to produce and cover the stories you see in our pages. Only you, our readers and supporters, can keep us going. Only you can make sure we keep the news that matters free of paywalls and advertisements. If you enjoy reading People's World and the stories we bring you, support our work by becoming a $5 monthly sustainer today.