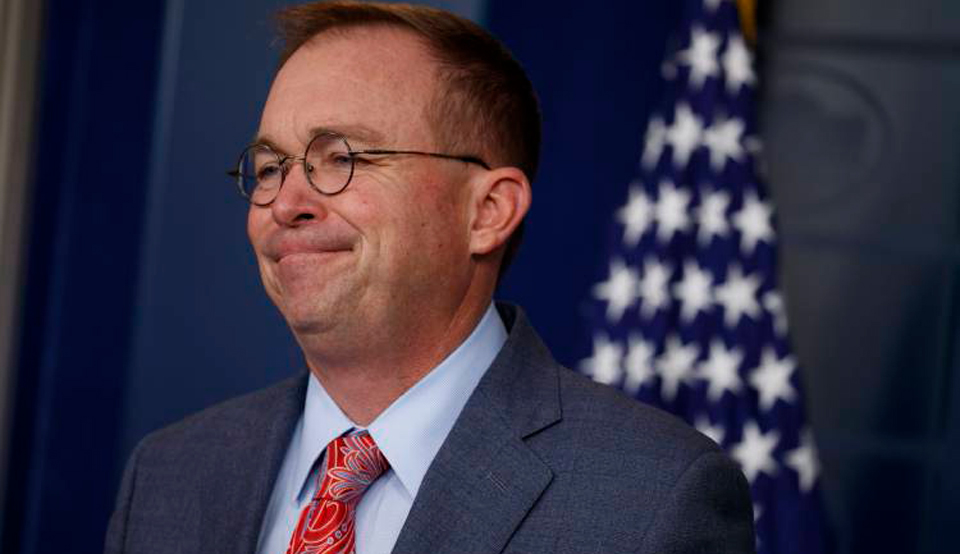 WASHINGTON—Trump's approach now is to brazenly admit to almost everything he has been charged with and hope that by doing so people will think there was no "secret" conspiracy and that even clearly illegal acts are therefore "ok" because "everyone does them."
In the latest revelation of potential "treason, bribery and other high crimes and misdemeanors," to quote the U.S. Constitution's impeachment requirements, Mick Mulvaney, Trump's acting chief of staff, admitted Trump held up military aid to Ukraine in exchange for that country performing tasks useful to him for personal and political reasons.
In the past, Trump released a report on a phone call that clearly showed he had pressured the Ukrainian president to produce dirt on a political rival, former Vice President Joseph Biden. That quid pro quo launched the House's formal impeachment inquiry, and congressional committees are busy gathering evidence and hearing witnesses about it.
On Oct. 18, Mulvaney put another spin on the Ukraine aid holdup: "Did (Trump) also mention to me in the past the corruption related to the DNC (Democratic National Committee) server? Absolutely, no question about it, and that's why we held up the money.
"There is going to be political influence in foreign policy," Mulvaney added. As for a quid pro quo on holding up the Ukraine aid: "We do that all the time."
As if that wasn't enough, Mulvaney, in the same press conference, said Trump would hold the next Group of Seven summit of top world leaders at Trump's own Doral Country Club just outside Miami. It amounted to an announcement by the White House that it intends with that decision to further violate the emoluments clause of the U.S. constitution. There has been ongoing violation of that clause whenever Trump rakes in money from foreign leaders who stay at his hotels. Some constitutional scholars have been saying it might be the first time a president could be impeached not just for what he has done but for what he intends to do.
Trump himself, last June, touted Doral to his G-7 colleagues. And he brought it up in a White House discussion afterwards. Mulvaney called Doral "the best site in the country" for next June's summit. And Mulvaney said an unnamed federal worker in charge of such site selection agreed. Doral got the summit, without competing bids, another violation of standing rules regarding the awarding of federal contracts.
Left unsaid: The millions of dollars that leaders, diplomats, staffers and press will spend at Doral will boost a financially floundering enterprise. Doral's net operating income fell by 69% from 2015 to 2017, according to the Trump Organization's own records.
And just to make sure Trump's Doral won, club management  agreed to provide its facilities "at cost," thus undercutting any other potential bidders. That may trigger lawsuits.
All this violates the U.S. Constitution's emoluments clause, which bars top federal officeholders from using their public positions for private and personal gain. Breaking that clause – just as Trump does by having his firm garner revenue from a fancy Trump Hotel three blocks from the White House – can also be an impeachable offense.
Mulvaney's response when challenged on all of this: "Get over it."
Then there's the Rudy Giuliani case. The former New York City mayor is Trump's personal lawyer and his #2 – to Trump himself – in denouncing the impeachment probe. But Giuliani also was doing back-channel diplomacy with the Ukrainians, undercutting the efforts by State Department professionals dealing with the area to prod Ukraine to root out corruption.
Giuliani's personal diplomacy violates federal laws, too. Mulvaney, speaking for Trump, claims it doesn't – and alleges it's not an impeachable offense, either.
The G-7 summit award to Doral and the Ukraine developments, add to Trump's repeated obstruction of justice Special Counsel Robert Mueller's detailed in reporting on Russian manipulation – in Trump's favor – of the 2016 presidential election. It's also left lawmakers with a mountain of data to plow through.
Trump, it seems, is throwing everything out in the public realm, and saying that because he's disclosing the moves, they're not illegal or impeachable. Constitutional experts disagree with that assessment.
"There are two competing pressures here," Rep. Jamie Raskin, D-Md., a constitutional law professor at American University and House Judiciary Committee member, told Politico. Judiciary would have to gather evidence from its own probes and others together and weave them into articles of impeachment.
"One is the president is a one-man crime wave who has generated virtually limitless impeachable offenses and misconduct. On the other hand, we need to develop a process that will close within a period of time that makes sense."
The period of time may be by Christmas, multiple news reports say, with Senate Majority Leader Mitch McConnell, R-Kent., telling his troops to prepare for House-passed impeachment articles against Trump coming by Thanksgiving.
Trump's impeachable offenses may not sway the 25%-35% of the public that blindly follows his lead, regardless of what he does. Trump himself recognized their devotion early on. On Jan. 23, 2016, he told an Iowa crowd that "I could stand in the middle of Fifth Avenue and shoot somebody and I wouldn't lose any voters."
Richard Nixon's devoted followers, at least in Congress, didn't change either, and lost their seats. "Don't confuse me with the facts. My mind is made up," said then-Rep. Earl Landgrebe, R-Ind., one of Nixon's last defenders, even after a bipartisan Judiciary Committee majority impeached that Republican president. Nixon resigned on Aug. 9, 1974. Landgrebe lost that fall.