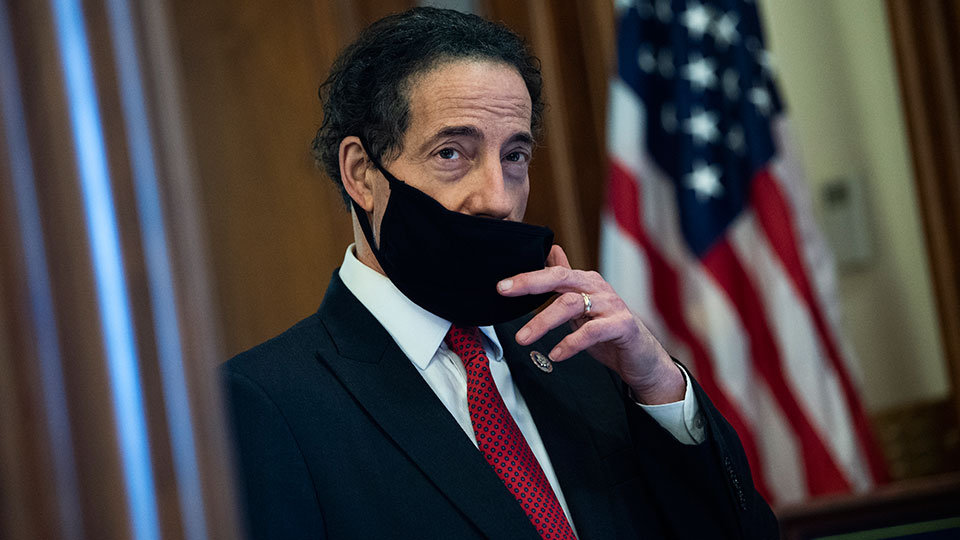 WASHINGTON (PAI)—Unveiling a key word he never uttered during Donald Trump's impeachment trial in mid-February, chief House impeachment manager Rep. Jamie Raskin, D-Md., has labeled former White House Republican denizen Trump a "traitor."
Raskin, a longtime constitutional law professor, delivered that verdict at the opening of a short Zoom video speech to the Government Employees "virtual" political-legislative conference on Sunday, Feb. 21. It was his strongest language ever against the previous Oval Office occupant.
Raskin and the other House managers argued senators should convict Trump on one count, which the House approved Jan. 13, of the "high crime and misdemeanor" of inciting the invasion and insurrection by thousands of Trumpites into the Capitol exactly a week before that.
"We proved, in the court of history, that one Donald John Trump, a corrupt liar and a traitor, had incited rebellion," Raskin told the AFGE's 900 delegates, via Zoom.
Raskin and his colleagues won a majority of senators in the 57-43 vote, but they needed 67 votes to convict Trump and bar him from ever holding federal office again. The 43 Trump backers were all Republicans, while seven Republicans broke party ranks and joined all 48 Democrats and both independents to convict Trump.
"He [Trump] continues to say he's exonerated, but this was the biggest bipartisan impeachment vote in the history of the Republic," Raskin reminded AFGE.
"We had proven our case overwhelmingly that he was guilty of inciting an insurrection, but Mitch McConnell," the then-Senate Majority and GOP leader "and the rest of the Republicans took the position that they couldn't try him" because Trump wasn't president anymore. "That's absurd," he added, citing the Constitution.
The Trumpites, after incendiary language from him, roared down Pennsylvania Avenue, overran outnumbered and ill-informed Capitol police, smashed their way in, rampaged through the Capitol, and sought to kill—or lynch, since they put up a noose on the Capitol lawn—both House Speaker Nancy Pelosi, D-Calif., and GOP Vice President Mike Pence.
They also killed one Capitol police officer and injured 146 more Capitol and D.C. police. Two others, one from each department, distraught over their failure to stop the invasion, later committed suicide. One Trumpite was fatally shot while trying to invade the House chamber. Three others died of so-far unexplained medical causes. Raskin paused to laud the officers, too.
The Trumpites' objective was to stop the congressional counting and certification of Democrat Joe Biden's electoral vote victory over Trump last November. Their invasion delayed it for most of Jan. 6, and Biden wasn't certified until 4:30 am on Jan. 7. The invasion, the first within the Capitol since 1814, and insurrection produced the House impeachment vote, which was also bipartisan.