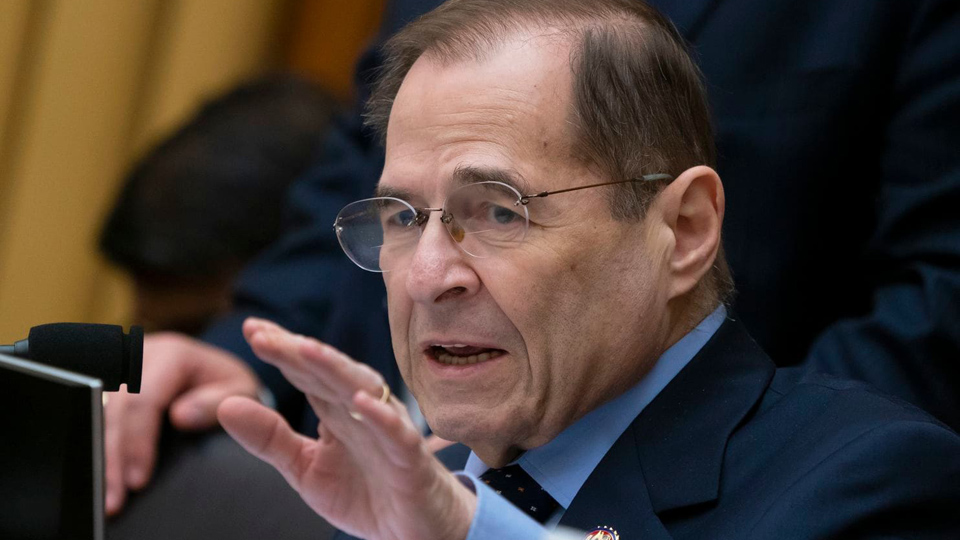 WASHINGTON—Talk of impeaching GOP President Donald Trump for "high crimes and misdemeanors," to quote the U.S. Constitution's language, is heating up in Congress – if not in all of the country – yet.
And House Judiciary Committee Chairman Jerrold Nadler, D-N.Y., gave it a big shove by saying the president's abuse of power "goes far beyond collusion" between Trump's 2016 presidential campaign and the Russian government, and that his panel will probe other conflicts and abuses, too.
Trump, from what has been revealed so far, definitely has committed "obstruction of justice," Nadler told Sunday news shows. Potential obstructions, sources told the Washington Post, include attempted witness tampering, possible presidential pardons and outright obstruction through the firing of FBI Director James Comey and former Attorney General Jeff Sessions.
"We've seen all the democratic norms that we depend on for democratic government attacked by the administration," Nadler explained to interviewer George Stephanopoulos on ABC's This Week.
"We've seen attacks on the freedom of the press, the press called the enemy of the people, we've seen attacks on the Department of Justice, attacks on the FBI, attacks on judges. All of these are very corrosive to liberty and to the proper functioning of government and to our constitutional system."
"All this has to be looked at and the facts laid out to the American people."
Nadler put the words into action on March 4. His committee formally requested documents and evidence from 81 Trump associates. His action drew predictable partisan screams, notably from House Minority Leader Kevin McCarthy, R-Calif., who ducked interviewers' questions about the substance of the case.
The Judiciary panel wants documents from Trump's two older sons, Eric and Donald Jr., son-in-law Jared Kushner, and former top associates, such as Sessions, whom Trump fired for Sessions's refusal to shut down the Russia probe. The panel also wants documents from Trump businesses notably the Trump Inaugural Committee and the Trump Organization, his construction and management conglomerate.
Don't expect quick action, though.
Campaign finance law-breaking "was the major one" of Trump's crimes, but not the only one, Nadler added. The others include abuses of power and obstruction of justice, but he cautioned "impeachment is a long way down the road."
But Nadler also added, and his committee is relying on Special Counsel Robert Mueller's report for evidence, to decide whether to add Russian election collusion.  If Trump's Justice Department sits on Mueller's report on that issue, the panel will pursue "every avenue" to make it public, Nadler promised.
"Seeking to sabotage a fair election would be an impeachable offense," he declared. "There can be crimes that are not impeachable offenses and impeachable offenses that are not crimes. They're just two different tests," he added later.
"We have to focus much more broadly on abuses of power."
Nadler's panel is not the only one investigating Trump. Six U.S. House committees either have planned probes or have already requested and/or subpoenaed documents from the administration. In the wake of former Trump lawyer/fixer Michael Cohen's testimony the week before about Trump, while president, paying off adult film star Stormy Daniels, through Cohen, the Oversight Committee is probing his campaign finance violations.
And Rep. Adam Schiff, D-Calif., chair of the House Select Committee on Intelligence, is looking at – among other issues – Trump's lies about a deal with Russian President Vladimir Putin to erect a massive multi-million-dollar Trump Hotel in Moscow. Cohen, speaking for Trump, discussed that deal during the 2016 campaign, even after Trump won the GOP nomination.
"We have seen from our own investigation, as well as the special counsel's, just how perilous it would be for the country if we ignored or allowed him to draw red lines" around investigations, Schiff told Face the Nation. "The Moscow Trump Tower deal, for example, is among the most disturbing because that's something the president was pursuing throughout the midst of the presidential campaign while saying he was having no business dealings with the Russians."
"That was a deal that stood to make him more money than any other deal in his life. And it was a deal where he was pursuing help from the Kremlin– from Putin himself– at a time when Putin was seeking relief from sanctions and that is the most compromising circumstance that I can imagine."
And House Ways and Means Committee Chairman Richard Neal, D-Mass., whose panel writes tax laws, and who has – under the tax code – the power to ask for and get any individual's tax return, has asked for Trump's.
"What we learned from the Cohen testimony is that he directly implicated the president in various crimes, both while seeking the office of president and while in the White House," Nadler said.
And Schiff said what's come out in public so far shows "direct evidence in the emails" of collusion between Trump and the Russians, "through their intermediary offering dirt on Hillary Clinton as part of what is described in writing as the Russian government effort to help elect Donald Trump. "
"They offer that dirt. There is an acceptance of that offer in writing from the president's son Don Jr. and there is overt acts in furtherance of that. That is the meeting at Trump Tower and all the lies to cover up that meeting at the Trump Tower and apparently lies that the president participated in. That to me is direct evidence but there's also abundant circumstantial evidence."
While the Democratic-run committees are moving ahead, party leaders, notably House Speaker Nancy Pelosi, D-Calif., are waiting for the outcome of the Mueller probe.
In the last, GOP-run Congress, Reps. Steve Cohen, D-Tenn., and Al Green, D-Texas, introduced impeachment resolutions against Trump. Cohen's, based on news reports of many of the same deals the panels are now investigating, never came to a vote. Green's, based on Trump's racism and xenophobia, drew fewer than 70 votes.
Public polls on whether to impeach Trump break along partisan lines so far. But major Democratic donor Tom Steyer is trying to push the envelope, hard. He told Politico he plans to spend $40 million in 2019 on galvanizing his 7-million-person e-mail list to pressure candidates "up and down the ballot" to support impeaching Trump. If they don't, he warned, they won't get monetary support next year.