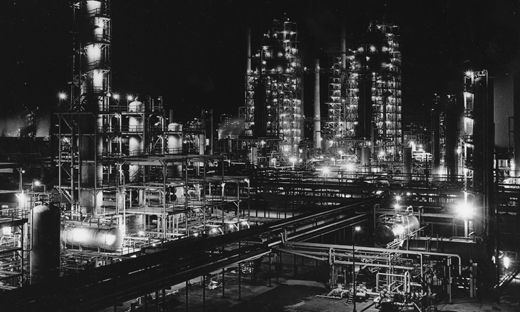 BATON ROUGE, La. – A surprise Environmental Protection Agency inspection in the middle of 2012 uncovered numerous air quality and job safety and health violations that ExxonMobil did not report at the nation's second largest oil refinery here. Unfortunately, say the Steelworkers – whose union includes tens of thousands of refinery workers – such hidden violations are common.
The EPA's full inspection report, posted this week on the website of the Bucket Brigade, a non-profit group that monitors and critiques safety and air quality practices by Louisiana's dominant oil industry, includes a release of carbon monoxide – the poisonous gas of auto exhaust – into the atmosphere that sent nine people to the hospital.
ExxonMobil didn't even report that May 7, 2009, accident to EPA within six months, as federal rules require, the agency says. The firm claimed the refinery was "clean" for the last five years, but the EPA found eight other accidents besides that one.
Federal rules "require the (refinery) owner or operator shall include in the 5-year accident history all accidental releases from a covered process that resulted in deaths, injuries, or significant property damage on site, or known offsite deaths, injuries, evacuations, sheltering in place, property damage or an environmental damage," EPA's report says. The 48-page report contains a litany of other problems at Baton Rouge.
That's unacceptable, say the Steelworkers. It's also common in the industry. A Steelworkers safety rep, acting on behalf of the refinery's workers – as allowed by law – accompanied the EPA team to the ExxonMobil plant. USW represents its workers.
And the union adds the fine EPA slapped on ExxonMobil won't solve the industry-wide safety problems.
"USW appreciates the inspection and supports the areas of concern identified. We also think it is past time for issuing only monetary fines to these industries," it said in a statement. "Until corporate leaders are held accountable for actions taken and not taken to protect workers and the community, these infractions will continue.
"We repeatedly see companies paying their fines without correcting the situation. It is time for management to be held accountable for their reckless behavior and to be put in jail for breaking health and safety laws. Until that day, we will continue to see no change in this industry. The problems cited at the Baton Rouge refinery are universal."
The Baton Rouge refinery, which now stretches over 2,100 acres, employs 2,200 people and produces 502,000 barrels of petroleum products daily. The accident that brought the EPA swooping down unannounced occurred on June 14, 2012.
That's when a bleeder plug at Tank 801 in the refinery's aromatics production unit leaked, at 4:35 in the morning. The refinery told the state police about it half an hour later, but ExxonMobil "did not consider the incident to be an emergency release," EPA said. The firm told the police "there was a release over the reportable amount" of hazardous chemicals and gases "but [ExxonMobil] had not calculated the amount or estimated how much was released and did not want to alarm or set off a panic."
After the EPA came in for its unannounced inspection a month later, Louisiana's environmental quality department launched its own probe. It initially found the leak released "28,688 pounds of benzene, 10,882 pounds of toulene, 1,100 pounds of cyclohexane, 1,564 pounds of hexane, and 12,605 pounds of additional volatile organic compounds," EPA said. A later state report said that 31,022 pounds of benzene leaked.
The federal probers also found more than 1,500 uninspected pipes in the refinery complex, 57 with ruptures and leaks and another 250 lines "with less than minimum (required) thickness" of their pipes. "Thin and corroded pipes can lead to leaks, explosions and fires," the union noted.
"The lack of mechanical integrity in refinery equipment has been a contributing cause in many of the worst accidents this industry has experienced," including a fatal fire in 2010 in Washington state and the infamous BP Texas City refinery explosion and fire that killed 15 people and injured more than 100, the Steelworkers pointed out.
"U.S. refineries are old and refiners need to be diligent with inspection and repair schedules to keep them in a safe operating condition. It is not enough that a refinery has a good written plan. It needs to follow the plan," the union said. It also noted Baton Rouge was chronically short-staffed on safety and lacks enough people to quickly shut it down if an emergency hits. EPA criticized ExxonMobil for that, too.
ExxonMobil did not respond directly to the Steelworkers. Instead, through a trade group for Louisiana's oil industry, it slammed the Bucket Brigade, accusing critics of "doing whatever they can to attack job creators," including "making [data] up."
"The petrochemical industry should hire more people to prevent accidents. This is why the United Steelworkers partner with Louisiana Bucket Brigade," the brigade replied. The union "realizes that a common sense approach of regular maintenance and accident prevention would help our economy."
Photo: ExxonMobil's oil refinery in Baton Rouge, Louisiana. AP