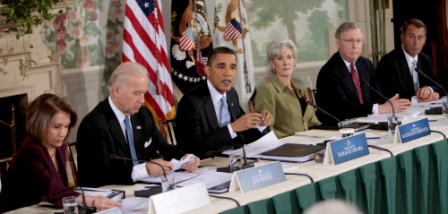 WASHINGTON (PAI)–AFL-CIO President Richard Trumka had a positive reaction to the White House summit on health care that Democratic President Barack Obama convened with bipartisan congressional leaders on Feb. 25 — more than he had for Obama's health care blueprint released three days before.
But as far as Trumka was concerned, the GOP behaved at the summit just as it has through the whole health care debate: Saying "no" to everything that helps workers.
Meanwhile, other union leaders and members trained their sights on Congress.
Obama brought 37 congressional leaders together for a day-long televised public discussion of health care, after lawmakers showed no signs of final action on massive — but vastly different — health insurance revision bills Congress passed last year.
Obama used the Senate bill as a blueprint for his own plan, and which formed the basis of the discussion. His plan would impose a 40% excise tax on "high-cost" insurance — plans costing more than $27,500 yearly for a family — starting in 2018.
He also would fine those eligible companies that refused to offer workers health care $2,000 per worker yearly. One cost control would be a commission to order rollbacks of insurance company rate hikes.
"The people really left out in the cold are working families," the president declared at one point in the deliberations.
The Republicans at the summit roundly rejected Obama's ideas, and anything else from the Democrats. Ignoring facts, House Minority Leader John Boehner, R-Ohio, declared the U.S. "has the best health care system in the world" and should not change.
Obama's White House had forced union leaders in mid-January to swallow the excise tax, despite their own opposition and that of the rank and file. That didn't stop Trumka from being positive about the health care summit — and criticizing the GOP.
"It has been 13 months since we began debating health care, and the process has been painstaking and tough. But comprehensive reform is now more urgent than ever. You need look no further than the unconscionable price increases being pushed onto consumers from insurance companies, such as the 39% increase recently levied by Anthem Blue Cross in California," the AFL-CIO chief said.
"But Republicans showed once again they have no intention of working to solve the health care crisis. They turned their backs on people who need health care as well as those struggling to afford the high cost of health care. Instead of offering solutions, they have offered obstruction and political posturing," he stated.
In a bow to labor's own objections to taxing health care, Trumka said, "The reforms on the table from the president are not perfect. They do not add up to the bill we would have written. We will keep working with the Congress to improve them until health care reform is signed into law, and afterwards. But we are within sight of real health care reform."
Trumka got agreement on the health care bill's imperfection from the pro-worker Democrat at the summit who has toiled longest on health care, Rep. John Dingell, D-Mich. Dingell said his father — who held the House seat before him — introduced an universal, affordable health care bill during the Truman administration. Rep. Dingell said, "The last perfect piece of legislation was handed down on stone tablets at Mt. Sinai."
Obama's plan was an attempt to again revive the stalled health care legislation, by taking the Senate-passed health care bill — much of which is anathema to workers and unions — and grafting on some compromises. A top Obama aide, Communications Director Dan Pfeiffer, made it clear that Obama wants Democrats to use any and all legislative tactics to overcome the Senate Republican filibuster against the measure.
That includes sidelining the GOP, if it doesn't cooperate, by using "reconciliation," a tactic meant for budget and tax bills. Reconciliation needs only 51 senate votes, not 60; filibusters are banned. But Obama's plan got a less-warm reaction from Trumka.
"We look forward to moving…toward the goal of quality, affordable health care for all Americans. Republicans in Congress have an opportunity to stand with working families or continue to protect the profits of the insurance industry. We are prepared to work with the White House and leadership in Congress to advance a comprehensive health care bill that will be passed into law," Trumka's statement said after Obama released his own plan Feb. 22.
The Steelworkers included a link to Obama's plan in their health care activists' toolkit, while vowing to keep campaigning against one of the Senate's most-onerous schemes that Obama kept: Taxing peoples' health insurance.
"We must continue pushing for a final health insurance reform bill that guaran-tees us quality, affordable health care for all, with the choice of a public health insurance option and NO excise tax on our benefits," USW's toolkit states. "On Jan. 14, the AFL-CIO announced changes that had been worked out to a proposed excise tax in the health insurance reform bill. The changes should make the bill better for all working families, not just those in a union," the USW adds.
"We won't stop working to make this bill better," USW President Leo Gerard said.
Other unions concentrated more on lobbying Congress in the days leading up to the summit. The United Food and Commercial Workers, labor-backed Health Care for America Now and the Service Employees set up a mass drive to flood Congress with e-mails, wires, blogs, twitters and calls on health care. They want lawmakers stand up to the insurers and finally pass comprehensive, affordable and universal health care.
In a full-page ad in Politico, UFCW thanked Obama "for showing us the way forward on health care reform." Then it demanded Congress approve Obama's framework, because "delay is not an option for the men and women who check groceries, stock shelves, cut meat, make soup, clean buildings, care for children an care for the sick and aged."
SEIU and some allies staged a week-long march that reached Capitol Hill from Philadelphia on Feb. 24. Neither the communications nor the march, which had more than a hundred participants, focused on Obama's plan.
SEIU President Andrew Stern, speaking before the march, blasted insurers who "jack up their premiums" nationwide and drop people from coverage daily. "And because our system is broken, we are even losing loved ones," he added. That included health care activist Melanie Shouse, who died of breast cancer while "still fighting with her insurance company that refused to cover her chemotherapy." The Philadelphia-Washington march was in her memory.
Obama "recognized that people like Melanie should not have to lose their life because of an insurance company refuses treatment. That insurance companies cannot be allowed to gouge Americans with rate increases… And that working families deserve health insurance that covers more and costs less," Stern concluded.
Photo: President Barack Obama speaks during the health care reform meeting at the Blair House in Washington, Feb. 25, 2010. From left are, House Speaker Nancy Pelosi of Calif., Vice President Joe Biden, the president, Health and Human Services Secretary Kathleen Sebelius, Senate Minority Leader Mitch McConnell of Ky., and House Minority Leader John Boehner of Ohio. Pablo Martinez Monsivais/AP