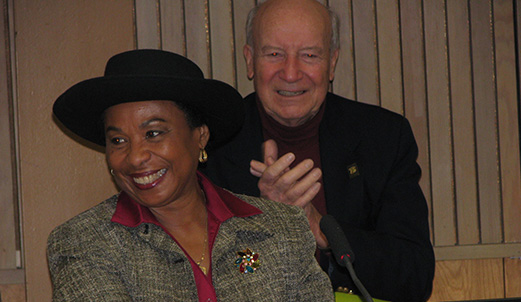 OAKLAND, Calif. – Dr. Martin Luther King's message in 2010 was the theme as a standing-room-only crowd braved a squalling rainstorm Jan. 18 to pack the International Longshore and Warehouse Union's great hall for a celebration of his legacy.
Rep. Barbara Lee, D-Calif., brought the house down as she highlighted the relevance for today of Dr. King's 1967 "Beyond Vietnam" speech. She cited Dr. King's statement that "as long as adventures like Vietnam continue to draw men, skills and money like some demonic, destructive suction tube," the U.S. would never invest the funds or energy needed to end poverty.
"Dr. King's words should resonate in our hearts now more than ever," she told the crowd. "We must pursue an end to the wars in Iraq and Afghanistan. And we must refocus our massive effort to creating jobs, and a health care system where finally, health care becomes a basic human right, not a privilege."
The devastating earthquake in Haiti was also on everyone's minds. Said Lee, "As we witnessed the horror of the catastrophe in Haiti, I asked the question, 'What would Dr. King do?'" Besides providing the people of Haiti with food, medicine and shelter, she said, "I know Dr. King would want us to look at the underlying conditions. Dr. King would not want us to stop, once this period is over. He would want us to help Haiti recover and rebuild."
State Senator Loni Hancock, D-Oakland, said she and other state legislators "are very troubled by the fact that the public structures we built to carry forward Dr. King's dream – the schools, colleges, public hospitals, the programs for kids – are at risk in this economic climate." Though a majority in the state legislature "wants to protect these things," she said, that majority is held hostage to the Republican minority because California requires a two-thirds majority to pass budgets and new taxes.
After decades of the private sector thinking it could do things better, Hancock said, "now we really need to remember who built the canals, the railroads, the universities. We did, we came together and pooled our money to buy what none of us could buy separately." Generations of Californians made Dr. King's dream "quite real for a long time," she said. "We need to protect it and not let it be eroded any more."
Though the "dream" sequence is always quoted from Dr. King's 1963 speech in Washington, D.C., said the Rev. J. Alfred Smith Jr., the heart of the speech is a "bold, uncompromising demand" that America pay up on the Constitution's promise to guarantee life, liberty and the pursuit of happiness. Smith, Senior Pastor at Allen Temple Baptist Church, recalled King's statement that "the whirlwinds of revolt will continue to shake the foundations of our nation until the bright day of justice emerges."
What Dr. King projected was not a dream or fantasy, Smith said, but "a vision to work for, a destined reality that will result from hard work and struggle."
Participating in all aspects of the program were dozens of young people from one of the event's sponsors, the Martin Luther King Jr. Freedom Center, which brings communities together for nonviolence, equality, youth and ecology.
Two of those young people shared with the World their thoughts on the day's significance. "We used to look out and see kids playing outside. Now you don't see that as much. People are keeping more to themselves," said Rolanda Bell, an 18-year-old college student. "If there were more communication, more love like Dr. King had, there wouldn't be so many killings."
Abel Abyu, also 18 and a high school senior, sounded a similar theme. "The biggest thing we can do as a community," he said, "is to reach out to the younger generation. When I was younger there were far more after school programs for young people," he added, urging the city of Oakland to help with additional funding.
Also sponsoring the program were the Martin Luther King Jr. Rally Committee, the East Bay Regional Park District and the Brookfield Athletic Advisory Committee.
Photo: PW/Marilyn Bechtel