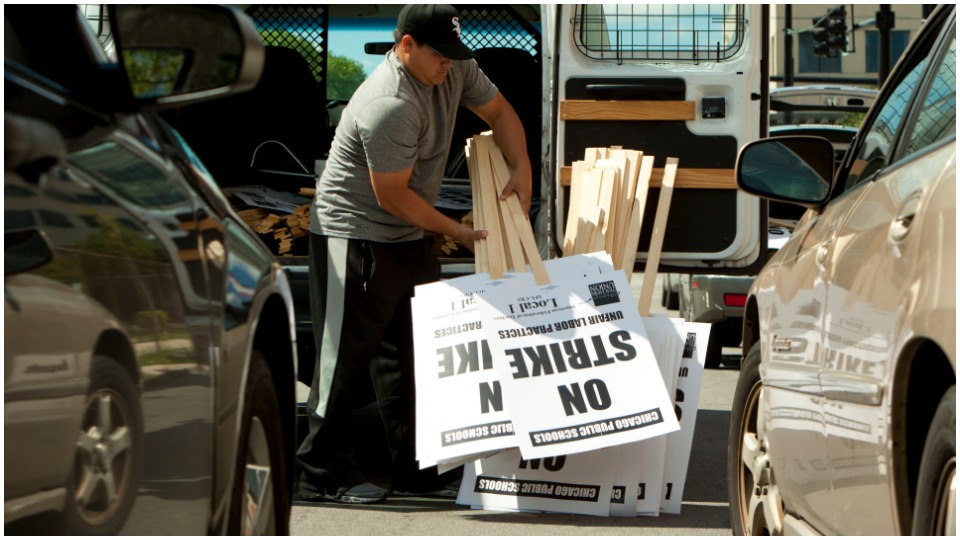 CHICAGO—Poverty wages for teachers' aides, elementary school classrooms with 35 kids or more, no librarians in nine of every ten majority-minority schools, and no progress at the bargaining table. Put all this together and it's no wonder that delegates representing the Chicago Teachers Union, AFT Local 1, voted unanimously on Oct. 2 to call a strike if they don't get a new contract by Oct. 17.
And that 25,000-teacher forced walkout may not be the only strike in the Windy City that day. The Chicago Park District workers represented by Service Employees Local 73 voted 94%-6% to walk on Oct. 17. By the same ratio, CTU members voted the week before to let their board go ahead and set a strike date.
Key issues for the 2,000 Park District workers: Low pay and the park agency's preference for hiring part-timers and keeping them there, often for years. Two-thirds are part-timers who get no vacation, no holiday pay, and salaries that are just 60% of full-time workers, says Local 73 President Dian Palmer.
That same SEIU local also represents 7,000 janitors, special ed assistants, and security officers in the Chicago schools. They'll walk, too, on Oct. 17, without a new contract.
"Our demands are larger than wages and benefits—and those demands directly affect our working conditions and our students' learning conditions," Local 1 President Jesse Sharkey said in an Oct. 2 bargaining update.
"Too many of our classrooms are overcrowded. We have desperate shortages of school nurses, social workers, counselors, school psychologists, and other critical frontline staff.
"We need more teachers—and we need more PSRPs (paraprofessionals) to work as TAs and support staff in our schools. So far, while CPS acknowledges we need more boots on the ground in our schools, their bargaining team has rejected our staffing proposals."
The school system also wants to curb grievances, yank preparation times, and force more teach-to-the-test mandates on teachers.
The CTU Local 1 vote is notable because it was a similar forced strike in Chicago in 2012, also over community issues and serving the kids, that provided the model for the ensuing wave of worker activism, especially among teachers, nationwide.
Then-Mayor Rahm Emanuel, a pro-corporate Democrat, forced that strike by closing 56 schools, virtually all minority-majority, devastating not just kids but city neighborhoods.
Tens of thousands of Chicagoans massed daily in support of the teachers, who finally won a new contract with—supposedly—more librarians, aides, counselors, school nurses, and other aid to help reach and teach kids, especially in schools in low-income neighborhoods.
But those 56 schools stayed closed, and CTU President Jesse Sharkey said many of those 2012 promises remain unfulfilled. He added new Mayor Lori Lightfoot, an anti-machine independent Democrat, promised in her campaign to fulfill CTU's goals—ebut hasn't put the promises into writing yet.
The difference between 2019 and 2012 is the Illinois legislature and new Gov. J.B. Pritzker provided long-needed money to Chicago's schools, making the school system financially sound. Former anti-union and anti-Chicago GOP Gov. Bruce Rauner refused.
The teachers' aides are particularly hurting, Sharkey told his members just before CTU delegates set the Oct. 17 deadline.
"CPS wants this overwhelmingly Black and Brown female workforce PSRPs to continue to live in near or actual poverty, with stagnant wages and no recognition of educational attainment…even though we have PSRPs with BAs and even MAs and PhDs," Sharkey told his members in the Oct. 2 update.
"Currently, CPS is proposing to pay wages that will leave the children of two-thirds of our PSRPs eligible for free or reduced lunches under federal poverty guidelines.
"Next year, the average teacher assistant will STILL earn less than $36,000 a year. And under CPS' wages, thousands of our members CANNOT afford to live in over half of Chicago's neighborhoods. Over 1,100 of our PSRPs are paid wages so low they literally cannot afford a two-bedroom apartment in ANY Chicago neighborhood."
But the union is particularly concerned about the impact on the kids from the lack of librarians, counselors, and even teachers—evidenced by the average of 35+ kids per elementary classroom.
"I voted yes today for my three children and for all of our schoolchildren," Monroe Elementary teacher Lori Torres, who has three children in Chicago public schools, told Local 1.
"If my kids need to see a counselor, they have to wait because their counselor is covering a classroom instead of counseling. If my child gets hurt on the playground and the school clerk can't help, he goes without medical care.
"As an elementary school teacher, I know we all need our prep time. We already don't get enough to grade our papers, call our parents, plan our lessons, or meet CPS's paperwork requirements. There's so much more that our students need—and so much that is lacking. If we don't advocate for it, if we don't fight for it, who will?"