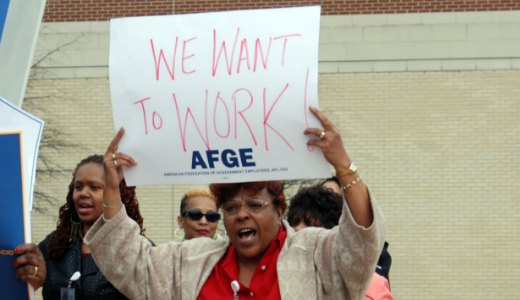 CLINTON, Md. – With a federal government shutdown looming, Elaine Mitchell is wondering if she's "essential" and if she'll get paid, or when.
Her union, the American Federation of Government Employees, has been forced to sue in federal court to find out.
Mitchell, a 59-year-old African-American grandmother, works for the appeals
division of the Social Security Administration in D.C.'s Virginia suburbs. She commutes there daily from her home in Clinton, Md. She's the family breadwinner – her husband is retired and one of her three children, a 22-year-old college graduate son, lives at home while job hunting, because house prices and rents in the D.C. area are so high.
She's also one of 1.2 million federal workers who may be out of their jobs as of midnight on April 8, with no assurance of when they'll come back to work, if they'll get paid when they do, or whether they're "essential" or not if the government shuts down.
And that's troubling, because like many workers Mitchell counsels in her union position as its community service representative, Mitchell lives "paycheck to paycheck," she says. Indeed, some of her colleagues don't even earn enough to cover all of their basic necessities, she adds.
It's those workers, and their fate, that have been largely forgotten in the ongoing political partisanship between the House's ruling Republicans – driven by tea party cut-spending zealots – on one side and congressional Democrats and the Democratic Obama administration on the other.
The two political blocs are at loggerheads over the GOP's plan to cut $61 billion in federal spending for the last six months of this fiscal year, which ends Sept. 30, plus GOP schemes to ban spending on everything from implementing the new U.S. health care law to improving the nation's air.
If the GOP doesn't get its way, the tea party crowd appears perfectly happy to shut the government down, says AFGE President John Gage. And his members, Mitchell and her fellow federal workers, are caught in the middle of the fight.
All that led the union into federal court in D.C. on April 5, Gage announced at a press conference, to sue the Obama administration under the Freedom of Information
Act to find out who's essential and who isn't, who will be asked to work without pay even
If the government "shuts down" and who won't, and to discover what the feds' "contingency plans" are for a closure.
The union tried other ways of discovering the contingency plans, Gage said: Talks with White House aides, letters to top federal personnel officials, labor-management meetings, formal bargaining requests. None worked. The only response they got, Gage said, was from the White House saying "they don't believe" a shutdown will occur.
The Social Security workers dramatized their peril through demonstrations and informational picketing at their local offices nationwide on April 6.
"House Republicans have proposed a $1.7 billion reduction in SSA funding for the remainder of FY 2011. If this proposal is included" in the final law for federal spending for the rest of this year, it "would lead to a month of furloughs at the Social Security Administration, resulting in longer waits for benefits," an AFGE statement says.
"Backlogs of those with pending disability claims and hearings could reach record levels, and waiting times at field offices and busy signals at SSA's toll free number would increase dramatically," the union statement adds.
And that's just the impact on one agency – and the public it serves – of budget cuts and a shutdown, AFGE notes. Now multiply that by the rest of the government.
The next day, Rep. James Moran, D-Va., pointed out that, unlike GOP-planned shutdowns in 1995, Congress will not replace lost paychecks due to a shutdown.
If worst comes to worst, Gage says, AFGE will go to court again in mid-April, suing the government for forcing the "essential" workers – who may or may not include Mitchell – to work without pay in violation of the U.S. Constitution's ban on "slavery or involuntary servitude." Unfortunately, Gage adds, outside that constitutional provision, there's no law forcing the government to pay the "essential" workers as they toil – or to repay those who lose time and paychecks due to a shutdown.
That leaves Mitchell and her colleagues with uncertain futures and no paychecks, hostage to an ideological campaign by the House GOP, lawmakers who are apparently heedless of the impact of their actions.
"I already have a high volume of people coming to me for assistance with their utilities, their mortgage, their rent and their food, and that's without a shutdown," Mitchell says of taking applications for one-time aid from labor's Community Services funds. "Think about a young single mother, working to take care of her family. And in my community, Clinton, some people still pay their bills with money orders. Think about that."
Photo via American Federation of Government of Employees.