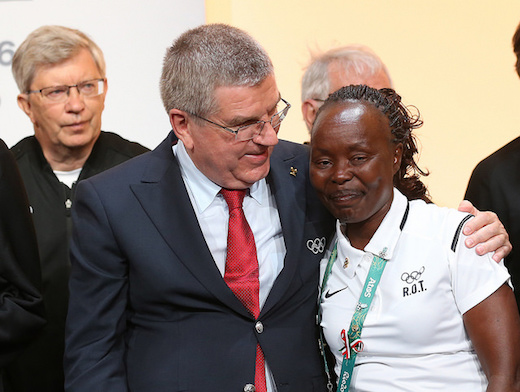 Sports and politics often intertwine, and this year's Summer Olympics in Brazil will be no exception. For the first time in modern Olympic history, a team without a country will compete in the games. Representing an estimated 65.3 million displaced people in the world, 10 elite athletes will compete on the Refugee Olympic Team. If the total number of refugees were a population of a single nation, it would rank 22nd edging out the United Kingdom from that spot.
"By welcoming the team of Refugee Olympic Athletes to the Olympic Games Rio 2016, we want to send a message of hope for all refugees in our world," said International Olympic Committee President Thomas Bach.
"Having no national team to belong to, having no flag to march behind, having no national anthem to be played, these refugee athletes will be welcomed to the Olympic Games with the Olympic flag and with the Olympic Anthem. They will have a home together with all the other 11,000 athletes from 206 National Olympic Committees in the Olympic Village."
The ten athletes selected, out of a pool of 43, come from South Sudan, Syria, Ethiopia, Democratic Republic of Congo. They will be competing in Athletics (Track and Field), Swimming and Judo.
Each athlete has a story of "unimaginable tragedy" and incomparable perseverance, said the IOC president. One member of the team is 18-year-old swimmer Yusra Mardini from Syria who dove into the sea after the small boat she was on with others almost capsized. She and her sister Sarah, also a swimmer, towed the boat to land–the Greek isle of Lesbos, swimming in the cold water for three hours.
Sarah, who will be cheering for her sister when she competes in the 100m freestyle, said, "I was not afraid of dying, because if anything happened I could swim to arrive at the island. But the problem was that I had 20 persons with me."
She added, "In Syria I worked in a swimming pool to watch people not drowning, so if I let anyone drown or die I would not forgive myself."
Bach said the committee hopes that by fielding such a team it "will make the world better aware of the magnitude of this crisis. It is also a signal to the international community that refugees are our fellow human beings and are an enrichment to society."
The IOC said the Rio 2016 opening ceremony will be about promoting "peace and tolerance" and will call on the world to "save the planet from climate change."
Photo: IOC President Thomas Bach and Refugee Olympic Team Chef De Mission Tegla Loroupe attend the first day of the 129th IOC Session at the Windsor Oceanic Hotel in Rio De Janeiro ahead of the Rio 2106 Olympic Games. (Ian Jones/IOC)