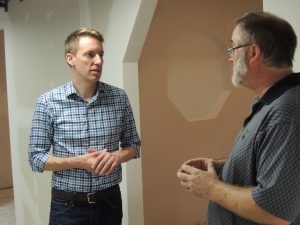 Ed. note: Reprinted with permission from the St. Louis Labor Tribune.
Democratic U.S. Senate candidate Jason Kander recently toured the training facility of the International Union of Painters and Allied Trades (IUPAT) District Council 58, speaking of the need to fight against corporate special interest groups and bad trade deals that hurt Missouri's working families. He also used the opportunity to slam his opponent Republican Senator Roy Blunt.
Kander, currently Missouri's secretary of state, noted that Blunt, as the senior elected official in the Republican Party in Missouri, did nothing to dissuade Republicans in the GOP-controlled State Legislature from trying to ram through so-called right-to-work legislation last year.
"As the Legislature was pursuing right-to-work, he refused to pick up the phone and make a single phone call to put a stop to it," Kander said. "He's never missed an opportunity to be on the wrong side of an issue that affects working Missourians. For me, I'm going to be waking up every day focused on what I can do for folks who work for a living in Missouri."
The 75,000 sq. foot IUPAT Training Center provides state-of-the-art opportunities for apprentice painters and journeymen wanting to broaden their skills. The building formerly housed a manufacturer for the auto industry.
Fighting bad trade deals
After touring the training facility, Kander spoke about how poorly constructed, unfair trade deals have made it easier for foreign countries to take jobs away from the United States, the need to fight against so-called right-to-work laws and the importance of supporting manufacturing jobs in Missouri.
During the discussion, Kander noted that Senator Blunt voted eight times in favor of trade deals that would export American jobs overseas, including a bill that allowed the president to fast-track the Trans-Pacific Partnership.
"Missouri families deserve a Senator who will fight for them, not special interests," Kander said. "Right now, Senator Blunt is outsourcing jobs to the highest bidder, and you don't have to look too deeply into his campaign coffers to see the connection between Senator Blunt's votes and where he gets his campaign contributions. As Missouri's next Senator, I promise to fight against trade deals that hurt working families and ship Missouri jobs overseas."
Fighting for workers
Kander's roots fighting for working Missourians go back far to his days as an attorney fighting for workers who got hurt on the job to his time in the Legislature fighting against so-called right-to-work to standing against using the Joplin tornado tragedy in 2011 as an excuse to try to circumvent the state's prevailing wage law.
Kander has fought to keep jobs in Missouri throughout his career. Some of his past work includes:
Cosponsoring the Missouri Manufacturing Jobs Act as a state representative. The bill, which created incentives for businesses to stay in Missouri, has been credited with saving $1.29 billion for Missouri businesses, adding or retaining 14,000 auto jobs and supporting 21,000 related ones;
Speaking out against corporate interests. Jason was the first 2016 Senate challenger to speak out against the Trans-Pacific Partnership because it would hurt Missouri working families; and
Supporting trade deals that would help create new markets for American goods, such as the removal of the trade embargo with Cuba, which has the potential to significantly benefit Missouri agriculture.
Photo: Jason Kander, (left) Democratic candidate for U.S. Senate and currently Missouri's secretary of state, talks with instructor Kevin Harned during a tour last week of the International Union of Painters and Allied Trades (IUPAT) District Council 58 training facility in Chesterfield. – Labor Tribune photo