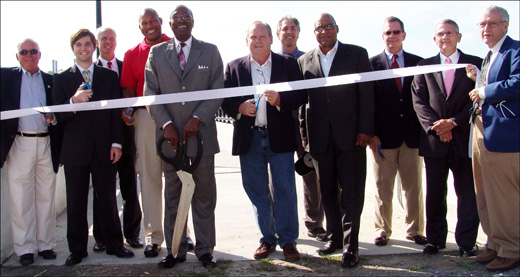 DANVILLE, Va. – Danville is a river city and getting people across to the city is an important task for government. Waiting for a traffic light to change on the old Robertson Bridge was a frightening experience for many motorists in the city of 43,000 residents.
The 72-year-old bridge was notorious for shaking as cars and trucks drove across it while other motorists waited. Let's not forget about traffic snarls during morning and evening rush hour as 20,000 motorists crossed Robertson Bridge each day.
City leaders faced a dilemma in replacing the bridge, and the solution came from President Obama's stimulus package.
City Council couldn't set aside enough local and state funds to begin work. Each year's delay saw the bridge's price tag soar.
That all changed when President Obama's stimulus package provided almost $29 million of the $40 million needed so construction could begin in June 2010.
The old two-lane bridge was replaced with a new five-lane bridge with access for pedestrians.
Mayor Sherman Saunders said the former two-lane bridge was frequently congested throughout the way.
"Believe me, I know, I live on this end," he said.
At a Sept. 20 ribbon-cutting ceremony, Saunders thanked the stimulus money, then Gov. Tim Kaine and former U.S. Rep. Tom Perriello for their efforts to secure federal funding.
"It's going to attract people to come to Danville … It will provide better access," said Dr. Gary Miller, Danville's vice mayor.
A group of 20 local Democrats showed up to the ribbon-cutting ceremony to let the community know how Danville got this public works project.
"Former Congressman Tom Perriello and Governor Tim Kaine saw to it that a chunk of that money that was available to Virginia came to Danville," said Chris Daniel, chair of the Danville Democratic Committee.
Local Republicans complained that Obama's stimulus package didn't build the bridge, taxpayers did.
Danville received enough money to keep teachers from losing their jobs, and to improve neighborhoods with new sidewalks and curbing. New tree planting stations were built through the city while other funds were used to supply solar power to the city's Community Market and improve public transportation.
Photo: Ribbon-cutting ceremony for the new Robertson Bridge in Danville, Va., Sept. 20, 2012. Mayor Sherman Saunders holds the giant scissors and Vice Mayor Dr. Gary Miller is at the far right. danville–va.gov