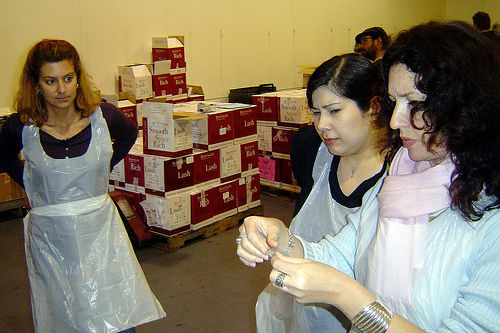 McKINLEYVILLE, Calif. – It's widely understood that we are all living in a serious economic depression, and at last people are coming together to battle this monster. In this economic battlefield, communities are setting up local human resource networks around the country.
Humboldt County, in Northern California, has a longstanding reputation as a highly progressive area. Our network includes food banks, community gardens, mobile medical clinics, resource telephone hotlines, and a centrally located community collaborative office. It is basically a one-stop clearinghouse of what human services are available in the area. The community collaborative not only provides information referrals, it also provides free-of-cost clothing, books, small appliances, bags of food, and family holiday meal packages. At the collaborative, Barbara – a most excellent and caring lady – has always stepped up to assist my advocacy work in getting vital necessities to the low-income working people I help.
Next door to the collaborative is the local food bank. The exceptional people there donate their time week in and week out to distribute canned goods, fresh vegetables and baked treats to all expressing the need.
Recently, our McKinleyville services district (water, sewer, and our township's governing board) announced in their newsletter that they will set up a designated community garden next spring. They will also provide help with needed water, soils and seeds. They are now holding informational meetings and doing educational outreach.
A number of years ago another friend, Dr. Wendy Ring, started a mobile medical clinic. She and her staff travel great distances in a large, well-equipped van, offering free medical help to all who come.
In the town of Arcata, just south of McKinleyville, is our community recycling center. Not only can we go there to sell or donate our recyclables, we can also shop at the little thrift store attached to it. Some nice, gently used items can be had there.
Throughout Humboldt County a number of public libraries and high schools give access to computers along with continuing adult educational classes. Some locations even offer employment placement help.
Finally, a community switchboard telephone line has been set up to take queries from the public about general problems and provide referrals to available services.
John Lennon once said, "There are no problems, only solutions." We, the common workers, the poor and disenfranchised, and the whole united community, are proving this to be true.
Photo: A San Francisco food bank. (http://www.flickr.com/photos/sterlingpr/ / CC BY 2.0)