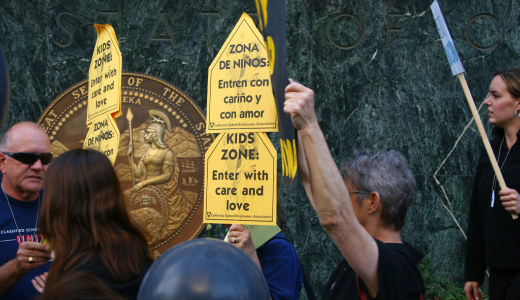 California is currently regarded as a "failed state" by such diverse sources as the UK Guardian, Newsweek, Mother Jones and the Claremont Institute. Even worse, California is at the very heart of what is internationally known as the "American crisis."
To deal with ongoing deficits including today's $22 billion gap, Republican Gov. Arnold Schwarzenegger has demanded ever more drastic slashing of state budgets.
The most ludicrous part of this fiasco is his refusal, and that of Republican state legislators, to raise taxes of any kind. California is the only state requiring a two-thirds legislative vote to pass a budget or raise taxes; the Democrats' legislative majority falls short of that, and virtually all Republican legislators have pledged "no new taxes." After several attempts at "half cuts/half hikes" budgets, Democrats had to abandon the notion of raising taxes to keep public services afloat.
California has over 1,000 school districts, each with teachers, administrators and support staff. San Bernardino City Unified School District, with 57,000 students, requires almost 3,000 teachers and 2,000 "classified" (maintenance, fiscal services, procurement, etc.) staff to maintain operations. The district utilizes 80 sites to the maximum responsible spending will allow. Cuts to such districts can be disastrous. Schools will close. Workers will be laid off.
The state has not given guidelines to curb spending, so top administrators have been forced to be creative. First on the chopping block: the transportation department. Very few California schools still have buses on the road, except for those required for special education. As usual, arts programs were cut.
Next up for the knacker: employees. California classrooms are legally required to have "one teacher for every 20 students," but the financial penalty for cramming 24 students into a classroom is worth eliminating one teacher per five classrooms.
According to Joe Tonan, fourth grade teacher at Claremont Unified and union bargaining chair, "We lost 20 full-time teachers last year, and the district plans on twice that next year." By my math that creates classrooms with over 30 students. Tonan says that, of $2.7 million in American Recovery and Reinvestment Act (ARRA) funds, less than $10,000 went to help save classified positions.
Closing schools has also been popular. The plan is to save money on teachers, principals, and health workers as well as operating costs. David Stevenson, director of facilities at Yucaipa-Calimesa Joint Unified School District, says this can't be helped when districts have lost 20 percent of their general fund. Stevenson says, "We are reduced to the level of funding we were receiving in 2001, but our district has built three schools since then. Two years ago, we received approximately $7,000 per student; now it is down to $5,000 per student."
In an attempt to keep workers, state and county agencies across California have adopted the emergency measure of "furloughs" (forced unpaid days off). Most school districts have decreed five per year. My wife, who works for Riverside County Mental Health, is up to 25 per year. That's more than a working month.
The warehouse at Lake Elsinore USD was closed to save money. The plan, decided behind closed doors, was to keep a forklift at each school to unload deliveries. Obviously not much thought went into this because teachers are not machinery operators, forklift certification must be renewed annually, and it is not up to teamster drivers to unload their trucks.
The 190,000 classified personnel belonging to the California School Employees Association (CSEA) have been the biggest victims. In 2008, they were the first to take a "step freeze" (no yearly cost of living raise), and in 2009 their hours and benefits were slashed. This year most will give up 10 percent of their pay to keep their jobs, and to keep their co-workers in jobs.
Many districts are doing anything possible to save funds. Val Verde Unified will redesign report cards to save toner. Colored paper and color copies have been outlawed in Yucaipa-Calimesa. Encinitas Union Elementary District sold its smallest school on beachfront property. Perris Elementary District is losing a principal at one school, so the assistant superintendent is adding this to his normal duties.
My co-workers and I are private contractors, but we are a necessity for school districts. It is often cheaper to hire us for small specialized projects, rather than keeping full-time staff to handle plumbing or electrical projects. Last year my workload was at 29 percent of the usual year. Luckily, I have a second job, or I would have been out of business like so many tradespeople in California.
Is there a fundamental short-run solution? No. California based its revenue on capital gains taxes during the housing boom, while cutting taxes on large corporations and the wealthy. We will just have to take it, until we are wise enough to undo the two-thirds requirement for budgets and taxes, as well as electing a legislature with the workers' interest at heart.
This year Denmark topped the Happiest Nation Index while simultaneously being recognized as the "highest taxed nation in the world." Food for thought.
Photo: http://www.flickr.com/photos/as-it-is/ / CC BY-SA 2.0