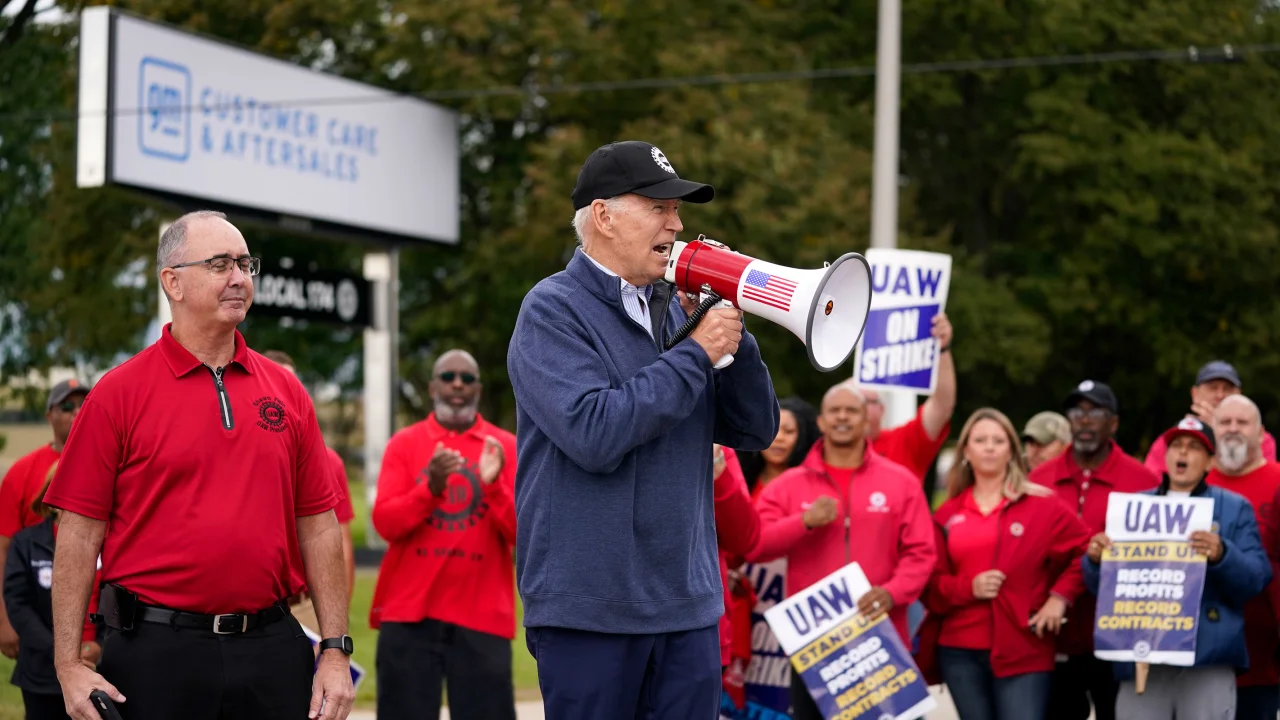 President Joe Biden's stand alongside United Auto Workers pickets Tuesday, on the 12th day of their strike, reflects a level of presidential backing of labor unions that is a first in U.S. history. A sitting president has never joined an ongoing strike, even during the administration of pro-union President Franklin Delano Roosevelt.
While Biden's decision to picket with the workers is to be applauded, especially when contrasted to the anti-labor records of Republicans looking to unseat him in 2024, there are many reasons—some big, some small—that show he really has no choice but to stand with the autoworkers.
Biden joins the picket line one day before the multiply indicted criminal and sexual abuser Donald Trump, the front-runner for the 2024 Republican nomination, goes to Detroit to hold his own event. Trump is making the trip to lie to the workers about his alleged support for them, despite the fact that the UAW has condemned him as anything but a friend of the workers.
Significant demonstration
Biden's trip to join a picket line in the suburbs of Detroit is the most significant demonstration of his pro-union credentials, a record that includes vocal support for unionization efforts at Amazon facilities and executive actions that promoted worker organizing and strengthening of the National Labor Relations Board.
Biden has said that the auto companies have not gone far enough in their offers to striking workers, although White House officials have repeatedly declined to say whether the president endorses specific UAW demands, such as a 40% hike in wages and full-time pay for a 32-hour workweek.
"I think the UAW gave up an incredible amount back when the automobile industry was going under. They gave everything from their pensions on, and they saved the automobile industry," Biden said Monday from the White House. He said workers should benefit from carmakers' riches "now that the industry is roaring back."
Ironically, it is the UAW's holding off on a Biden endorsement that is contributing to his decision to join the picket line. The UAW, unlike many other unions, has not yet endorsed the president's reelection bid. They are concerned about the fact that Biden's support for electric vehicles has not yet been accompanied by action on the part of his administration to prevent the building of those vehicles in non-union plants in the South and elsewhere.
The auto companies are pretending that by switching over to electric vehicles they are "sacrificing" too much of their profit margin, and they are already using the EV issue to try to dampen the efforts of striking workers to push for additional gains.
Ford, for example, which the union has said is bargaining more seriously than GM and Stellantis, just announced that it is pausing construction of a major electric vehicle plant in Michigan, allegedly because the building of that plant, on top of concessions they are making in this strike, will hurt corporate profits too much.
Even as big capitalist corporations make concessions to workers in one place, they push to squeeze workers elsewhere.
In addition to trying to appeal to workers worried about the EV situation, Biden has decided to picket because of the overwhelming support the public has for the striking auto workers. Majorities of Democrats, Independents, and Republicans tell pollsters they support the strike.
Even more significantly, majorities are in support of the massive unionization drives now sweeping the country. There is a growing understanding among workers that if they make gains, those gains will benefit the entire economy.
Decisive majorities of voters are coming around to the same view, which explains the growing support nationally for unions—a reversal after a long period of success by big business interests in weakening public support for organized labor. Workers across the economy are increasingly seeing the connection between unionization and a decent standard of living for everyone.
Biden, of course, understands this as well and has rightfully concluded that he has to be seen as part of this movement if he is to counter the false populist-sounding claims of demagogues like Trump.
The fact that Biden is on the picket line is proof that the power of the labor movement is growing.
The Hollywood writers' strike is now close to a conclusion, settled on terms favorable to the workers, according to their union. This has given impetus to the actors who are still on strike and hoping also to make important gains.
And these victories come on top of important wins made by the Teamsters at UPS.  Also, as the president pickets, workers at Starbucks, Amazon, and at many retail and healthcare outfits continue their organizing. There is no way that Biden would want to be seen as bucking the historic upsurge going on among U.S. workers.
Gains will spread out
And, of course, if the UAW makes major gains in its strike against the Big Three, those will cause workers in countless related and connected industries and concerns to also make gains. What president would not want to be able to say they were instrumental in creating improved purchasing power for workers and the associated revival of the U.S. economy?
Biden's move also makes sense at a time when Trump is trying to make gains in critical swing states where unions are strong, including Michigan, Pennsylvania, and Ohio. In those states, support for labor is even stronger than across the country nationally, where 67% of Americans approved of labor unions in an August Gallup poll.
Trump is skipping the second Republican primary debate on Wednesday and will instead go to meet with a group of striking autoworkers in Michigan who have been hand-picked by his campaign. He is expected to try to make hay over the electric vehicle issue.
The extent of his expected demagoguery and his attempt to appeal to discontent in the Midwest is reflected in what his advisor, Jason Miller, said Monday: "If it wasn't for President Trump, Joe Biden would be giving autoworkers the East Palestine treatment and saying that his schedule was too busy."
Miller was referring to the small Ohio town still struggling with the aftermath of a February train derailment. Biden said he would visit the community but so far has not.
White House officials dismissed the notion that Trump forced their hand in his decision to picket and said that Biden was headed to Michigan at the request of UAW leader Shawn Fain, who last week invited the president to join the strikers.
"He is pro-UAW, he is pro-workers, that is this president," White House Press Secretary Karine Jean-Pierre said Monday. "He stands by union workers, and he is going to stand with the men and women of the UAW."
A worker who picketed at a GM plant in the suburbs of St. Louis told People's World that he was not sure whether electric vehicles backed by Biden are ready for primetime yet, since there still isn't infrastructure for them in a lot of places. He said, however, it is "fantastic that we have a president who wants to walk the picket line. And supports workers."
Another reason Biden's visit to the picket lines is so important is that the president can use the occasion as an opportunity to battle misinformation about where Trump stands. There is still some confusion, even on the picket lines, about whether or not Trump is really behind the workers.
While most on the picket lines support Biden, some have not yet understood the danger Trump poses to the living conditions of workers. Biden hopes to counter that with his visit.
Dave Ellis, a striker who stocks parts at a distribution center, told AP he's happy Biden wants to show people he's behind what he called the "middle class." But he said the visit is just about getting more votes.
"I don't necessarily believe that it's really about us," said Ellis, who said he thought that Trump would be a better president for the middle class than Biden because Trump is a businessman.
The UAW, most of the striking auto workers, the labor movement across the country, and all of its allies know better and expect that a victory in this strike will lay the groundwork for a stronger movement and building a stronger working class.
That will be a prerequisite to defeating the MAGA Republicans across the country in 2024.
>>> READ MORE PEOPLE'S WORLD COVERAGE OF THE UAW STRIKE.