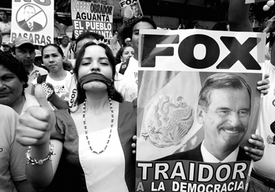 MEXICO CITY — Amid widespread evidence of election fraud, public pressure continues to grow for Mexican authorities to recount the vote.
Nearly 3 million people from every state of Mexico converged on Mexico City July 30 to call on authorities for a recount. "We will not allow that Mexico be governed by a president without legitimacy and without political and moral authority," presidential candidate Andres Manuel Lopez Obrador told demonstrators.
Maintaining he has adequate proof that he won the July 2 elections, he said the most convincing proof is Calderon's refusal to agree to a vote recount.
"If he holds that he won the elections, why does he refuse to clear up doubts and cleanse the elections?" Lopez Obrador asked. "He should not have anything to fear."
Lopez Obrador's supporters have unleashed a campaign of peaceful civil disobedience to press Mexican authorities to recount the vote. Groups are visiting offices and facilities of corporations that financially back PAN with the aim of disrupting operations.
On July 27, 100 members of the group Creative Resistance peacefully halted operations of the Mexican stock market in the capital. These groups are also organizing boycotts of companies supporting PAN, such as Pepsi and Coke, and major media outlets like Televisa and TV Azteca that are actively backing Calderon.
Early this week, at least 16 tent encampments, involving many thousands of protesters, blocked traffic along the Paseo de la Reforma, the main road that runs through the capital's business district.
Lopez Obrador's leftist coalition, For the Good of All, has discovered widespread irregularities during the elections, including many instances where polling place vote counts did not match the figures used by the authorities to compute the final vote. In addition, 1.5 million more votes were counted than people who voted. Observers from organizations like the U.S.-based Global Exchange and Mexico Civic Alliance reported similar irregularities.
Scientists from the Autonomous University of Mexico say there is strong evidence that the Federal Electoral Institute's (IFE) computers used rigged software that falsely declared National Action Party (PAN) candidate Felipe Calderon the winner. PAN and the Mexican government insist the elections were fair.
The coalition has also set up camps in front of IFE's 300 offices across Mexico where ballot boxes are being held. It has accused the election commission of illegally opening ballot boxes and fears the it intends to alter vote counts to hide fraud. Coalition supporters are watching IFE offices 24 hours a day to ensure that the commission does not make off with ballot boxes. Last week coalition camps in the states of Querataro, Chihuahua, Coahuila and Nuevo Leon reported that PAN supporters shouted insults and threats and threw rocks at them.
Lopez Obrador's campaign team is meeting with officials of the Institutional Revolutionary Party (PRI), Green Party and Alternatives Party, to gain their support for a recount. According to Ricardo Monreal Avila, a former governor of Oaxaca, "an important sector of the PRI" favors recounting the vote. PRI, which governed Mexico for 71 years through rigged elections, is the third largest party at the national level and governs many states.
A federal tribunal is expected to declare a presidential winner by Sept. 6.
A source in Mexico's military intelligence services, who maintains that the Vicente Fox government and the PRI rigged the July 2 elections, told the World in an interview that the Fox government and Calderon's election team are frightened by the widespread public outrage over the election fraud, adding, "There is not enough public support for the electoral fraud and Calderon's tricks." The Mexican government has even reinforced the security forces guarding Fox, government ministers and Calderon. The source said Calderon has sent his three children to the U.S.
"The people have advanced while the ruling political class (PAN) remains static," the source said. "People want democracy and freedom of expression while the ruling class does not want this. As a result, there is friction between these groups."
The source continued, "Business men and politicians do not want to change the political model because they do not want to lose their privileges. Mexico is still in an interim period between the authoritarianism of the PRI and democracy. Democracy has still not arrived."