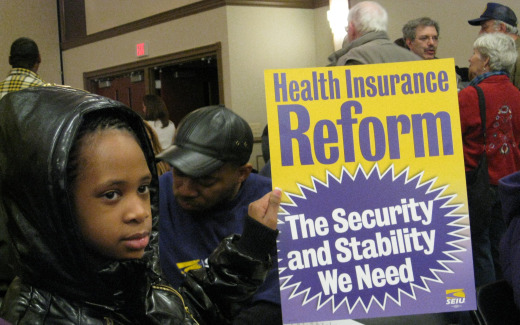 MADISON HEIGHTS, Mich. — A standing room only rally in this suburban working class community showed a deep determination to overcome the months long Congressional stalemate that has prevented action on jobs, health care, immigration reform and other people's needs.
Michigan Health Care for America Now Director and rally organizer John Freeman said we are here "to send a strong signal to Washington to move with urgency and passion to address these issues."
If one of the rally's goals was to boost people's confidence it succeeded said peace activist Laura Dewey.
"People were feeling down because they want action on issues. Tonight was good both for our morale and to counteract the Tea Baggers. We have to let people know that even though things have not gone their way, there are still things we can do and to not give up."
One of those things to do is to make calls and send messages to your Senators and House members and organizers of the rally made it easy by making available laptops and cell phones.
Chris Michalakis from Reform Immigration for America and the Legislative & Political Director for United Food and Commercial Workers said we need comprehensive immigration reform that keeps families together and punishes unscrupulous employers, not people.
After the rally he told me, "When you have workers work under the radar like that it is easy for them to be exploited. They are not subject to labor laws, minimum wages laws or anything like that and of course they live in fear of immigration. It is absolutely a threat to all workers when employers take advantage of undocumented workers."
The most dramatic testimony came from Marcia Boehm as she spoke about her personal health care crisis. Although employed as a college professor for fifteen years, Boehm is uninsured. She is suffering from an untreated broken hip and is "sucking it up."
She said too many people are forced to choose between paying rent or buying food and paying for their health care. We need to think about what kind of American we want, "It's not just for the rich to get what you need."
"Change doesn't happen from the top down, it happens from the bottom up" said Michigan Organizing for America Director Aletheia Henry. With premiums going up three times faster than wages, "Health care reform is necessary whether you have insurance or not."
Michigan peace activist Al Fishman received an enthusiastic reception. He noted it was a Republican president who warned of the growing influence of a military industrial complex, now a six decade long addiction to militarism. "One half of our budget, more or less, has gone for the weapons of war," he said. The audience erupted with sustained applause when he declared "Those dollar dollars could have been spent on education, on health care, and jobs."
Fishman said it is necessary for the people's movement to regain the momentum. "It is our responsibility to reinvigorate the spirit of 2008, 'We are the people we've been waiting for,'" he said to a thunderous roar.
Dave Ivers, representing Detroit Metropolitan AFL-CIO, said "labor's agenda is your agenda." Citing the need for labor law reform, he said "over fifty percent of workers would like to join a union. I've been an organizer, I've seen workers fired. One night we had 29 signed cards, 29 people registered to vote on a contract, the next morning they went to work and all of the equipment was moved out of the shop. None of them had jobs anymore."
Both Reps. Sander Levin and John Conyers addressed the crowd. Levin said the unemployment rate for people making less than $12,000 a year is 31 percent; our number one job is to get America back to work. Conyers, the sponsor of a single payer national heath care plan indicated he is not enthusiastic about proposed health care legislation but added, "I have come to the conclusion that it is better to take whatever we can get and then build forward from that."
"Moving the country forward depends on us," said Dewey, "we are the President's spine; I feel he would welcome that."
Photo: John Rummel/PW