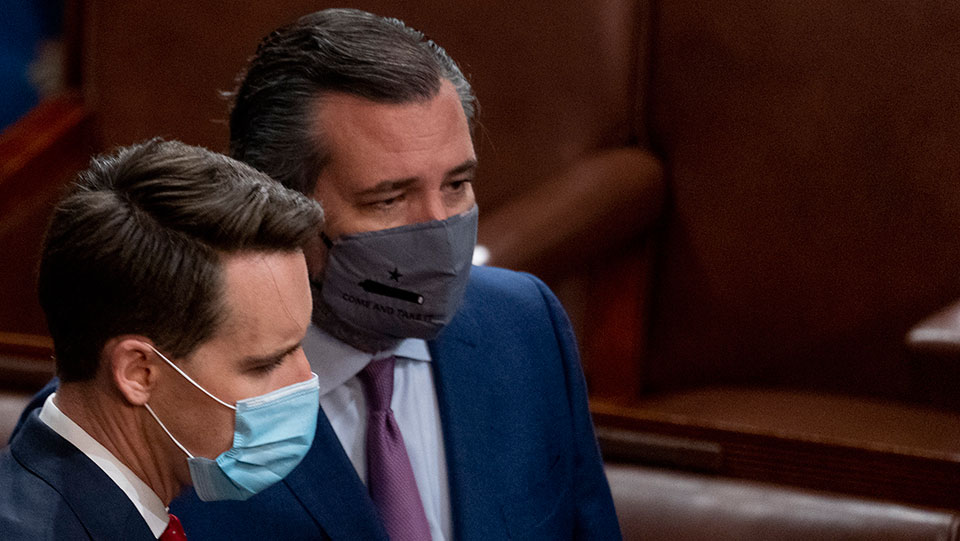 Republican senators exposed their true colors at separate Senate hearings on Capitol Hill on Tuesday, and those colors are not ones that would typically be shown by anyone interested in "bipartisanship."
The nation was treated to the spectacle in hearings on the Jan. 6 riot at the Capitol of Senate leaders of that right-wing insurrection "investigating" the attack on democracy for which they were themselves responsible.
Missouri's Republican Sen. Josh Hawley and Sen. Ted Cruz of Texas fended off questions from reporters who asked them whether they bore any responsibility for the attack. Both stirred up Trump supporters by pushing claims that the election was stolen, and Hawley cheered on the rioters outside the Capitol when he was on his way in to vote on certification of the election results.
Meanwhile, down the hall in the Capitol at a hearing on confirmation of President Joe Biden's cabinet nominees, Republican senators expressed their opposition to the nomination of Xavier Becerra to lead the Department of Health and Human Services. Biden's choice of Becerra, like his choice of Neera Tanden for the Office of Management and Budget, is seen by him as critical to implementing his agenda to end the coronavirus plague and lift the country out of economic depression. While the GOP has been campaigning against Tanden for weeks, they did not begin in earnest their push against Becerra until yesterday.
At the hearing on what went wrong leading up to the Jan. 6 insurrection, Republican Sen. Ron Johnson put forward the conspiracy theory that it was really "antifa" that was behind the attacks on the Capitol. "Basically it was like a picnic here that day until they (antifa) got involved," he said.
Commentators expressed shock over the fact that a U.S. senator could describe the mob of armed insurrectionists as "picnickers" who bore no responsibility for what they were doing.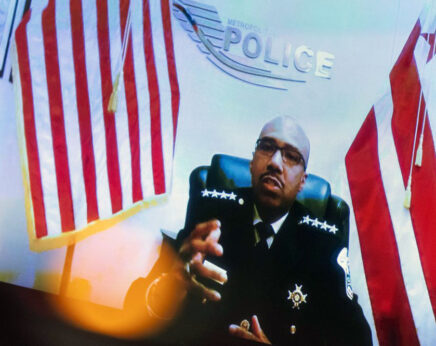 Robert Conte, the acting chief of the Metropolitan D.C. Police Department described dramatically how he begged for help from the National Guard—help which did not come until it was way too late.
Senators brought up information indicating Lt. General Charles Flynn, brother of the disgraced former head of national security, Michael Flynn, was among the group at the Pentagon that denied the assistance from the National Guard. The Pentagon at first denied Flynn was among those who made the decision to withhold the Guard but days later reversed that position. Democratic Sen. Amy Klobuchar said she intends to press for information on why that happened at the hearing next week when Pentagon officials will be questioned. The Guard was made readily available to attack peaceful Black Lives Matter protesters last summer but could not be used to quell a pro-Trump insurrection intended to overturn the election results.
The second hearing on this matter next week will look into the reasons the Guard was not deployed and into the reasons FBI advance warnings about the coming Jan. 6 riot were ignored. The last thing senators like Hawley, Cruz, Johnson, and others want to see is proof that there was coordination involving the White House, the Pentagon, Republican elected officials, and law enforcement.
At the cabinet nomination hearings, meanwhile, Becerra faced vicious attacks from Republican senators who do the bidding of the private health care industry.
Animosity toward Becerra is high in Republican circles because of his long-time support for Medicare for All, his calls for reducing racial disparities in healthcare, and his role as attorney general in California, where he went after abuses by big pharma and health industry giants.
Tackling coronavirus top priority
He said yesterday that tackling the coronavirus pandemic will be his first priority if confirmed, but he also pledged to work to expand health insurance coverage, curb prescription drug costs, and reduce racial and ethnic disparities in medical care.
"The COVID pandemic has killed 500,000 Americans," Becerra told the Senate health committee. "To meet this moment, we need strong federal leadership."
Becerra cited Biden's goals of 100 million vaccinations in his first 100 days, increasing access to testing, ramped up DNA mapping of the virus to track worrisome mutations, and reopening schools and businesses.
On health insurance, he pledged to work to expand the Affordable Care Act, although in the past he has stated clearly that a government-run health care system would be best.
Republicans are portraying Becerra as unfit because he does not have adequate medical credentials. He is facing Republican opposition on two committees, the health committee with which he met Tuesday and the Finance Committee with which he is meeting Wednesday.
If Republican opposition is overcome, he will be the first Latino to head the Department of Health and Human Services. The department has jurisdiction over health insurance programs, drug safety and approvals, medical research, and child welfare—all areas that the Trump administration focused on heavily in order to push the country further to the right.
For Republicans, a progressive overseeing top health giants and federal child welfare (so much connected with immigration policy), someone like Becerra can be their worst nightmare.
Ranking Republican Sen. Richard Burr of North Carolina, often falsely thought of as one of the more reasonable Republicans, did not hide his opposition.
"I'm not sold yet," Burr said, looking at the nominee. "I'm not sure that you have the necessary experience or skill to do this job at this moment."
Burr didn't even try to hide the reason for his opposition. In his opening statement, he questioned whether Becerra "respects the role private companies, and particularly pharmaceutical firms, play in delivering innovation that benefits patients."
Becerra, 63, represented Latino neighborhoods of Los Angeles in the U.S. House for more than 20 years before becoming his state's chief law enforcement officer, succeeding Kamala Harris after she won election to the Senate.
Although he backed government-run healthcare when he was in Congress, he played a leading role in garnering support for President Barack Obama's health care law that expanded access to private insurance.
Republican Sens. John Kennedy of Louisiana and Tom Cotton of Arkansas released a letter in which they asked Biden to withdraw the nomination, calling Becerra "unfit for any position of public trust." Senate Minority Leader Mitch McConnell, R-Ky., called him "famously partisan."
The right-wing political group Heritage Action for America has launched a cable and digital ad campaign against Becerra. Republicans in the Senate are calling Becerra a "radical supporter of socialized medicine," abortion, and curbs on religious liberty and charge that he has no medical experience.
Determined to push forward
Democrats are saying they are determined to push forward with his nomination. Republicans are "just flailing around," Finance Committee Chairman Ron Wyden of Oregon told the press. "They've done their best to try to find something that could stick in terms of their opposition, but there's no 'there' there."
At a White House press briefing yesterday, White House spokeswoman Jen Psaki said Becerra is part of "the team that Biden needs to execute his COVID-19 response plan."
One of the main reasons Becerra is so hated by Republicans is the fact that he has very specifically targeted and fought Trump administration policies in California. Over the four years that Trump was in power, Becerra filed 124 lawsuits, challenging Trump on immigration, environmental, and health care policies.
Democrats note that the mainstream of their party, including most of their base, supports progressive positions championed by Becerra, including women's access to abortion and single-payer government-run health care. Biden himself has made clear, however, that he does not support that latter position.
Lack of medical experience is actually a phony issue when it comes to a nominee for HHS secretary. Recent secretaries have included only one doctor but also a pharmaceutical executive, a White House budget director, and three governors.