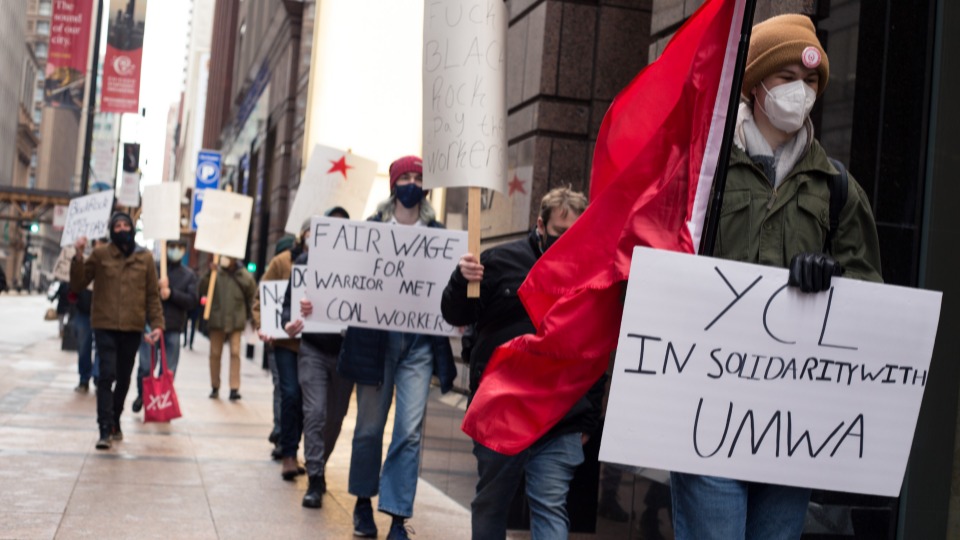 CHICAGO—Members of the Young Communist League gathered in Chicago to demonstrate that solidarity crosses state lines. In front of the downtown Chicago headquarters of asset-management giant, BlackRock, demonstrators rallied in support of the mineworkers striking against Warrior Met Coal in Alabama.
Miners in Alabama have been on strike for nearly a year, demanding their pay, health care, and schedules reflect their contract before Walter Energy went bankrupt. In 2016, the workers took on a devastating contract to save their jobs. They took 20% pay cuts, health care with massive out-of-pocket costs, and gave up their holidays, with the expectation they would be restored later. Warrior Met picked up the pieces, and now revenues are up. The concessions from miners, totaling $1.1 billion, are the reason for the rebound, the UMWA argues.
Over the course of the strike, the miners have experienced violence on the picket line on top of what the UMWA has described as unfair labor practices. The National Labor Relations Board agreed with the UMWA, saying Warrior Met engaged in unfair bargaining and withheld information.
Blackrock is the largest shareholder of Warrior Met. After a judge issued a restraining order against the UMWA, the strikers took their fight to New York City to confront Warrior Met's financiers.
YCL members from across the Midwest—Illinois, Indiana, Michigan, Minnesota, and Ohio—followed the strikers' example and protested outsideBlackrock headquarters in support of the miners. The group chanted, "Who digs the coal? Miners! Who steals the profits? BlackRock!" Their protest drew workers out from the surrounding buildings while cars and passersby responded with encouraging honks and claps.
Their signs were printed with messages of solidarity with the strikers: "No contract, no coal" and "We demand fair wages." The group also passed out flyers printed with the UMWA's strike fund.
Chicago YCL Provisional Chair Jake Chappell emphasized the strikers' cause. "The rough times are over, the revenue's at record highs, and how does management thank these workers who saved the company with money from their own pockets?" he asked the crowds both in and outside the building. "A dollar fifty. Not even a third of the cut these workers agreed to."
"We stand in solidarity with the mineworkers at Warrior Met Coal," Chappell said to end the rally. "Labor is entitled to all it produces!"