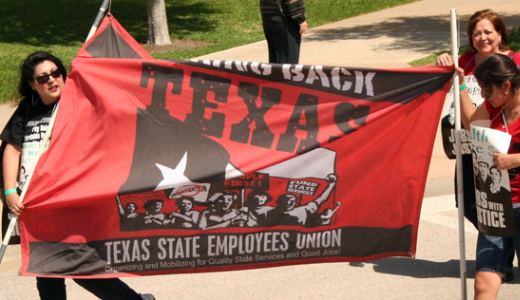 AUSTIN, Texas – On April 6, two days after 1,000 union-inspired protests rattled America, tardy Texans held their statewide coalition march and rally against the budget passed by the Texas House. The budget is likely to close schools and medical facilities while creating another 335,000 unemployed Texans and raising the state's unemployment rate another two percent. The budget that was passed in the Texas House, but not approved in the Senate so far, would cut $23 billion from current state expenditures.
The president of the Texas AFL-CIO, Becky Moeller, reported that every affiliated union, plus three unaffiliated Teamster locals, were represented at the rally. They estimated that there were more than 6,000 protesters. In addition to union members, there was a large contingent from the Texas Organizing Project, a community organization, and a small group from the League of United Latin American Citizens.
Several top political leaders joined the labor leaders on the podium. One speaker that may have surprised the unionists represented the Oak Cliff (part of Dallas) Chamber of Commerce. Labor and the business organization have lately had several occasions to work together against cuts that would destroy education and infrastructure. Even though the Chamber of Commerce took a leading roll in funding the Republican campaigns of 2010, they have taken their distance on infrastructure issues.
Image: Jim Lane/PW