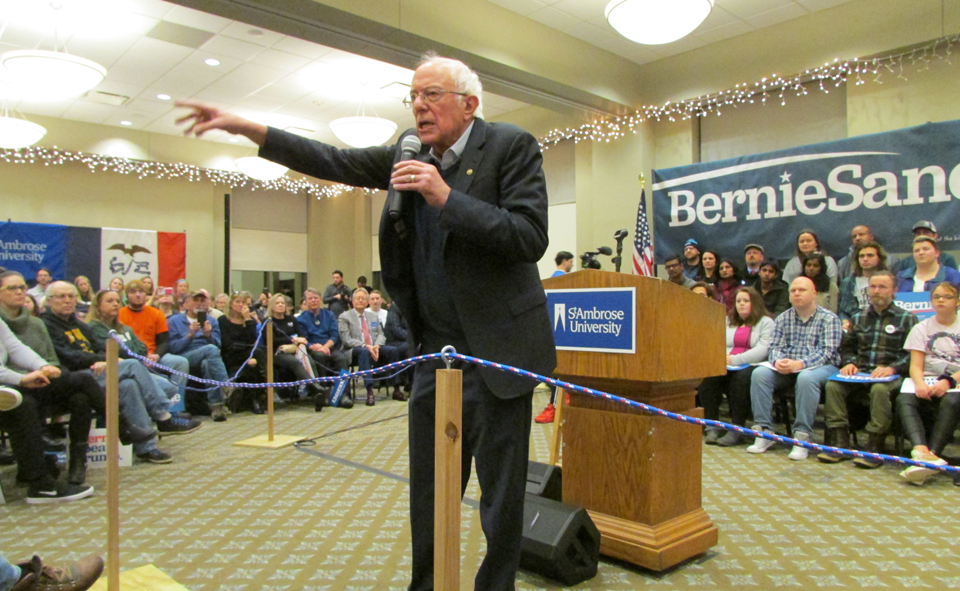 DAVENPORT, Iowa – "It is absolutely imperative we defeat the most dangerous president in modern American history," declared Sen. Bernie Sanders to a packed room of several hundred supporters at St. Ambrose University here, Jan. 11. "And we'll defeat him by telling the truth and talking about the issues."
Sanders' latest swing through Iowa took place just weeks before Democratic voters in this state participate in the Iowa Caucuses on Feb. 3. It is the nation's first in a long chain of events that will determine the Democratic presidential nominee in the 2020 elections.
Sanders leads in the state according to the latest Des Moines Register/CNN poll, followed closely by Elizabeth Warren, with Pete Buttigieg and Joe Biden trailing further back.
A solid core of unwavering supporters buoys Sanders. Many of these voters have stuck with him since the 2016 election. The polls also show many voters are still undecided, making for a fluid race.
Sanders noted the incoming attacks by the Trump campaign in recent days. "They're getting worried. They know what we know – that is we are the strongest campaign to defeat Donald Trump. We will expose Trump for the liar and fraud he is."
He was joined by Rep. Rashida Tlaib, D – Mich., who introduced him as a builder of a people-powered movement. "We need somebody who is courageous, who won't sell us out," she declared. "I'm exhausted by the broken promises. He's as angry as me. He sees the pain of economic oppression."
Sanders didn't disappoint the crowd who came expecting him to blast billionaires and wealth concentration, economic and political corruption, and call for radical structural reforms like Medicare for all, the Green New Deal, free college tuition, and democratic governance.
People are living paycheck to paycheck, and an increasing number of people are dying from "diseases of despair" in response to their economic circumstances. People are turning to opioids, alcohol, and suicide said, Sanders.
"Our job is to give people hope, to have a government not based on greed and hatred and divisiveness. We need a government based on love and compassion and bringing our people together," said Sanders.
He called for raising the minimum wage, making it easier to form unions, creating millions of jobs at living wages rebuilding the nation's infrastructure.
Sanders also spoke to a rally in Iowa City Jan. 12 hosted by the Sunrise Movement, which last week announced they were endorsing him. Thousands of young climate activists make up the Sunrise Movement. They popularized the Green New Deal, and their endorsement is considered very significant.
"We believe a Bernie Sanders presidency would provide the best political terrain in which to engage in and ultimately win that struggle for the world we deserve," the Sunrise Movement said in a statement.
"Sen. Sanders has been calling the climate crisis "the most important issue facing civilization" since the 1980s, and he's stood alongside movements fighting it since then, too. In the 2016 election, Sanders was mocked by pundits for stating in a Democratic debate that climate change represented the United States' greatest geopolitical threat. Now, that position is widely held."
Sanders told the Davenport crowd that, unlike Trump, he believes in science. "Everything scientists are telling us is that the climate crisis is happening far quicker and is far worse than we thought. Bold action is needed now, he said.
"With rising sea levels, many of our cities will be partially or completely underwater," said Sanders. "It means countries like China, Vietnam, and India will see massive flooding."
In addition to more flooding across the Midwest, farmers in Iowa will see shorter growing seasons and more droughts and more extreme weather events.
Sanders called for transforming the energy system of the country and leading the world in that direction. "We will reach out to countries and people all over the world and say, we are in this together. No one will escape this. Maybe instead of spending $1.8 trillion on weapons of destruction, we pool our resources to save our world.
"Our message to the fossil fuel industry is that their short-term profits are not more important than the future of this planet," said Sanders.
Sanders's consistency in his positions is an endearing quality attracting many of his supporters. To them, this makes Sanders authentic and incorruptible. "I'm the same person I was forty years ago, he often says.
"I like that he has a record of voting pro-worker and against (anti-labor) right to work laws," said Connie Haussmann, a UAW member from Davenport. Haussmann said her co-workers had mixed opinions of the candidates, but they were all upset by what's happening economically, particularly the impact of corporate trade deals.
"I agree with all of his stances on climate change, Medicare for All, and helping other LGBTQ people such as myself," said Emily Castro who attended with three friends from across the river in East Moline, Ill.
Welcoming Sanders was Joe Kugly, general manager of the Quad City River Bandits, a minor league baseball team in the area. Kugly lauded Sanders for standing up to the billionaire owners of Major League Baseball who want to shut down 40 minor league teams in cities and towns like Davenport across the country.
"Bernie stepped up to the plate first, and there were over 100 members of Congress who joined in right behind him," said Kugly. "Bernie stood up for all of us in the 160 minor league markets. His leadership showed me how powerful it is to take a stand and not back down from these billionaires."
Sanders invoked the quote by Nelson Mandela, that "it always seems impossible until it is done." Nothing ever really changes, he said, unless millions of people stand up and fight for justice.
"That's why the message of our campaign is 'us, not me," said Sanders. "No president, not even Bernie Sanders, can do it alone. Ours is a political movement that tells the one-percent that this country belongs to all of us."