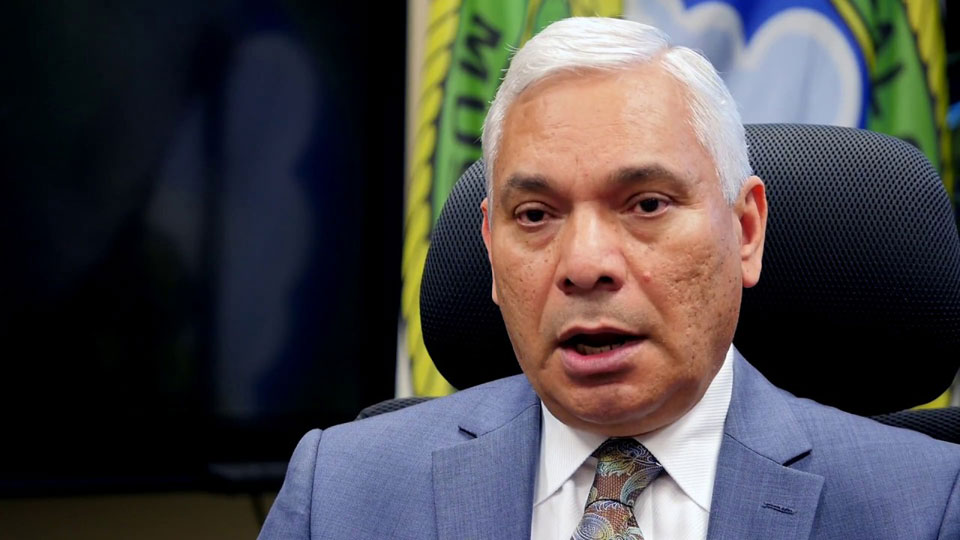 OKMULGEE, Okla.—"I think it's just this second go-round is the tribe exploiting its rights," Sterling Cosper, former Mvskoke Media manager, said. "It has sovereignty to decide what's best for it." Cosper resigned November 8 following the decision of the Muscogee (Creek) National Council to repeal the tribe's Free Press Act of 2015.
By repealing the law and moving Mvskoke Media, its independent media outlet, under the control of the tribe's executive branch, the council has dissolved the firewall between reporters and government officials.
Free press for the Muscogee (Creek) Nation is now in jeopardy after the repeal. Since 2015, Mvskoke Media worked as an independent entity without influence from tribal government.
Gary D. Fife, a former correspondent for National Native News, told this reporter, "Before I accepted my present job with Mvskoke Media, I asked if we report on tribal government, or if we print what tribal government wants." An enrolled member of the Muscogee (Creek) Nation, and of Cherokee heritage, Fife is a career veteran journalist with nearly 40 years' experience in print, radio, and television specializing in Native American affairs. Yet now, all this is in question since the recent tribal council bill was passed.
As Muskogee Phoenix reported, the council voted 7-6 to repeal the tribe's Free Press Act, thus moving the award-winning Mvskoke Media under the executive branch's Department of Commerce. The repeal also dismantled the Mvskoke Media's three-member editorial board and placed the staff under the Secretary of the Nation and Commerce, Elijah W. McIntosh. Principal Chief James Floyd approved the measure.
The surprising way the council handled this has left many unanswered questions. No one knew of the measure prior to the meeting. It was not made public nor announced in advance as an agenda item. The Mvskoke Media staff and editorial board were caught unaware as they were not part of any consulting or drafting of the process.
Reporters Without Borders (RSF), the Native American Journalists Association (NAJA), and other free press advocates have condemned the Muscogee (Creek) Nation's decision to repeal its press freedom law, which was implemented three years ago to grant editorial independence to its media division.
NAJA has since confirmed that staff of Mvskoke Media, which is funded by the tribe, have been instructed to send all future content to the executive branch for approval. This is a direct form of censorship and restricts the ability of Mvskoke Media reporters to seek truth and report on stories of importance to Muscogee (Creek) citizens. Also joining in the condemnation are Indigenous Media Freedom Alliance, Reporters Committee for Freedom of the Press, and the Committee to Protect Journalists.
Lakota Country Times reported:
"In a survey of NAJA membership earlier this year, two of the biggest threats to tribal media identified were a lack of financial resources and editorial control. Tribal journalists reported that their nation's economies impacted their tribal media's ability to be financially independent and that government officials and political interests often determined media content.
"Indigenous journalism plays a critical role in supporting tribal sovereignty and self-determination. From holding the powerful accountable to disseminating stories of cultural significance, a free and independent Indigenous press supports the goals of tribal nations by providing an open public forum for community voices. The Muscogee (Creek) National Council's actions undermine this role and demean this sacred responsibility. Like many tribes, the Muscogee (Creek) Nation is bound by a common history cataloged by stories; stories of joy, pain, happiness, and ultimately triumph."
Lenzy Krehbiel-Burton, of The Journal Record, stated that in a copy of a letter sent to Mvskoke Media employees and obtained by The Journal Record, Muscogee (Creek) National Council Speaker Lucian Tiger III wrote that the repeal would not affect the outlet's day-to-day operations. However, on Friday, November 9, two sources confirmed that Msvkoke Media staff were told to send page files of an upcoming edition of the tribe's newspaper to the executive branch. Included in those files was a story of a National Council member getting arrested on suspicion of driving under the influence.
The Mvskoke Media Editorial Board issued a statement that day saying, "It's important to remember that ethical journalism serves the best interests of the citizens and not the government. If the news staff loses the ability to report important information, including stories detailing the conduct of elected officials, then citizens lose their power to hold tribal government officials accountable."