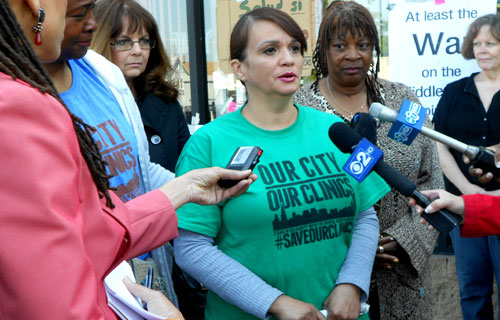 CHICAGO – This past weekend, millions gathered in the Windy City for the NATO summit. But over in the "other Chicago" – the inner city, Latino and African American-majority neighborhoods, people are suffering. People's World toured the Back of the Yards community, where a mental health clinic was recently shut down, and got a very different picture of reality than the one tourists saw downtown.
N'dana Carter, organizer with South Side Together Organized for Power, underscored the severity of the issue, in which Mayor Rahm Emanuel decided to move forward with the termination of six out of 12 of the city's mental health clinics.
"We've had 18 people from [the Back of the Yards facility] hospitalized since it closed," Carter explained. "They've had anxiety; fear; attempted suicide. The [city's] decision has been to ignore the needs of the people."
To add insult to injury, the shutdown of a half-dozen clinics came while the city raised more than $36 million for the NATO conference. $14 million of that paid for wine and caviar parties for diplomats and heads of state. "It would take ony 2.3 million of that to fund the clinics for one year," said Margaret Sullivan, who overcame suicidal depression under the care of another clinic in Chicago's Beverly/Morgan Park area. "They say there's no money, but look how they found $36.5 million for this summit so quick."
Gesturing at the needy Back of the Yards community, Carter remarked, "This clinic was the heartbeat of this community. And many of the people there were undocumented. The city has chosen to sweep all this under the rug."
So, she said, now patients are forced to see private therapists, while those who worked at the clinics are now out of jobs. "They fired all the Black male therapists, and half of the Hispanic male therapists. Many of them had no other jobs to take, and went on to work at kennels, euthanizing animals." In the meantime, "A lot of private providers are closing. It's important that public health services stay public."
Indeed, Debbie Delgado, a woman whose son was shot to death in street violence in Nov. 2006, had been receiving therapy sessions to deal with her resultant depression. Her two sons had been shot, she said, and her older one (21), died in the arms of his younger brother (19), who survived the attack.
Now, she said, her youngest son is slipping away too, and the news that the clinic was closing had come as a blow to him. "He refuses to take medication now," she stressed. "He doesn't want to be in society. He wants to be with his brother. With the closing of these clinics, people are losing hope.
"When I found out how much money goes to wars and just for this summit, I got so upset. We have nowhere else to go."
Another patient, Marti Luckett, said, "14 years ago, I had a mental breakdown. I was alone, and I felt that I had nowhere to turn." But this clinic, she said, was a place in which she got better. She declared that the city ought to "be practical: It only makes sense to have these facilities available to the people who need them."
One patient, who had been suicidal, actually took a turn for the better in her health after she got involved in the fight to maintain mental health care services. "When I realized that with the cuts the city was trying to kill me," she said, "I decided to stay alive just for spite."
The tour through the neighborhood was headed up by the Grassroots Collaborative coalition, whose member Amisha Patel said, "Long after NATO is done, there will still be struggle. That's the reality of the situation. Community residents have a voice, too, and it should be listened to.
"But there's a disconnect between the priorities of local folks and those at the top."
"There are a lot of patients right now," said Delgado, "who are slowly dying. We only ask for $2.3 million to keep six clinics open, but the city would rather spend it on wining and dining, and planting flower boxes downtown." Meanwhile, she concluded, "Our community is dying."
Photo: Debbie Delgado talks with reporters about the wrongs being done to former patients of the shut down clinics, who need help. Blake Deppe/PW