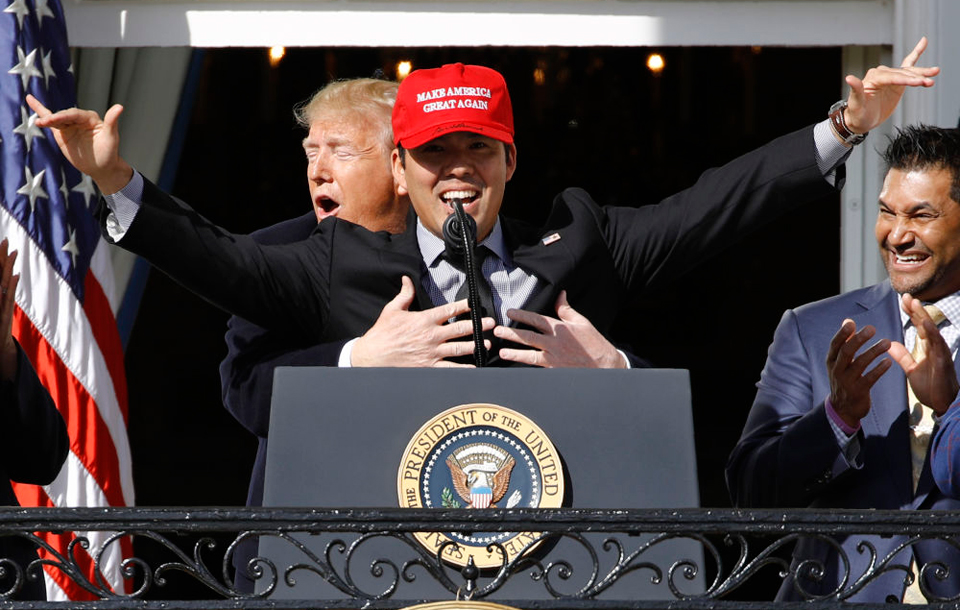 While not the World Series I was expecting, the Washington Nationals' game seven win over the Houston Astros—the favored team to win—was a historic moment for D.C. ball fans.
The victory made even remarkable by the Nats' surprising comeback during the seventh inning stretch; the bats came alive and drove runs in. It could've been all over, had the team not decided to stop trailing the Astros, 0-2.
It's a first for this 15-year-old club and the first win for Washington D.C in 86 years.
Then, came the White House invitation. While several players struggled with deciding on attending, Nats pitcher Sean Doolittle had no problem making up his mind: "I don't want to hang out with somebody who talks like that."
"There's a lot of things, policies that I disagree with, but at the end of the day, it has more to do with the divisive rhetoric and the enabling of conspiracy theories and widening the divide in this country. My wife and I stand for inclusion and acceptance, and we've done work with refugees, people that come from, you know, the 'shithole countries,'" he continued.
"At the end of the day, as much as I wanted to be there with my teammates and share that experience with my teammates, I can't do it…I just can't do it."
Doolittle went on to say his decision was based on Trump's issues on race relations, citing the president's words and actions, the Central Park Five, and his comments following the 2017 white supremacist rally in Charlottesville, Virginia.
He also mentioned his wife, Eireann Dolan, has two mothers who are involved in the LGBTQ community.
"I want to show support for them. I think that's an important part of allyship, and I don't want to turn my back on them," Doolittle said. "I have a brother-in-law who has autism, and [Trump] is a guy that mocked a disabled reporter. How would I explain that to him that I hung out with somebody who mocked the way that he talked or the way that he moves his hands? I can't get past that stuff."
It was an admirable move, by a player committed to upholding and living a set of values—something lacking at 1600 Pennsylvania Ave.
Doolittle was joined by seven other Nats players, Anthony Rendon, Joe Ross, Javy Guera, and Wander Suero, in staying away from the White House.
Alas, all good things, including the Nationals win, must come to an end.
Five days after their title win, Nationals catcher Kurt Suzuki was wrapped up in an awkward, from behind bear hug from Donald Trump during the ceremony on the South Lawn.
Suzuki didn't get the hug for winning the World Series, he got it only after whipping out and donning the troublesome, red and white, MAGA cap. Like it or not, MAGA hats and Nationals baseball will be forever linked, and Suzuki's excuse that he was "just trying to have some fun" won't cut it.
Suzuki followed up by saying: "Everybody makes everything political. It was about our team winning the World Series."
Of course, every person, or player, has a right to their own political beliefs. It was Suzuki himself who made this moment political not "everybody."
Suzuki's ill-informed action only serves to further highlight how divided our nation is, and the hypocrisy of partisan politics in sports—taking a knee bad, yelling out MAGA good.
At least, there were eight. Eight players who sat out, rebelling against the norm, and the small orange man behind gold curtains.