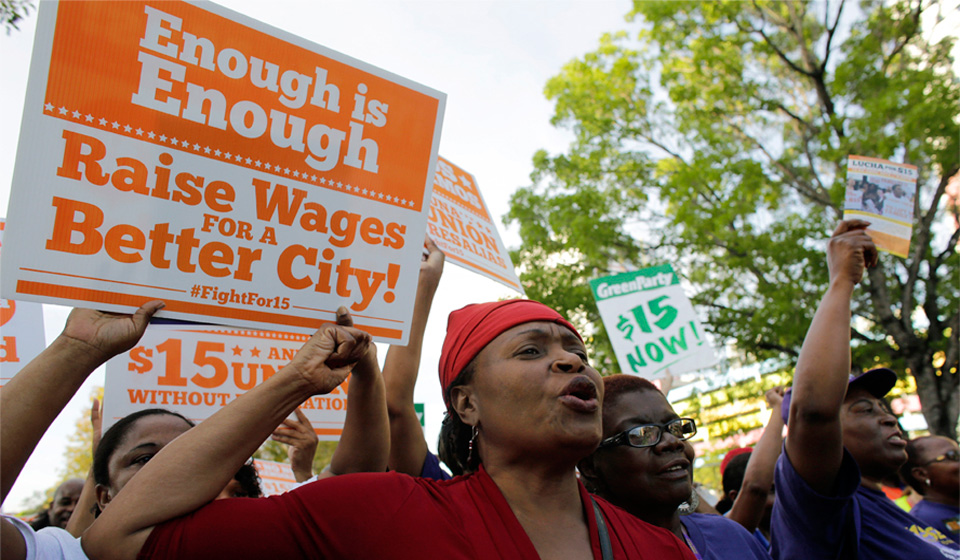 "There is a kind of strength that is almost frightening in Black women. It's as if a steel rod runs right through the head down to the feet," said American poet and civil rights activist Maya Angelou.
It is only fitting, as we close out Black History month and move into Women's History month, that we highlight the continued strength and resilience of Black women. Black women are playing significant roles in shaping the direction of emerging social movements and struggles for the rights of working people across the country. And even more, they are a growing force for change and influence in the country's sharply divided electorate. In order for the labor movement, and the country as a whole to thrive, this force must be recognized and nurtured.
Donald Trump's agenda is riddled with anti-labor policies. This agenda attacks the livelihood of millions of working people across the nation. From his push to make the National Labor Relations Board into a pro-corporate (and anti-worker) body, to his (and the GOP's) continued advocacy for the so-called "right to work" law, it is clear that the labor movement will be on the defensive for the next four years.
It is also clear, from the percentages of the 2016 voter turnout, that a majority of Black women knew this, and other offensive policies, were likely to be enacted. Ninety-four percent of Black women who showed up to the polls voted for Hillary Clinton. Yet, Black women do more than vote; they are active in their unions, acting as a force of organizing and mobilization.
Labor benefits from strength of Black women
The labor movement is the largest mass membership organization of women, African Americans, Latinos, and Asians in the country. It is larger than organizations such as the NAACP, NOW, La Raza, and LULAC combined. It is the largest organization that includes these marginalized sections of the population.  Trump's attacks on the labor movement are not only an attack on working people as a whole, but particularly on workers of color and women, since it is through the labor movement that a great amount of their strength is realized.
The continued right-wing attacks on the hard-won gains of labor and working people show that there is much at stake, and Black women will find themselves at the forefront of these battles. One reason is that African Americans have historically been the most pro-union, and the demographic most likely to be union members. As former Maryland Congresswoman Donna Edwards wrote in her foreword to the 2015 report "And Still I Rise: Black Women Labor Leaders' Voices": "In 2014, Black women, at 13.5 percent, were only second to Black men, at 15.8 percent, in having the highest union representation rate compared with other race or gender groups." Along with this, according to the Bureau of Labor Statistics (BLS), some of the fastest growing occupations with the greatest increase in job opportunities projected through 2024 will be in the healthcare, retail trade, and food services sectors. These are industries increasingly filled by Black women. The service sector is 27 percent African-American women.
Even as Black women lead the charge for equal rights and a better standard of living for all working class and poor people, they continue to face marginalization and exploitation. They still face a significant wage gap and are more likely to work in lower-paid occupations such as fast food, retail, and the service industry. For example, Black women food service workers earn only 60 percent of the salaries that their male counterparts earn.
For Black women, the union advantage is immense.  Black women in unions average $21.90 an hour, while non-union women earn $17.04, according to the report "And Still I Rise: Black Women Labor Leaders' Voices, Power, Promise." Union membership can even be the difference between life and death; 72 percent of women in unions have health insurance, while less than 50 percent of nonunion black women do.
Black women bring power and wisdom
Just as much as Black women need the labor movement, so too does the labor movement need the power and wisdom of Black women. Often finding themselves at or near the bottom of nearly every social and economic indicator, Black women's plight represents all that is not working under our current system. It is that special position, coupled with resilience, that makes Black women ready and effective to make lasting change. The participation of Black women also helps to put the often uncomfortable, but needed, conversation about race in the forefront, as it is intertwined in the oppression and division of working people.
African-American women who have come up through the ranks of labor and other social justice movements provide powerful leadership in both. Legendary figures such as Harriet Tubman, Sojourner Truth, Ida B. Wells-Barnett, Mary Church Terrell, Rosa Parks, Daisy Bates, Gloria Richardson, Fannie Lou Hamer, Addie Wyatt, Angela Davis, and hundreds of thousands of other Black women have stood on the right side of history, leading social justice movements, skillfully seeking to merge them with economic struggles. In the last decade, emerging Black women in leadership have followed in their footsteps.
African-American women can lead AND win
Black women not only help in leading these fights but, studies have shown, they help in winning them as well. Unions won 89 percent of elections where Black women were the lead organizers, compared with 53 percent for female organizers overall and 42 percent for male lead organizers, according to a study by labor scholars Kate Bronfenbrenner and Dorian T. Warren. We are seeing these same kinds of victories in movements such as the Fight for 15 as well, where a good amount of the leadership are Black and immigrant women.
Black Lives Matter co-founder and Oakland, Calif., resident Alicia Garza is a leader of the National Domestic Workers Alliance's (NDWA) "We Dream in Black" campaign. The campaign aims to "strengthen and expand" the base of Black domestic workers and "amplify their historical and current contributions to the broader domestic worker movement." At the recent Movement for Black Lives policy forum, Garza spoke on the need for leadership from women of color.
"I think what's at stake is we miss the opportunity to really transform the policies and practices that we have that excludes those women from the decisions that impact their lives. I think we've identified that that's a big problem," Garza explained.
The toughest fighters when it comes to workers' rights
Carmen Berkley, director of the Civil, Human and Women's Rights Department of the AFL-CIO, led the federation's massive outreach to women union members during the 2016 electoral campaign. "Black women cannot afford to sit this election out," Berkley said in September. "We need to let our communities know what's at stake if we let a divisive fear monger like Donald Trump make decisions that affect everything from our families to our jobs."
Americans live under an administration, Donald Trump's, that used racial political appeals rooted in hate and division to pit sections of the population against one another under the false promise of economic security. This has to be combatted at every turn. Racial discrimination hurts all working people and limits the ability to protect workers' rights. No one knows this better than Black women, who often find themselves in the lowest-paying jobs and the victims of discrimination based on both race and gender.
Critical need to advocate for leadership of Black women
Advocating for the leadership of Black women is a crucial task for today's labor leadership. The history of this country demonstrates over and over that the fight for economic security is not separate from the fight for social justice. The historic 1963 March on Washington is not often referenced by its full name: the March on Washington for Jobs and Freedom. Black women are a key component to that legacy.
African-American women are some of the toughest fighters when it comes to workers' rights. Petee Talley, secretary-treasurer of the Ohio AFL-CIO—the first Black woman to hold that position—said, "Black women are born organizers." It is clear in these difficult times working people will need that kind of strength and perseverance to win.