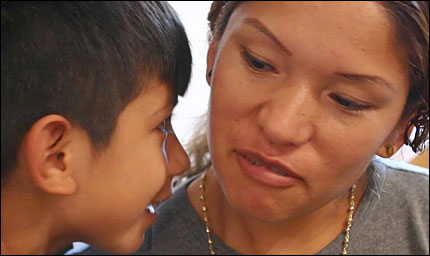 Federal Judge Susan R. Bolton ordered the delay of the implementation of major parts of the controversial Arizona anti-immigrant law, SB 1070, the day before the law was scheduled to go into force — July 29. Suits by the U.S. Department of Justice, the American Civil Liberties Union, the Mexican American Defense and Education Fund (MALDEF) and an individual Arizona policeman had called for the law to be struck down as unconstitutional.
The Obama administration suit had asserted that the Arizona law interfered with the federal authority to regulate all matters concerning immigration by requiring police officers to check the immigration status of anybody whom they stopped for any reason, if they had reason to suspect that the person might be in the country illegally.
Among other things, the administration argued in Judge Bolton's court that for Arizona, possibly followed by other states, to do this would overburden the resources of the federal agency that deals with undocumented immigration, Immigration and Customs Enforcement (ICE), and force it to adopt priorities for arrests and deportations determined by the states and not those mandated by the federal government.
The administration also argued that the Arizona law would interfere with U.S. diplomatic relations with Mexico and other countries, another federal prerogative.
Arizona had argued that the federal government already works with Arizona and other states to deport people identified by state and local police through the federal 287 g and Secure Communities Programs shows that the state is only trying to help the feds.
In her injunction, which is not a final ruling on the constitutionality of SB 1070, Judge Bolton went beyond what the administration had emphasized, and also highlighted the danger that the law would lead to harassment of legal residents and U.S. citizens whom police might "suspect" were undocumented.
So she enjoined Arizona from enforcing three parts of SB 1070 until a final ruling is made:
The requirement that police ask for immigration documentation from all people they come in contact with if they have a reason to suspect they may be undocumented.
The stipulation that immigrants in Arizona must carry papers proving their right to be in the country at all times.
The prohibition on undocumented immigrants soliciting employment on the street.
However, she allowed a part of the law to go into force which forbids cities in Arizona from acting as "sanctuaries," where local officials will not cooperate with immigration enforcement efforts.
The ruling was sharply criticized by Arizona Governor Brewer and other Republicans, as well as some conservative Democrats. Arizona will appeal the law.
It remains to be seen what impact the ruling will have on other states that have been contemplating similar laws.
Though the ruling was widely hailed as a victory by the immigrants' rights movement, protests and lobbying continue toward the goal of a comprehensive immigration reform that would allow an estimated 11 to 12 million undocumented immigrants in the country to gain legal status.
On Wednesday, July 28, several hundred children and adult supporters, singing, "Born in the USA, don't take my mama and papa away," marched in front of the White House to highlight the plight of U.S. citizen children whose non-citizen parents have been deported, or who are in danger of deportation. It is believed that there are about 4 million minor U.S. citizen children of undocumented immigrants in the country.
The marchers were demanding a moratorium on such deportations until a legislative solution is in place. Among the marchers was 10 year old Saul Arellano, son of Elvira Arellano who spend a year in sanctuary in a Chicago church to protest immigration policies.
Also present was 13-year-old Kyle Segura, whose sister was killed while serving in the U.S. military, and whose father now faces deportation.
The march, organized by La Familia Latina Unida, CASA de Maryland and other groups from a dozen states, was addressed by political leaders, including U.S. Representative Luis Gutierrez, D-Ill.
Gutierrez praised the DREAM Act, which allows for legalization of undocumented youth who attend college or serve in the military, and the AgJobs Act, which would facilitate legalization of some farm workers, but pointed out that many would not be covered by these acts and promised to go on fighting until a comprehensive reform is achieved.
Photo: A file photo of Elvira and Saul Arellano in sanctuary in Chicago.