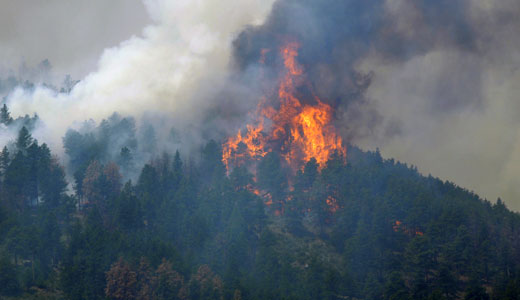 A large wildfire – sparked by lightning on June 4, and growing out of control – is burning across the Colorado mountains. It has already engulfed many buildings, causing one confirmed casualty. In New Mexico, meanwhile, a separate blaze is attacking the Lincoln National Forest. And due to climate change, scientists say, brushfires like these are only going to get worse.
In Colorado, nearly 30 aircraft and more than 600 firefighters are trying to get control of what is now being called the High Park Fire. Fueled by dry vegetation and spread over large areas by winds, the inferno has caused the death of 62 year-old Linda Steadman, Reuters reports. The woman's remains were found in the ashes of a cabin where she had lived, alone, near the Roosevelt National Forest.
The fire has already forced scores of people from their homes – and 25 new evacuation notices were issued on June 12. Firefighters are expecting they will be battling the blaze – 68 square miles in size – over the entire summer. As of now, just 10 percent of it is contained.
As this continues, residents are in a state of uncertainty. Jan Gueswel, who narrowly escaped the fire when it descended upon her home, said that, to her, this is still her home, and regrets being driven out – however temporarily – by the damaging destruction. However, she noted that she and other residents had long accepted that the fires were just something that needed to be dealt with.
"You move out east, you get the tornadoes," she remarked. "You live in the mountains, you get the fires."
Elsewhere on the West Coast, the wildfire in New Mexico has consumed 37,000 acres of woodland and decimated over 224 homes.
According to scientists and experts on climate change, blazes like these will worsen and become more frequent in the Western U.S. over the next 30 years. And, even for the U.S. on the whole and most of Europe, brushfires will drastically increase by the year 2100, scientists wrote in Ecosphere, a journal put forward by the Ecological Society of America.
But the Southwest U.S. in particular, experts say, is considered the fastest warming area in the country, which will lead to continuous droughts. And that will, in turn, present a greater chance for wildfires, explained non-profit research organization Climate Central.
The problem is clear to see, because Colorado and New Mexico have not been the only affected states. As of June 12, eight Western states – including California, Arizona, and Wyoming – had active wildfires burning.
After researchers analyzed the matter using satellite-based fire records and 16 different climate change models, they determined that, while temperate zone wildfires will increase with rising temperatures, fire risk would likely decrease near the equator, where tropical rainforests are expected to see increased rainfall.
For those more closely affected by fire outbreaks, however, this is but a small comfort.
"In the long run, we found what most fear – increasing fire activity across large areas of the planet," said lead researcher Max Moritz of the University of California-Berkeley.
"But the speed and extent to which some of these changes may happen is surprising," he added. "These abrupt changes in fire patterns will not only affect people's livelihoods, but they will also add stress to native plants and animals that are already struggling to adapt to habitat loss."
One method of controlling brushfires that is actually said to work is the intentional setting of controlled fires. The researchers approved of this, despite the questions it obviously raises on the potential negative impact on wildlife.
The idea of controlled fires, said researchers, is to cut the amount of fuel that feeds the wildfire. The researchers conducted a separate study on controlled burning, and concluded that it does not greatly disturb wildlife in a negative way.
"The few effects we did see were transient," said researcher Scott Stephens, writing in the journal BioScience. "Based upon what we've found, forest managers can increase the scale and pace of necessary fuel treatments without worrying about unintended ecological consequences."
Photo: The High Park Fire burns out of control. Jessica Cuneo/AP & The Coloradoan