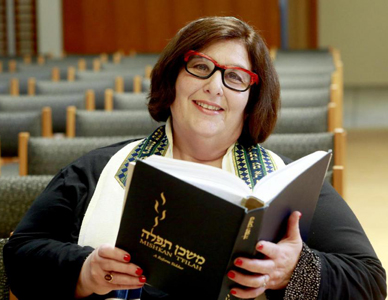 NEW YORK (AP) – As a rabbinical student at Hebrew Union College-Jewish Institute of Religion in New York in the 1980s, Denise L. Eger lived away from other seminarians. She quietly started a group for fellow gay and lesbian students, but held the meetings in another borough. By the time of her ordination, she was not formally out of the closet, but her sexuality was known, and no one would hire her. Later, she took the only job offered, with a synagogue formed expressly as a religious refuge for gays.
Since then, the Reform Jewish movement – Rabbi Eger's spiritual home since childhood – has traveled a long road toward recognizing and embracing same-sex relationships. That journey has led two weeks ago to Philadelphia, where she was installed as the first openly gay president of the Central Conference of American Rabbis, the rabbinical arm of Reform Judaism.
"It really shows an arc of LGBT civil rights," Rabbi Eger said in an interview. "I smile a lot – with a smile of incredulousness."
Rabbi Eger, the founding rabbi of Congregation Kol Ami in West Hollywood, Calif., is not the first openly gay or lesbian clergy member to lead an American rabbinical group. In 2007, the Reconstructionist Rabbinical Association chose Rabbi Toba Spitzer, a lesbian, as its national president. But Reform Jews, with 2,000 rabbis, 862 American congregations, and 2 million adherents, are the largest movement in American Judaism and have a broader role in the Jewish world.
Reform Judaism was the earliest of the major Jewish movements to take formal steps toward recognizing same-sex relationships. In 1977, the Reform movement called for civil rights protections for gays. By 1996, Reform rabbis backed same-sex civil marriage. But as these positions developed, gays and lesbians had to grapple with the uncertainties of pursuing ordination at a time when they could easily be kicked out of seminary over their sexuality, or graduate without a congregation willing to hire them.
Rabbi Eger, 55, began working in synagogues at age 12, in the mailroom of the Memphis congregation her family attended. Around the same time, she realized she was a lesbian. By college, Rabbi Eger knew she wanted to become a rabbi or cantor, even though she believed at the time that it meant she would have to sacrifice her hopes of having a spouse and children.
"It was impossible to reconcile being a rabbi and being a gay person or a lesbian person," she said.
During seminary, she had a girlfriend, and she said some people treated them as a couple. Some Reform synagogues had started outreach programs to gays and lesbians, and one congregation, in San Francisco, had an openly gay rabbi. But elsewhere rabbis were being forced out of congregations for their sexuality.
The need for positive role models
After Rabbi Eger was ordained in 1988, she started working at the Beth Chayim Chadashim synagogue in Los Angeles amid the AIDS crisis. She said that "standing over the graves of 28-year-olds and schlepping to the hospital five or six times a day" had intensified her commitment to gay rights. In 1990, she came out in a Los Angeles Times article, saying gay and lesbian Jews need positive role models.
"I took a great risk, but I didn't feel I could be authentic anymore – watching young men all around me die and not tell," she said.
Over the next two decades, gay acceptance became the norm in most American Jewish groups. In 2006, the Conservative Jewish movement, which holds a middle ground between the liberal Reform and the strict Orthodox, lifted its ban on gay ordination, and later introduced a prayer service for same-sex weddings. Orthodox Jews have held to the teaching that same-sex relationships are forbidden; at the same time, more Orthodox gays and lesbians are coming out and seeking recognition.
Rabbi Eger went on to hold several leadership positions within the Reform movement and in the Southern California Jewish community, and she helped write the Reform Jewish prayer service for same-sex marriages.
And, it turns out, she did not have to give up on having children or a spouse. The mother of a 21-year-old son, she is now engaged to be married.
"It's about human rights and human dignity," Rabbi Eger said. "If you can be a rabbi, if you can be a person of faith, if you can serve a community as their pastor, and you can have the opportunity to begin to reconcile all of those issues, it speaks volumes."
In a ceremony held Sunday, March 29 at her home temple in West Hollywood, Rabbi Eger joined an interfaith panel of leaders and activists in the historic struggle for LGBTQ equality in the religious community. The panel included the Rev. Troy Perry, founder of the Metropolitan Community Church.
The long, patient campaign has been largely successful within Reform Judaism. In fact, at the convention where President Eger was installed, a new resolution on transgender inclusion in Jewish life was passed. "We now have the chance to connect with other national and international religious movements to make a difference," Eger stated. This moment expands "the opportunity to teach justice and make justice in the world."
Eric A. Gordon contributed to this story.
Photo: Rabbi Denise Eger at Congregation Kol Ami, a Reform synagogue with gay and lesbian outreach programs, in West Hollywood, Calif. (AP Photo/Nick Ut)