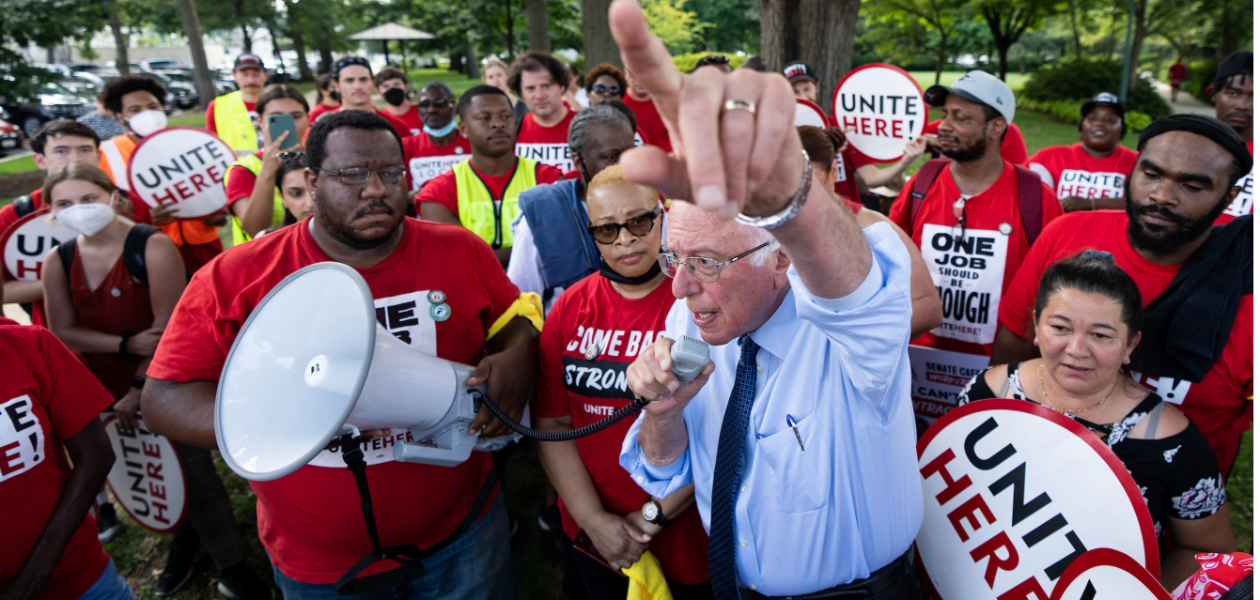 WASHINGTON—The "anti-PRO Act." Slow-walking union recognition elections. No card check. Comp time instead of overtime. Convoluted requirements bosses can impose on workers seeking paid family and medical leave. And partisan investigations, especially of Biden-named NLRB members Gwynne Wilcox and David Prouty, coming out of our ears.
Welcome to the forecast, leaked from the self-proclaimed leading "union avoidance" law firm, a.k.a. union-buster, Littler Mendelson, plus other sources, of what the House Republican-run Education and Labor—whoops, Education and the Workforce—Committee will try to impose on workers and their allies in the upcoming 118th Congress.
There is one saving factor against this right-wing corporate-backed war against unions and workers. Senate control stays in Democratic hands, which means the nasty schemes the House panel dreams up will likely find a graveyard over on the other side of Capitol Hill.
And Sen. Bernie Sanders will probably be running that cemetery for the Republican brainstorms.
The Vermont independent, workers' most-longtime and reliable ally in Congress, is in line to become the new chair of the Senate Health, Education, Labor, and Pensions Committee, succeeding Washington State Democrat Patty Murray. It handles all labor legislation.
That's because Murray, who now chairs the HELP Committee and the Senate Appropriations subcommittee which helps actually dole out Labor Department and other education and labor-oriented money, is slated to chair the full Appropriations Committee, which deals with all discretionary federal spending, defense and domestic.
Once the Republicans eliminate "labor" from the House panel's name, again, who will send Sanders the bills to bury is up in the air. Rep. Virginia Foxx, R-N.C., ran the committee the last time her party controlled the House. She wants to do so again. Foxx is so anti-union she once, to North Carolina media, questioned whether unions should legally be allowed to exist.
But Foxx has reached her party's limit of six years in such top jobs, and needs a waiver to reclaim it. If there's no waiver, the chief contender is Rep. Jim Banks, R-Ind. In voting records, there's no difference between Foxx (AFL-CIO 2021 score zero, lifetime 6%) and Banks (2021 zero, lifetime 5%).
That still leaves the question of what the ruling Republicans on the extremely partisan panel will try to push through, which is where the Littler Mendelson leak comes in.
The top measure they listed will be what could be called the anti-PRO Act. Think of anything workers and their allies proposed in the Protect the Right to Organize (PRO) Act, which the House passed twice but which fell victim to Senate Republican filibuster threats.
Then, in his so-called Employee Rights Act, Rep. Rick Allen, R-Ga., flips those ideas around. Even Littler Mendelson chortlingly calls Allen's bill "the antithesis of the PRO Act."
"Among other things, it would add increased protection for secret ballot elections and extend such protections to workers deciding whether a union will go on strike," the union-buster's analysts write. It also includes a provision banning salting.
Allen's measure would "require union recertification elections when union membership drops below 50%"—a scheme the Iowa legislature imposed on workers several years ago. It backfired there: AFSCME and the Teamsters won more than 90% of the recertification votes.
Allen would also "protect employee privacy," corporate-speak for another boss idea: Banning firms from giving any contact information about workers to the union that qualifies for a recognition election. He also legalizes so-called "merit pay" and exempts Native American tribes, and their enterprises, from federal labor law.
And his legislation would "provide protection from political spending by requiring workers to 'opt in' to have any portion of their paycheck used by unions to support political candidates or parties." Never mind that workers' political contributions are voluntary, unlike those of middle managers. CEOs coerce them to support anti-worker politicians—or else.
Last but not least, Allen would "codify the traditional joint employer 'direct, immediate control'" standard. That Republican rule leaves workers, especially franchise workers—think McDonald's—caught trying to figure out who to bargain with, and who actually broke labor law: Their immediate boss or the corporate headquarters.
"It's time to protect…the union election process from being abused by union bosses. It also provides all employees, independent contractors, and new gig economy workers the necessary protections so they can focus solely on their jobs," says Allen.
The anti-PRO Act isn't the only piece of anti-worker legislation pending on the Republican agenda, the union-buster firm says. Rep. Elise Stefanik, R-N.Y., would legalize—and extend nationally—a Republican Trump regime pilot project "which allows employers to self-report federal minimum wage and overtime violations as an alternative to litigation. Employers may apply to the program by submitting information from a self-audit that includes calculations of any unpaid minimum or overtime wages."
The Labor Department's Wage and Hour Division would have to verify the bosses' figures. If it OKs the deal, DOL would "supervise a settlement with affected employees that provides payment of any unpaid wages." And workers who agree to the settlement couldn't sue later if the figures were proved wrong.
But with the Republican-run House committee passing anti-worker and anti-union bills and Sanders burying them—opposite of what occurred in this Congress—labor and the Biden administration will turn to regulations to help workers. Even Littler Mendelson recognized that.
So did the AFL-CIO Transportation Trades Department in its recent board meeting. Its first-look agenda in 2023 has a heavy emphasis on federal rules.
"The Biden administration is delivering on its promise to invest in infrastructure, create good middle-
class jobs, and put workers first," said TTD President Greg Regan. "Our federation will continue to work with this administration and the new Congress to advance policies that improve wages, benefits, and working conditions for the dedicated workers who build, operate, and maintain our critical transportation and infrastructure systems."
The federation's workers-first agenda includes federal regulatory reforms to:
"Prevent recipients of federal passenger rail grants from displacing workers.
"Fully restore rail workers' sickness and unemployment insurance benefits.
"Attach 'Made in America' requirements to all federal infrastructure grants." That's in addition to provisions in the Inflation Reduction Act requiring Davis-Bacon wages and Project Labor Agreements on such grants.
"Address ongoing air traffic control and technical operations staffing challenges.
"Reform the joint venture approval process for airlines." Doing so would prevent "joint venture" arrangements, such as codesharing, which both hurt passengers financially and cost U.S. workers jobs.
"Establish a domestic prevailing wage for maritime workers on offshore wind projects." That's already in place in the first project, negotiated between a Danish firm and the Biden administration's Commerce Department. It's supposed to be a model for others.
The union leaders also want DOL to prevent U.S. airlines from further abusing visa worker programs to hire non-U.S. pilots, they told Biden Labor Secretary Marty Walsh, a Laborers Union member, who met with them.
"As the United States undergoes the largest-ever federal investment in transportation and infrastructure workers, these reforms will strengthen domestic manufacturing, alleviate systemic staffing issues that affect commercial flights, and establish a living wage for maritime workers on offshore wind projects as clean energy opportunities expand. These reforms will also protect wages and benefits for aviation and rail workers and ensure that the federal government has no role in outsourcing U.S. jobs or displacing U.S. workers," TTD stated.