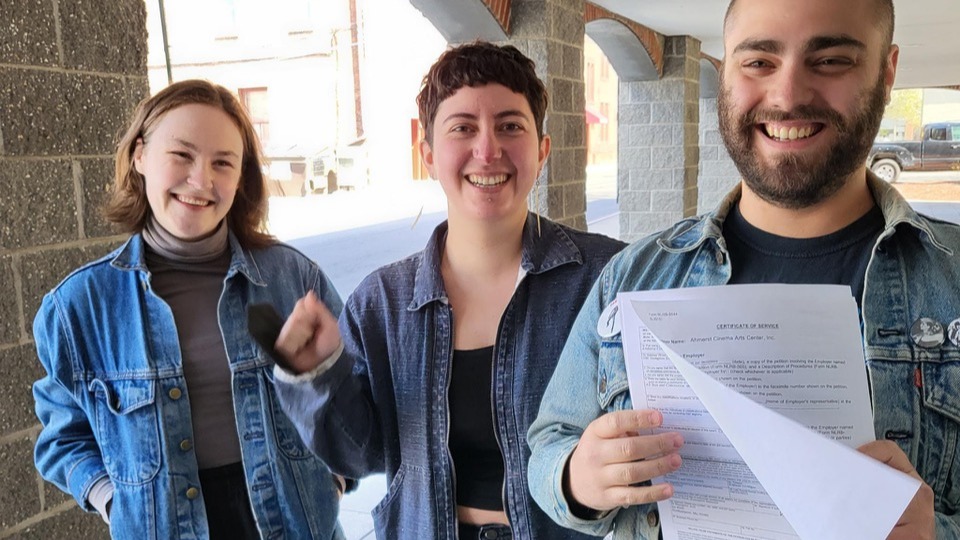 AMHERST, Mass.—What do you do when you're a rank-and-file worker at a small non-profit movie theater in a college town, and you haven't gotten a raise in a while?
Answer: If you're the 11 rank-and-file box office workers at the Amherst (Mass.) Cinema, you form Amherst Cinema Workers United, an independent union, collect National Labor Relations Board union "yes" election authorization cards from all of them, inform the theater board, and seek voluntary recognition, also known as card check.
And, three days later, on April 25, you get it. No election was necessary.
"What we were asking for is transparency, changes to layout" within the theater to make it easier to work "and pointing out that nobody" among the 11 workers has "gotten raises since before" the virus hit, said Brian Zayatz, one of two workers interviewed by phone just before the recognition. By contrast, management-side personnel got raises.
The best part of the campaign is the spirit of collaboration and cooperation among the workers, said Kiah Raymond. "The process was really cool because it has been a collective effort. People at each step took on more tasks—and did it while consulting all of us."
And just to make sure the progressive Amherst area knew what was going on, the workers, via the Pioneer Valley Workers Center, sent out an email blast and posted their announcement on a local listserve, Raymond added. That worked, too.
"Patrons were coming up to us in the lobby and saying, 'Hey, I heard about your union.'"
There are other unions in the Amherst area, given it's the home of the University of Massachusetts in a pro-union deep-blue state, the two said. But this is the first one at a small and independent arts venue. Now the next step will be to prepare for bargaining, said Alfonso Neal, a co-executive director of the Workers Center, who helped maintain their organizing drive.
And they hope to be an example for other workers at other small arts venues.
The organizing drive and "formation of ACWU by the workers at Amherst Cinema, and the decision by the Amherst Cinema Board of Directors to voluntarily recognize their union is a historic moment for our region and echoes the national upsurge of union activity and organizing," said Neal in announcing the card-check recognition.
"The Pioneer Valley Workers Center looks forward to hearing from the cinema's board and beginning good faith contract negotiations on behalf of ACWU. When workers fight, they win, and I hope this victory by ACWU will inspire all workers in our region to begin organizing and reaching out to us, local unions, and other community organizations for support."