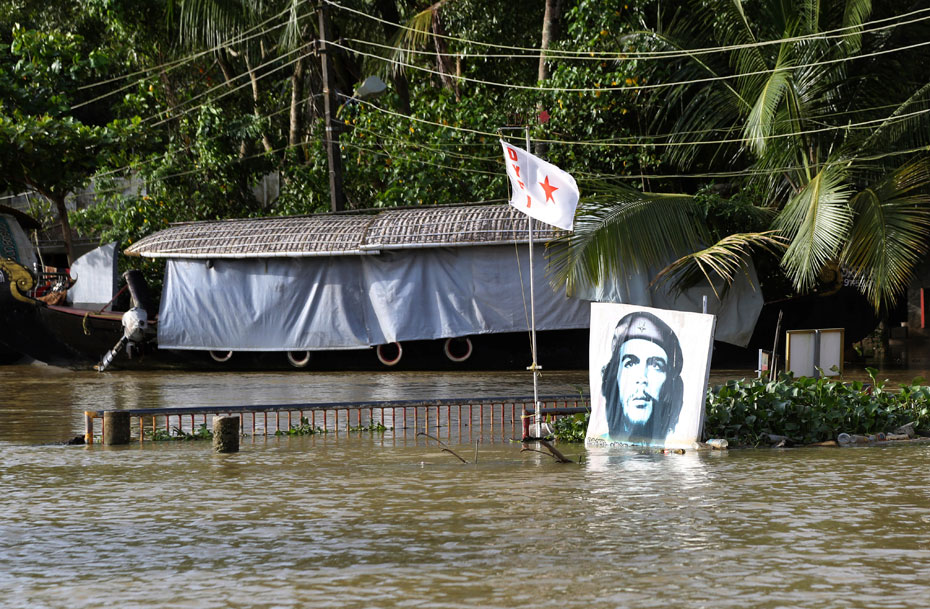 Indian communists called on the government today to stop attacks by the Hindu chauvinist BJP party on teams collecting food for those hit by the Kerala floods.
The Communist Party of India (Marxist) praised the public response to its fundraising efforts but warned that BJP thugs had physically attacked communists collecting for the victims in the northeastern state of Tripura.
Kerala was hit by the worst flooding in nearly a century after unusually high rainfall during the monsoon season at the end of July.
Over 322 people have died with at least a million people evacuated and many more missing or stranded.
According to the Kerala government, the flooding has affected at least a sixth of the state's 33 million population.
Keralan officials have blamed neighboring Tamil Nadu for the flood due to the sudden release of water from the Mullaperiyar Dam, but Tamil Nadu claimed the chaos was due to the discharge of excess water from 80 reservoirs across Kerala.
Climate change has been suggested as a contributing factor to the floods, with recent research by the Indian Institute of Tropical Meteorology showing a "threefold increase in widespread extreme rains during 1950-2017, leading to large-scale flooding."
CPI (M) members in Maharajganj Bazar, Agartala, Khowai, and Belonia were physically stopped from collecting funds by BJP workers on Monday, according to the party statement.
It claimed that CPI (M) Tripura Legislative Assembly Members Badal Chowdhury and Sudhan Das were prevented from carrying out relief work by the BJP nationalists while police stood by and watched.
"In Khowai Town, the collection team led by Padma Debbarma, secretary, and Nirmal Biswas, MLA, were not only stopped from collecting funds but also physically assaulted," the statement said.
The party warned that these types of attacks and the "anti-democratic stance of the ruling party" has been typical since the BJP government came into office in Tripura earlier this year, ending the five-year rule of the CPI (M).
"Even collection of money for humanitarian relief is subjected to attack," they warned.
The CPI (M) "strongly condemned these anti-democratic and anti-social activities" and demanded the government take immediate steps to allow the "normal functioning" of the opposition party.
You can donate to the Kerala flood relief efforts here.
Morning Star