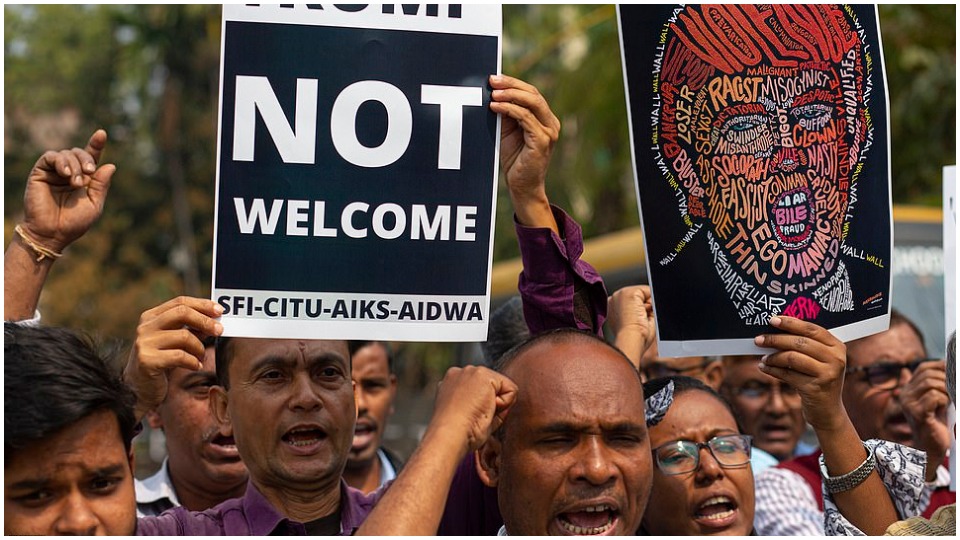 Indian Communists have called for a huge turnout at rallies opposing President Donald Trump's visit to the country, which started today. Protests have taken place in Ahmedabad, Trump's first stop on the trip, and a giant rally was organized by the All-India Peace and Solidarity Organization in Delhi, with support from the Communist Party of India-Marxist (CPI-M) and Communist Party of India (CPI).
CPI-M General Secretary Sitaram Yechury said that Indian Prime Minister Narendra Modi would open the country's economy to U.S. exploitation in return for diplomatic support for his incendiary Citizenship Amendment Act, which introduces anti-Muslim discrimination to asylum cases in a move opponents say violates India's secular constitution.
"Trump says that he is going to India to get a 'big deal'. What is he wanting? Access for U.S. agribusinesses to Indian markets by removing tariffs," Yechury said. He pointed to huge U.S. subsidies for agriculture, amounting to over $866 billion USD in 2019, which would leave Indian domestic producers unable to compete. "Our farmers will be ruined. To force Modi to not succumb, protests against Trump's visit must be held across India," he declared.
A statement issued by the Political Bureau of the CPI-M bolstered Yechury's charges against Trump and the U.S. "The singular intention of the U.S. administration is to further pry open the Indian economy to boost U.S. corporate interests and thus help the re-election bid of Trump," the party said.
In addition to farm products, the party said that the Trump administration is also targeting India's health care sector on behalf of U.S. pharmaceutical companies. India is currently a critical producer of affordable generic medications, but the U.S. government is demanding it remove regulations that force compulsory licensing of generics on U.S. drug multinationals if they want access to the Indian market.
Efforts to increase U.S. corporate control of India's digital trading sector and the ongoing brain drain of Indian tech workers were also highlighted by the party. The Political Bureau pushed the Modi government to resist U.S. pressure to repeal "export subsidies for small manufacturers…in fields like solar cell manufacturing." It said the U.S. refuses to live up to its obligations under the Paris Climate Accord and that smaller economies like India should "resist climate unilateralism" and continue its own efforts to reduce greenhouse gases.
The CPI-M said that the U.S. under Trump "represents the biggest threat to a rules-based trading system and international order" and said it "undermines the security, livelihood, and sovereignty of nations like India."
The leader of India's other major communist party, CPI General Secretary Doraisamy Raja, meanwhile, said that the Modi government had abandoned an independent foreign policy in favor of subordinating itself to "U.S. imperialist power, while America continues to impose its hegemonic policies on the world along with its brazen hostilities towards Cuba, Palestine, Iran, and others."
An earlier version of this article was first published by Morning Star. It has been supplemented with additional material.