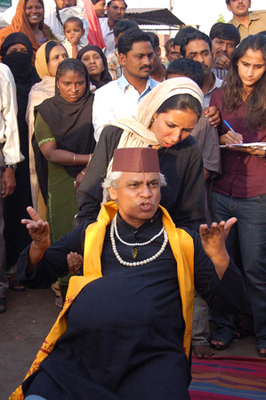 DELHI, India — Some evenings you will see a small jeep driving around this city, weaving its way through the impossible traffic. The driver and passengers are amateur actors dedicated to the education and rights of the working class. They are on their way to perform in slums, industrial areas and other sites where workers may be.
Such was the evening I spent with Jana Natya Manch (Janam) or People's Theater Forum.
Six actors gather at Delhi's historic mosque, Jama Masjid. Pulling out costumes, blankets and props from the jeep, the actors and their supporters from the Communist Party of India (Marxist) and the Center for Indian Trade Unions, get to work.
One comrade holds the red flag with its white hammer and sickle against the mosque's gate. A blanket is put down on the dusty street full of taxis, two- and three-wheelers, vendors and their carts, pedestrians, beggars — many children and disabled — and numerous men carrying loads on their shoulders, some of their burdens looking like cartons of office supplies.
A crowd starts to gather as an elderly man starts his fiery speech in Hindi. He tells the people about the necessity to fight for rights, saying if you do the work you are entitled to decent pay. A younger woman starts to pass out flyers about minimum wage and advocating a strike. Hands reach over the heads of others to take the information. Muslim women comrades offer their help with the leaflets.
Then the skits begin.
There are four, two with a serious tone and two with comic hilarity. They deal with health and safety, wages and letting people know they have the right to organize and demand a better living.
The first comic sketch portrays an old-style fat capitalist who tells workers they don't need more money but more religion. The second one provokes more laughter when the "new-style" capitalist in techno, almost hip hop style "cool," takes the stage. "So cool," the actresses croon. He's got it all, they say, an MBA from Australia and … a "mobile" (cell phone).
The crowd responds with loud laughter and smiles as the troupe combines this age-old theater form with working-class politics and struggle. Then it's the end. The troupe asks for donations. Even one rupee will help, they say. They go through the crowd and some people give.
Then it's on to the next spot, which tonight happens to be right around the corner at another entrance of the mosque. This time the sun is setting and the group has to wait until the call to prayer is over. Then again the show begins. This time a crowd of some 200 with children sitting at the front encircle the group.
Leaflets and laughter travel throughout the audience.
The last performance of the night is at a dirt- and rock-strewn parking lot which serves as home for bicycle rickshaw drivers, sandwiched between a totally congested street (due to a street being closed next to a nearby bridge) and a train line. There is a makeshift kitchen/house in the lot. Maybe most of these drivers stay here overnight. There are two light bulbs, one over the tent/kitchen and the other about 20 feet away. The group sets up right under the other light bulb. They place their blankets down and drivers begin to sit and congregate.
Afterwards they pass out tea to the performers and supporters. People talk and then say goodbye. These dedicated actors work their paying job during the day and then perform seven nights a week. "We are either working or rehearsing," said one actress.
"There has been such an attack on the working class and erosion of rights," said Sudhanva Deshpande, a leader of the theater group. "What was established as labor law has been so eroded that we have to struggle to reestablish them."
For example, he said, workers aren't put on the employers' master list, which means if they are hurt or killed on the job, they don't exist and families won't be able to get compensation. Or the minimum wage, he said, is constantly ignored by employers.
We hope our skits will inspire workers to stand up for their rights, he said.
talbano@pww.org. For more stories and photos from India go to www.pww.org.