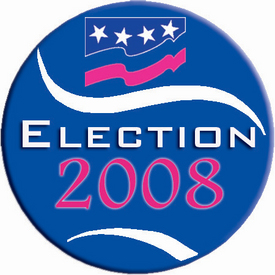 GARY, Ind. — For the first time in 40 years, candidates for the Democratic presidential nomination are visiting cities across this state, ahead of the May 6 primary election. The latest polls show a tight race with Barack Obama slightly ahead of Hillary Clinton.
There are 72 delegates at stake in Indiana and 4.3 million registered voters who can vote in either party's primary. Some 200,000 new voters have registered with over 65,000 in Lake and Porter counties in the heavily Democratic northwest part of the state. There are 54,000 new voters in Indianapolis.
The primary also features a tight Democratic gubernatorial race between former Rep. Jill Long Thompson and architect Jim Schellinger, a newcomer to politics.
Thompson is leading slightly in the polls and also ahead in matchups with sitting Republican Gov. Mitch Daniels, President Bush's former budget director. On Daniels' first day as governor he rescinded collective bargaining rights for over 25,000 state employees. Daniels also sold the state's toll road and privatized welfare administration in the state.
Turnout is expected to be high in both the primary and the general election, and it is predicted by many that the surge in Democratic voters will give Indiana the chance to elect both a Democratic president and governor.
Here in Gary hundreds of union canvassers have been knocking on doors and the Obama campaign office has been buzzing with activity since it opened. School buses have been taking students on field trips to the county courthouse to vote early. Block parties were held outside courthouses on Saturday in Gary and other cities at which the Obama campaign also encouraged people to vote early.
Clinton has made three appearances in northwest Indiana, and former President Clinton and their daughter Chelsea have also made visits.
Obama and his wife have each made campaign stops in the region with the senator speaking to an overflow crowd of 3,000 at one of the largest high schools in Gary.
Obama said he would end the war in Iraq and use the money being spent there to help places like Gary. He said he was running like the Rev. Martin Luther King said, "for the fierce urgency of now."
He said that the economy is the number one issue in the country, as it is in Gary, and that corporate CEOs are making millions while workers are losing their pensions.
Many of the workers at the event said they expect Obama to pull away in the polls and win Indiana. "He's the president and there's no stopping him now. He's tough," said Latrice Mayhon in Gary.
Some unions like SEIU, the Teamsters and AFSCME have endorsed in the presidential race. The Steelworkers, who have a large membership here have not made another endorsement since their candidate, former Sen. John Edwards, dropped out of the race. That didn't stop steelworker Johnnie Evans from backing Obama. "Barack knows what steelworkers are all about having come from the south side of Chicago back when U.S. Steel was shutting down. He can relate to us," Evans said.