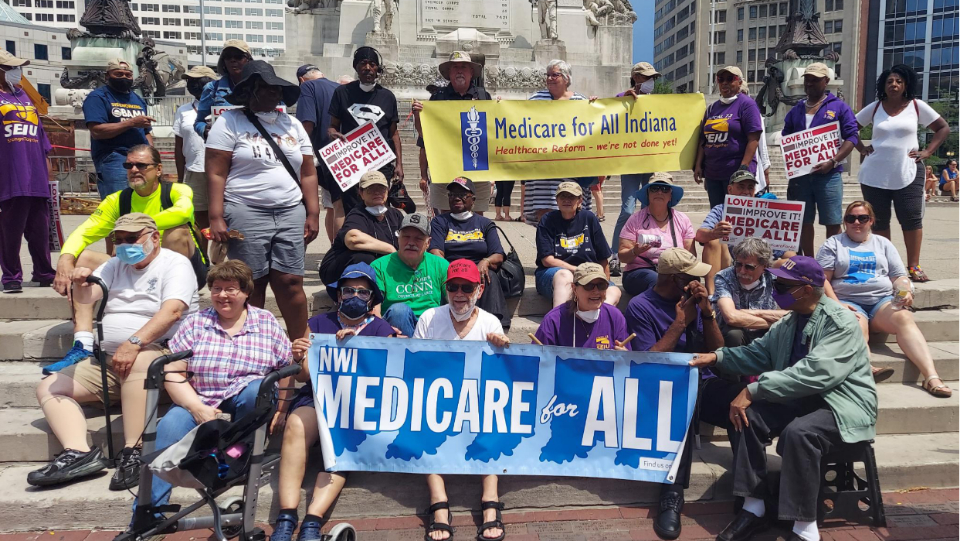 INDIANAPOLIS—Health care in the U.S. is often unavailable, or if it is available, then it's unaffordable. A coalition that includes the Indiana District of the Communist Party USA met on July 23 at Monument Circle in Indianapolis to demand passage of Medicare for All as a step toward addressing that problem. Over 75 people attended from all across the state.
Eric Brooks, chair of the CPUSA in Indiana, said "As a father, I want my daughter to be able to receive the health care she needs when she needs it. I want myself and all working, Black and Latina/o, women and children, LGBTQ and disabled, undocumented and imprisoned—all people—to have what the rich get effortlessly: quality affordable universal health care without insurance companies second-guessing the doctor."
Adam Stant (SEIU Local 1), Paul Kaczocha (N.W. Indiana Medicare for All), Dr. Robert Stone (Hoosiers for a Common Sense Health Plan), Tracy Carson (March for M4A), Dr. Valerie McCray (State Senate candidate), and other speakers addressed the demonstration on why they support Medicare for All. AFSCME and SEIU Local 73 union members participated. James "Pick'em Up" Nelson MC'd the event.
The demand for M4A includes ensuring women have access to all necessary health services, including abortion services. There are 30,000 incarcerated people in Indiana, and two million in the U.S., who must get the same quality free health care as every other worker. Strikers, the undocumented, and the unemployed also must have healthcare. Medicare for All would address these needs.
It was 19 years ago, in 2003, that Rep. John Conyers, D-Mich., introduced in the U.S. Congress HR 676, the first Medicare for All bill. HR 676 has been reintroduced in various forms every year since. Introduction of this bill inspired years of struggle for universal health care, a fight that blossomed from deeply democratic roots in working peoples' needs and demands.
In 2003, Communist Party members joined labor and community organizations and individuals to fight for HR 676. For the CPUSA, Medicare for All has long been a component of the organization's larger struggle for socialized health care and socialism. Henry Winston, past co-chair of the Communist Party, said "every democratic victory won by the masses" was "a means of gaining greater mass power for still greater struggles against the exploiters."
The 2022 National Convention of the AFL-CIO ratified a call for "Winning Guaranteed Health Care for All," a result of decades of rank-and-file organizing among union locals, including by such luminaries as Kay Tillow, a nurse and organizer in Louisville, Ky., coordinator of the All Unions Committee for Single Payer Health Care.
Repeatedly since 2005 the NAACP has expressed its support for universal quality health care. In 2009, the group endorsed Medicare for All. In 2019, it signed onto a letter stating "Communities of color need a healthcare system that rectifies these long-standing structural biases and challenges [racism and sexism]. Medicare for All is that system."
The 2022 Poor People's Campaign has 14 Policy Priorities, number two being: "Guarantee quality health care for all, regardless of preexisting conditions." The PPC says guaranteeing healthcare "begins with…securing Medicare, enacting single payer universal health care, and building up our public health infrastructure."
Freeing the health care system from the stranglehold of racist, sexist insurance companies only interested in corporate profits is a democratic, people's struggle, similar to implementing community control of the police.
Medicare for All can only be won through united democratic struggle where the people's voice is heard and prevails. Fighting to protect and expand democracy is integral to this struggle today. Strengthening U.S. democracy is a key part of the fight to win Medicare for All. This means fighting for full inclusion in the voting process, ending gerrymandering, and taking all necessary steps to ensure the people's voice is the determining voice in the U.S. on this question.
The people's voices must be heard in the street at protests and in the ballot box voting for candidates that pledge to support Medicare for All. An anti-racist and anti-sexist health care voting block must be built to win Medicare for All.
Funds for healthcare can be reallocated from the bloated U.S. military budget. Peace, also a democratic struggle, is thus vital to universal health care.
At the July 23 event, Brooks said: "The Communist Party in Indiana is proud to join our voices with the demonstrators, united in democratic, people's struggle, demanding Medicare for All. Let's keep working together to build this movement and bring people to the ballot box."