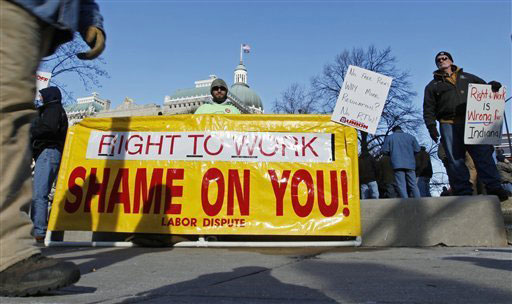 GARY, Ind. – Indiana's newly enacted so-called "right to work" law, which deprives unions of money they need to represent workers, is headed for a showdown in state courts.
That's because Lake County (Gary) Circuit Judge George Paras ruled on Oct. 16 that the Steelworkers' suit challenging the statute, as violating the state constitution, could go to trial. The GOP-run state government had tried to have the case dismissed.
The radical right, tea party-influenced majority in the legislature pushed the law through earlier this year, over strenuous lobbying by the state AFL-CIO. Retiring Gov. Mitch Daniels, R-Ind., signed it.
The law has become an issue on the campaign trail, with the state AFL-CIO using it as a reason to try to take back the Indiana House, now controlled, 60-40, by the GOP. It's the first "right-to-work" law in a state north of the Ohio River.
Right to work (for less) laws, as the labor movement calls them, force unions to represent workers who don't pay dues or even representation fees. They allow tens of thousands of so-called "free riders." They've been a key cause of Big Business ever since the anti-labor GOP-run Congress legalized them in 1947. But "right-to-work" has also become part of the overall Radical Right-GOP-business wide-ranging war on workers.
Steelworkers District 7 President Jim Robinson said forcing unions to represent workers while giving those workers a free ride violates the state constitution.
It violates Article 1, Section 21, which states: "No person's particular services shall be demanded, without just compensation," he added.
"In denying the state's motion to dismiss the challenge, Judge Paras wrote that 'it cannot categorically be said at this time' that the (right-to-work) law does not violate the Indiana Constitution," the union said in a statement. "The decision means the case may proceed to a full hearing on the merits of the union's argument."
"We are pleased and look forward to seeing this unjust law, which is bad for Hoosier workers and does not represent our Midwestern value of accepting personal responsibility, be struck down by the courts," Robinson said. No date was set for trial.
Photo: Ben Fairchild of Decatur, Ind., displaying a sign outside of the Statehouse in Indianapolis. Darron Cummings/AP