President-elect of India's Congress party Rahul Gandhi is seeking an alliance with the communists, saying he wanted to ask his "friends in the Communist Party of India-Marxist (CPI-M) whether they actually want to fight the fascist forces in the country."
Gandhi took up the leadership of the party on Friday, succeeding his mother Sonia. They are members of the Nehru-Gandhi clan, descendants of Jawaharlal Nehru's daughter Indira and Feroze Gandhi, who have dominated Indian politics for decades.
He made his pitch for communist support in a speech attacking Indian Prime Minister Narendra Modi on Thursday. Both Congress and the CPI-M have denounced Modi's Hindu chauvinist BJP government as fascist.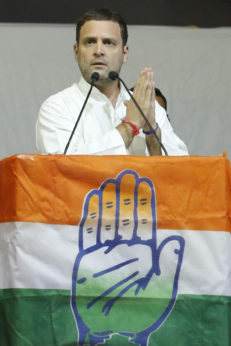 They point to its virulent nationalism and use of street fighters organized in the National Volunteer Force—a paramilitary organization linked to the BJP—to harass and murder political opponents as well as Muslims and members of other minority faiths and races.
"It is very important that [the CPI-M] make their position clear at the national level…not standing against the BJP means supporting the BJP," Gandhi claimed, asking the communists rhetorically: "Do you accept that the biggest challenge to the country is from the fascist ideas spread by the BJP?"
A recent two-day meeting of the CPI-M politburo debated whether an electoral alliance should be formed with Congress against the BJP, but the party has yet to decide on the issue.
Current general secretary Sitaram Yechury is said to be in favor of an alliance given the scale of sectarian violence and the urgency of unseating Modi.
However, former leader Prakash Karat is reportedly wary of the consequences of a pact with Congress because of its neoliberal economic policies and lack of credibility with poor Indians.
Karat was leader of the CPI-M when the Left Front, an alliance of socialist groups, withdrew support from the Congress-led government in 2008 in protest at a nuclear deal with the U.S. it said tied New Delhi into support for U.S. foreign policy.
Morning Star