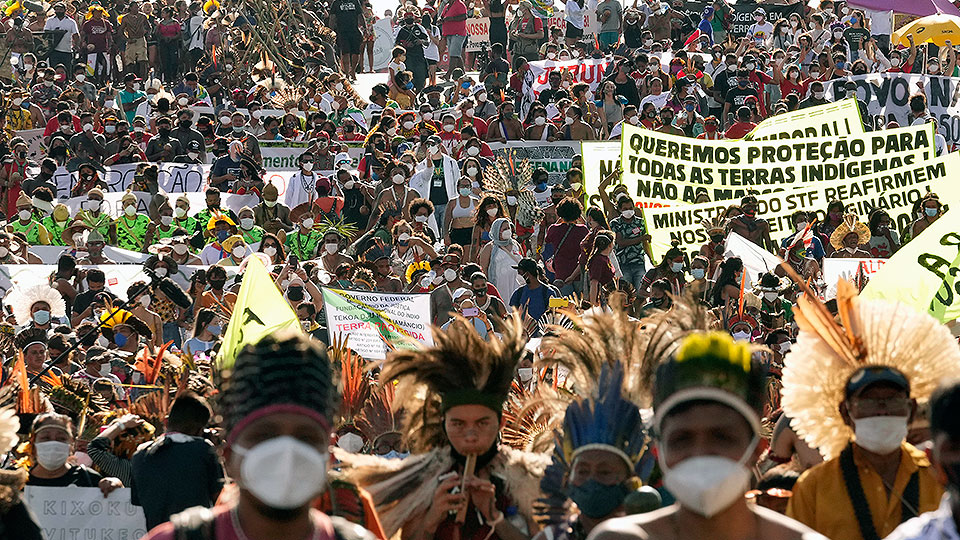 Thousands of Indigenous Brazilians marched to the country's Supreme Court Thursday, calling on judges to confirm their right to their ancestral lands.
At least 6,000 demonstrators from 173 different ethnic groups sang and danced on the route from behind the National Theatre, where they have been camping for a week, dressed in traditional outfits including feather headdresses and with painted bodies.
Justices are evaluating a lower court's ruling that invalidated a claim by some Indigenous people in Santa Catarina state to what they say is their ancestral territory. The Supreme Court's ruling is expected will be a landmark ruling.
The lower court based its decision on allegations the group wasn't occupying the land in October 1988, when Brazil's constitution was signed after the nation's return to democracy, which the group denies.
Protest organizers say the Santa Catarina case is of wider importance as a positive ruling would force judges to apply the same conclusion to many similar cases.
It could also have implications for a bill going through the Brazilian Congress that officially establishes October 1988 as a reference date for Indigenous people seeking full protection of their territories.
Many Indigenous groups say the date is unfair, as they were forced off their land during Brazil's military dictatorship in the preceding 20 years.
"The criteria isn't functional for determining whether or not a territory was traditionally occupied because there are diverse contexts, diverse groups that for many reasons weren't on their territories in 1988," said Samara Pataxo, a lawyer for the Association of Brazil's Indigenous Peoples.
But Brazilian President Jair Bolsonaro says allowing earlier claims would create "chaos" and see legal claims placed on land that has been farmed or developed for centuries.