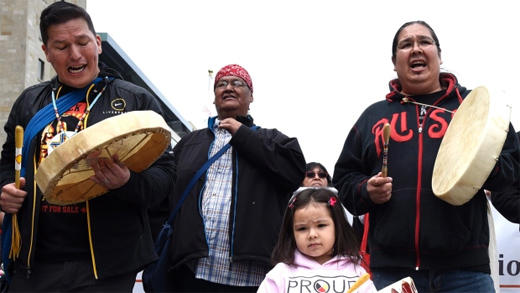 6,000 kids died in residential schools
As nearly 10,000 walkers thronged through the streets of Ottawa on May 31 to recognize the suffering of residential school students, it was acknowledged that the work of the Truth and Reconciliation Commission, which received testimony from hundreds of former students who survived sometimes brutal treatment, was just the beginning.
Rather, it paved the way for dialogue going forward. The commission will release its final report on June 2.
Left unanswered is the central question of how many children died at the schools during the 150 years of their operation, commission head Justice Murray Sinclair told the Canadian Press. In 1920 or so, the chief medical officer at the Indian Affairs department was fired after flagging an alarming rate of deaths at the schools, the Canadian Press said. An earlier draft of the report put the number at 4,000. There were about 150,000 students over the course of 150 years.
Read more at: http://indiancountrytodaymedianetwork.com/2015/06/02/6000-kids-died-residential-schools-canada-truth-and-reconciliation-commission-160555
Ottawa study offers grim look at mental health of aboriginal youth
Aboriginal youth are nine times more likely to be depressed and three times more likely to think about suicide compared to non-aboriginal youth, according to a report released Friday at the Wabano Centre for Aboriginal Health.
The My Life, My Wellbeing report, which concludes nearly three years of research, offers grim insight into the lives of aboriginal youth in the Ottawa region and the Champlain Health Integration Network.
The study includes survey results from 310 young people and sought to understand the scope of mental health and addiction issues, the availability of services, and the appropriate response to youth needs.
The research was critical because it provides specific data for the Ottawa region that will allow for a better understanding of the needs here, says Allison Fisher, executive director of the Wabano Centre for Aboriginal Health.
Read more at: http://ottawacitizen.com/news/local-news/study-provides-grim-look-at-mental-health-of-aboriginal-youth
An ancient Native American drought solution for a parched California
Ron Goode knows the Sierra Nevada, unlike most people. He belongs to the North Fork Mono Indian tribe that calls the Sierras home. He, his crew, and I are hiking to a clearing of forest that he calls the unnamed meadow about one hour Southwest of Yosemite.
"As we look around out here even though it's foggy you can see the thickness of the grass and you can see all kinds of flowers coming up," says Goode.
One year ago, the meadow on U.S. Forest Service land was overgrown with trees and crowded with dead and drying plants. Because of his efforts today, the meadow is green with tall grass, is surrounded by forest, natural springs are flowing and birds fill the air.
Read more at: http://kvpr.org/post/ancient-native-american-drought-solution-parched-california
Players lead Atlanta Dream basketball team to victory
ATLANTA – Erika de Souza and Tiffany Hayes scored 21 points each to lead the Atlanta Dream to a 110-67 victory over the Chinese National Women's Olympic Basketball Team on Sunday in a preseason scrimmage at North Atlanta High School. The scrimmage was the final tune-up for the Dream prior to Friday's season opener at New York.
Shoni Schimmel (Umatilla) added 15 points on five three-point baskets and Aneika Henry had 11 points as the Dream led from start to finish.
Read more at: http://nativenewsonline.net/currents/shoni-schimmel-scores-15-points-as-atlanta-dream-thump-chinese-national-team-in-preseason-scrimmage/
Hip hop event highlights Apache youth activism
Saturday's event at Oak Flat Campground featured Apache rhymers and their colleagues from Dine (Navajo), Ogala Lakota, Sicangu Lakota, and Yaqui cultures, presenting both native traditions and the more contemporary rhyming and new soul of 21st Century pop and hip hop, all with messages driven home by beats as insistent as those of the traditional drums that accompanied the Apache Crown Dance and the Yaqui Deer Dance.
Members of the Tohono O'odham and Hopi nations supported the cause with their attendance, and the whole day was about the importance of community, spreading awareness and making common cause. After all, the Apache may be the most aggrieved by Arizona's Senators McLain and Flake's hat trick to allow Rio Tinto to build a mining operation that in 20 years will leave a miles-wide crater. But that's public land, so it's actually being taken from, all U.S. taxpayers, too.
Read more at: http://www.tucsonweekly.com/TheRange/archives/2015/06/01/hip-hop-event-highlights-apache-youth-activism-at-oak-flat
Photo: Apache youth activism at Oak Flat. | Open source photo via Andrea Perkins/PW