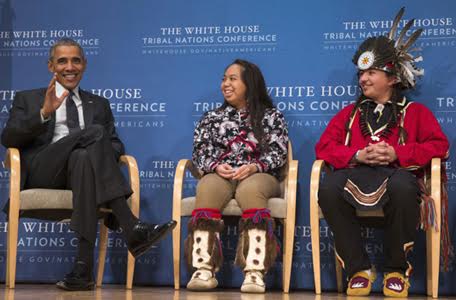 Pacific Northwest Native American leaders collectively fight for treaty rights
Lummi Nation Chairman Tim Ballew II, of Bellingham, Wash., and other leaders oppose the Gateway Pacific Terminal that would export primarily coal and expand railways. Ballew says that the project would disregard treaty rights and harm the environment.
Grace Toohey McClatchy.
Read more here: http://www.mcclatchydc.com/news/nation-world/national/article43274757.html#storylink=cpy
Chicago Blackhawks logo of actual black hawk gets support of Quebec First Nations chief
A proposed alternative to the Chicago Blackhawks' logo shared online has the support of Quebec's top First Nations chief.
Ghislain Picard, the head of the Assembly of First Nations of Quebec and Labrador, says he would support the change of NHL hockey team's logo.
The team's current design features the face-painted, feather-topped head of an aboriginal warrior.
Mike Ivall, a Toronto-based Ojibwa artist, came up with an alternative that features a bird – the actual black hawk – instead.
A Facebook post of the logo posted by Winnipeg radio hosts Tom and Larry has been shared 18,000 times.
Read More At:http://www.cbc.ca/news/canada/montreal/chicago-blackhawks-logo-ghislain-picard-1.3305487
Save Oak Flat: Sen. Bernie Sanders introduces Senate companion bill to repeal Southeast Arizona Land Exchange
Today, Senators Bernie Sanders (I-VT), with original co-sponsor Senator Tammy Baldwin (D-WI) and others, introduced the Senate companion of the Save Oak Flat Act. The bill would repeal Section 3003 of the FY15 National Defense Authorization Act (NDAA), which approved the Southeast Arizona Land Exchange ("the Land Exchange").
Hundreds of tribal governments, tribal organizations, and a growing group of hundreds of thousands of individual grassroots activists have united in opposition to the Land Exchange before Congress for more than a decade. Because of this opposition, House of Representatives Leadership twice pulled the bill from consideration because it lacked the votes for passage during the 113th Congress. The Senate also refused to move the bill forward.
Read More At: http://lastrealindians.com/save-oak-flat-sen-bernie-sanders-introduces-senate-companion-bill-to-repeal-southeast-arizona-land-exchange/
President Obama backs Adidas on Native American mascot issue
Earlier today, Adidas announced an initiative to end the use of offensive Native American team names and mascots in sports. They'll start at the high school level, offering full use of their resources to any high school in the country who wants to change their logo or mascot from potentially harmful Native American imagery or symbolism. Additionally, Adidas is now a founding member of a coalition that will take a deeper look at the issue.
Not everyone was pleased with Adidas' new program, particularly Washington's (district, not state) professional football team, who called Adidas hypocrites in a statement issued to the Washington Pos
Read more: http://solecollector.com/news/president-obama-backs-adidas-on-native-american-mascot-issue/#ixzz3rD9cSiH0
Adidas offers to help eliminate Native American mascots
Adidas is offering to help high schools nationwide drop Native American mascots.
The athletic shoe and apparel maker said Thursday it will provide free design resources to schools looking to shelve Native American mascots, nicknames, imagery or symbolism. The German company also pledged to provide financial support to ensure the cost of changing is not prohibitive.
Adidas announced the initiative in conjunction with the White House Tribal Nations Conference in Washington, which includes leaders from the 567 federally recognized tribes.
The company, which has its North American headquarters in Portland, Oregon, also said it will be a founding member of a coalition that addresses Native American mascots in sports.
According to the group Change the Mascot, there are about 2,000 schools nationwide that have Native American mascots.
The advocacy group says about a dozen schools have dropped Native mascots over the past two years and another 20 are considering a change.
Read More At: http://bigstory.ap.org/article/e75fdec4f3de4c548053a7c577ce8807/adidas-offers-help-eliminate-native-american-mascots
Photo: Brayden White of the St. Regis Mohawk Tribe, right, and Tatiana Ticknor of the Yup'ik/Tlingit/Dena'ina, listen as President Obama speaks during the 2015 White House Tribal Nations Conference, Nov. 5, in Washington. In conjunction with the conference, shoe company and apparel maker Adidas announced it will provide free design resources to schools looking to shelve Native American mascots, nicknames, imagery or symbolism. | AP Photo/Evan Vucci