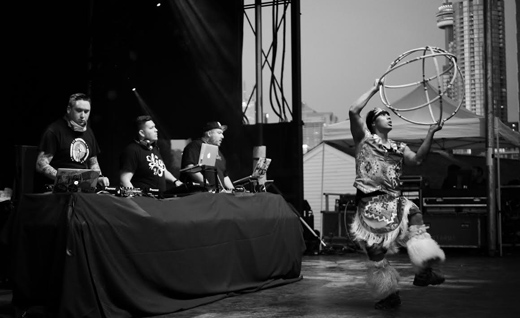 I am a Native American woman with white privilege
I do not, and have not ever primarily identified as white. On my mother's side, I'm Native American, enrolled in my Tribe, and, to a large extent, raised in my culture. I was born on the reservation and lived on or near reservations for much of my life. Indigenous cultural signifiers are important to me – I love Coastal designs and canoes. I love to eat Salmon, attend gatherings, and socialize at potlatches or powwows. However, due to genetics (while both my grandparents on my mother's side are Indigenous, my grandmother is light-skinned, and my grandfather, of mixed ancestry) it so happens that I am light. Like, really light. Light as a ghost; 'let-me-put-my-arm-next-to-yours-and-compare-whiteness' light. Some people call me glow-worm because they think I'll be florescent beneath blacklights.
Read more at: https://mfaconfessions.wordpress.com/2015/07/24/i-am-a-native-american-woman-with-white-privilege/
Manning: Sarah Lee Circle Bear died while in police custody; family seeks justice
The death of Sandra Bland, an African American woman who died in a jail cell on July 13 , has the nation abuzz about the ongoing saga of police brutality against people of color, and this time, it is becoming even more apparent just how poorly women of color are treated.
But a lesser known story regarding a beautiful young Lakota woman is just as worthy of our attention. On July 6, 24-year-old Sarah Lee Circle Bear of Clairmont, South Dakota, was found unconscious in a holding cell in Brown County Jail in Aberdeen. Circle Bear was jailed on a bond violation.
Read more at: http://indiancountrytodaymedianetwork.com/2015/07/28/manning-sarah-lee-circle-bear-died-while-police-custody-family-seeks-justice-161204
Disappearing Indians, Part II: the hypocrisy of race in deciding who's enrolled
The U.S. Supreme Court's decision in Santa Clara Pueblo v. Martinez cut off the only federal court remedy for Indians deprived of citizenship in their tribal nations, the Indian Civil Rights Act. Without recourse to ICRA, individual Indians are at the mercy of whatever faction controls tribal government. The power to disappear Indians holds the potential to do great harm. The Cherokee Nation, of which this writer is a citizen, is demonstrating that potential in its treatment of tribal citizens who trace descent from Cherokee slaves.
Read more at: http://indiancountrytodaymedianetwork.com/2015/07/28/disappearing-indians-part-ii-hypocrisy-race-deciding-whos-enrolled-161197
Native Americans protest U.S. bill seizing land for mining
A group of Native Americans from the United States protested in front of the U.S. Capitol in Washington, D.C. against a proposed copper mine worth $6 billion that would be operative on lands they consider sacred in Arizona. The Apache Stronghold group organized a caravan from their home state all the way to Washington D.C. in order to draw attention to their cause demanding the government reserve a bill allowing the seizure of their land, known as Oak Flat, in favor of mining operations.
Read more at: http://www.telesurtv.net/english/news/Native-Americans-Protest-US-Bill-Seizing-Land-for-Mining-20150722-0002.html
A Tribe Called Red's electric powwow puts Indigenous culture center stage
The dispute began on Instagram last summer, when Bear Witness, a founding member of the electronic group A Tribe Called Red, posted a photo at the Calgary folk music festival. Taken from the stage, it shows a sea of fans dancing furiously to Tribe's blend of powwow songs, electronic music, and dubstep.
"Yes #calgaryfolkfest2014. U guys were amazing," Bear Witness wrote in the caption.
But @nikkilaes, a fan, interpreted the photo differently. What struck her most was the racial makeup of the crowd.
Read more at: http://www.theguardian.com/music/2015/jul/28/electric-powwow-tribe-called-red?CMP=fb_gu
Photo: A Tribe Called Red (ATCR)