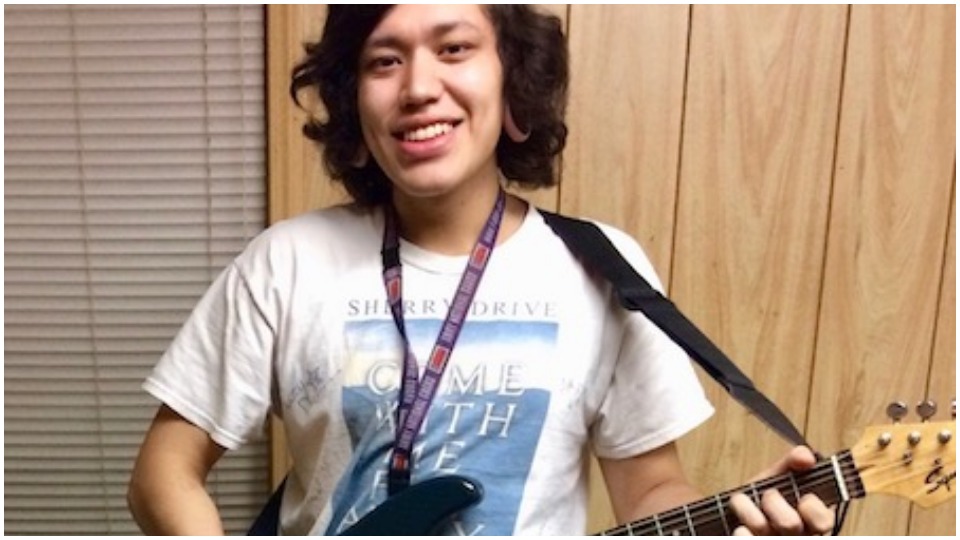 "I hurt every day, waking up with my neck swollen," Micah Taylor, 21 years of age, said inside Douglas County Department of Corrections (DOC), Omaha, Neb. "It has been hard for me to sleep, and I have missed two doctor's appointments. I need help immediately!"
Taylor was shot in the neck by an Omaha policeman on March 8, 2018. The medical care unit of the Douglas County DOC failed to take Taylor for his March 26th follow-up appointment with his surgeon, Dr. Langenfeld at the General Surgery Clinic.
Micah Taylor, Santee Sioux and Salvadoran, is currently facing charges in Douglas County, Omaha. At age 2, he had already been in 15 foster family homes, before being adopted by DeAnna Taylor. She has raised Micah and included plenty of opportunities for him to learn about his culture. "I know from the scars I have, my mom [before being adopted] used to put her cigarette out on my arm," Micah told People's World via telephone. "I may not have conscious memories of all those 15 foster homes before DeAnna adopted me, but I know from my PTSD I was abused very much," he says.
DeAnna states, "He was totally brutalized if not emotionally tortured by the Sarpy County Juvenile Court system from 14 years of age to 18 years old. Stealing the rest of his childhood by locking him up and threatening to send him to Arizona."
"I was originally put into the CARE system for shoplifting around age 14," Micah said on the phone call. CARE, which stands for Children At Risk Education, is a Sarpy County program which places adolescents with community monitors as an alternative to incarceration after a first or minor offense.
"I was sent to my dad, DeAnna's separated husband, but all he did was give me up to the state." The juvenile system went on to place Micah under house arrest for simple infractions like dropping grades or skipping classes. "They threatened to send me to a boys' boot camp in Arizona for 12 months, but DeAnna really talked to the judge. What she said helped so many teens later in the CARE system, for they quit sending kids to Arizona."
Nebraska has a history of dealing out harsh treatment and deception in the incarceration of Indigenous persons and people of color. A previous story by this author spoke to some of those abuses. The mayor of Omaha was even pushed to create a Native American Advisory Board last year after the death of Oklahoman, Zachary Bear Heels.
In May, several rallies were held to bring more awareness to the abuses perpetrated upon Indigenous persons by the police. A May 12 rally at the state capitol of Lincoln also shed light on more abuses. "Nebraska doesn't care about its native people," said Leo Yankton, who organized the "Justice for Natives" rally. "I don't plan to be silenced," he said. Speaking of the bullet still lodged in Taylor's neck, Yankton said, "If we don't ask tough questions of police, like how it was that an unarmed man who attempted to flee was shot in the neck, who will?"
"I respect what Yankton said on my behalf," Micah told People's World. "But the reason I was driving away, the cop had already shot me in the neck, and I feared for my life. I really thought they were trying to kill me, another Indigenous male in Nebraska." The body cams, if there are any, have yet to be released to his attorneys by police.
"Over the weekend, Omaha World Herald ran a story by Todd Cooper about the gross negligence of Correct Care Solutions, contracted by the county for medical care," DeAnna states. "I am worried about the lack of medical care knowing that Correct Care faces numerous lawsuits over deaths and lack of care. A nine millimeter bullet is lodged in his spinal column, and I am extremely concerned for the health and well being of my son."
Inside Douglas County DOC in the past year, over 12 inmates have had life-threatening medical issues and did not receive proper medical attention. One person died.
AP writes that negligence and malpractice claims have been filed against Douglas County and the jail's Tennessee-based medical provider, Correct Care Solutions. The contract company has come under scrutiny for inmate deaths and alleged poor treatment nationally, including lawsuits over six deaths in Colorado jails and some in Washington state.
AP further states that the claims filed by Omaha attorneys Thomas White and Benjamin White outline more than a dozen Douglas County inmates allegedly denied proper treatment for their maladies, including a stroke, chlamydia, and a broken hip.
Micah contends that medicines prescribed to him by the emergency room doctor were not dispensed when he was moved back to the Douglas County DOC. Not only has he been denied medicines, but the medical care professionals inside the jail have failed to take him to two scheduled follow-up appointments.
DeAnna further states, "On May 20, 2018, Micah was told by the jail medical office that he is going to have to live with a bullet in his neck for the rest of his life and take Tylenol."
Dr. Laralyn RiverWind, in a letter, has "contacted the City of Omaha as a courtesy measure to strongly urge them to provide an immediate standard of care medical attention to an inmate named Micah Taylor." She wrote that, "Having reviewed his medical records and having worked in the past for a considerable amount of time in the legal profession assessing the potential merit of medical malpractice cases, I can assure you that the care that Micah Taylor has received to date is substandard and places Omaha's municipality at risk."
She had been awaiting a response, holding off on sharing the information to the media—until now. Dr. RiverWind is an ambassador for the Northern Arawak Tribal Nation​, co-founder and vice-president of FireKeepers International, ​​and founder of HeartCrossers, a suicide prevention program.
Micah has a business called "Stepping Stones Consulting," which he envisions as a means of leaving a "footprint of love" in the Native community through comforting the most vulnerable children. Sexual and physical abuse or neglect can be healed, he believes, by providing musical instruments to Native American foster children who have been traumatized. Micah purchased used guitars, wind instruments, and keyboards for seven months, and his first gift was to Chief Joseph of FireKeepers International.
Micah testifies that it was playing the guitar that allowed him to heal from his childhood abuses. Micah was suicidal when he received a guitar as a gift from a family friend. He writes poetry and music and sings a little. "Music heals the soul," says Micah, and since it worked to help him, he wanted to give other Indigenous children a chance to effectively soothe their own souls.
Immediate requests from various local and national programs are demanding that Micah Taylor get the medical care he should be provided. A support page for Micah has been set up on Facebook for him.
You can write Micah at:
Micah Taylor, # 3501335, M-24
Douglas County Department of Corrections
710 South 17th Street
Omaha, NE 68102
Like free stuff? So do we. Here at People's World, we believe strongly in the mission of keeping the labor and democratic movements informed so they are prepared for the struggle. But we need your help. While our content is free for readers (something we are proud of) it takes money — a lot of it — to produce and cover the stories you see in our pages. Only you, our readers and supporters, can keep us going. Only you can make sure we keep the news that matters free of paywalls and advertisements. If you enjoy reading People's World and the stories we bring you, support our work by becoming a $5 monthly sustainer today.