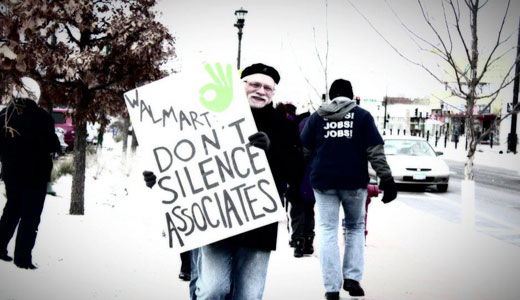 INDIANAPOLIS – Nearly 40 community and union members showed up at an East Side Walmart here to show solidarity with the store's workers who were forced to work Thanksgiving Day. Central Indiana Jobs with Justice organized the event, which saw dozens of community members turn out on a holiday on short notice. The action saw results as some people pulled into the parking lot, but then turned right around and left after seeing the signs or reading a leaflet. The leaflet explained Walmart workers' struggles; they suffer intimidation, harassment and firings if they stand up for better pay, benefits, and respect.
Walmart is taking in $16 billion in profits and compensating its executives $10 million each. Workers and community leaders have been calling on Walmart and Chairman Rob Walton to address the wage gap the company is creating.
At the same time frontline Walmart workers are facing financial hardships, the Walton Family – heirs to the Walmart fortune – are the richest family in the country with more wealth than the bottom 42 percent of American families combined.
Photo: OURWalmart Facebook